Could Conservatives Actually Pull Off a Coup Against House Leadership?
"There are some who believe being relevant means throwing a hand grenade in the middle of the conference."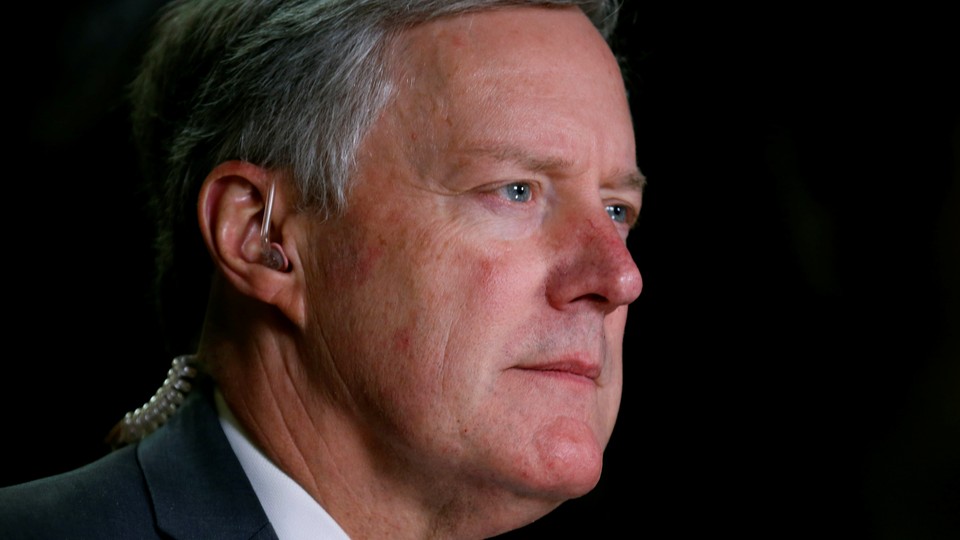 On July 28, 2015, Representative Mark Meadows, a Republican from North Carolina virtually unknown outside his district, quietly catalyzed a coup against then-Speaker John Boehner. By filing a motion to vacate the chair—a parliamentary maneuver that hadn't been used since 1910—Meadows triggered a process to put Boehner's speakership up for a vote, rallying many of his fellow conservatives behind the cause.
That vote never happened. Sensing an uncertain outcome, Boehner accelerated his already existent plans to retire from Congress. Regardless of whether Meadows's motion was an act of pure showmanship or a principled stand—or something else—one thing seemed certain in the aftermath: The Freedom Caucus member had acted deliberately and even cautiously. Meadows "spent months weighing whether to launch the attack," The New Yorker reported in 2015. "It was probably one of the most difficult things I've ever done," Meadows told the magazine. "It was a lonely period of time here on Capitol Hill. Even my closest friends didn't necessarily think it was the right move."
That kind of sobriety has been lacking in Meadows's recent chatter criticizing House leadership. But that doesn't mean the Freedom Caucus is in a stronger position now than it was then. Indeed, there is little chance an attempt to dethrone Paul Ryan and his allies could succeed today.
Meadows's recent comments have seemed to suggest that the savoir-faire that defined the Freedom Caucus's move against Boehner has evaporated. Last week, he intimated to me in an interview that, depending on the outcome of immigration legislation in the House, his caucus could move against Republican leadership. When I asked if he'd consider filing a motion to vacate the chair against Ryan, Boehner's successor, Meadows smiled and declined to comment. The next day, he grabbed headlines again when he told reporters that the immigration bill represented a "defining moment for this speaker: If he gets it wrong, it will have consequences for him." (Meadows's spokesman quickly tried to soften his boss's words, tweeting that Meadows was calling for the House to "start leading" and that he was "not calling for a personnel change." The congressman's office did not respond to a request for comment on this story.)  

Yet there's little path forward for a coup when a Republican holds the White House and public opinion is increasingly favorable to the GOP's major policy accomplishment, tax reform. For many House Republicans and their aides, these dynamics make the Freedom Caucus's veiled threats difficult to understand. They also underscore the danger that comes from building political power based on rejectionism: When a party's base has little problem with its leadership, there's less appetite for those whose cachet comes from fighting those leaders. "The Freedom Caucus's effectiveness is driven by their ability to keep a block of votes together, to block or stop action," said Representative Charlie Dent, the co-chairman of the moderate Tuesday Group. "It's a problem for them when there's nothing, really, to block."
"I think it would be untimely, unfortunate, and inappropriate to try to do something like [a motion to vacate]," echoed Representative Bill Flores, the former chairman of the Republican Study Committee, another conservative group. "And it would ultimately fail."
There are several reasons why the Boehner era was ripe for a mutiny and why the current moment is not. When the Tea Party wave crested in 2010, new conservative members came to Congress intent on rolling back a chunk of then-President Barack Obama's policies—despite the fact that Republicans held only the lower chamber. That idealism enraptured the GOP base. Suddenly, conservative influence groups such as Heritage Action began shaping their fundraising apparatuses around the repeal of Obamacare. Lawmakers like Texas Senator Ted Cruz canvassed the nation with calls to slash the individual mandate. Even House Majority Leader Eric Cantor, an establishment Republican, indulged the frenzy, promising his colleagues a vote on a full repeal.
If there were Republicans who questioned their ability to repeal and replace a law whose namesake still held the White House, they were quiet. As Cantor told me last summer, "If you've got that anger working for you, you're gonna let it be."
Soon, however, House Republicans found themselves in a bubble of frustration, which only expanded as their legislative efforts went nowhere. Meadows's motion to vacate was the pinprick that provided release. "The backstory of guys coming after Boehner was based on slowly rising tensions," said Michael Steel, a former top communications aide to Boehner. "It wasn't so much about Boehner's leadership as it was frustrations with the limits of their own power—this feeling of impotence."
Still, Boehner's leadership did play a role: Conservatives complained that the Ohio Republican had boxed the rank-and-file out of all House business, crafting legislation and making deals with other leaders only behind closed doors. Boehner's dethroning was viewed largely as a victory for the House's right flank. And while the Freedom Caucus didn't endorse Ryan as Boehner's successor, their moves nevertheless showed that they had power.
The caucus exercised that power steadily in the months that followed. Republican presidential-primary candidates like Cruz and Kentucky Senator Rand Paul coveted their endorsements. While Trump wasn't their first choice, they became some of his most outspoken advocates throughout the general election. And many would ultimately credit them with fanning the flames behind the real-estate mogul's ascent. The group's chairman at the time of the campaign, Jim Jordan, told me, in January 2016, that the GOP would lose the election if they "marginalized Trump [and] ignored the Trump message."
But if historians someday try to map the influence of the Freedom Caucus—or perhaps Tea Party conservatism more broadly—February 9, 2018, will represent an inflection point. Early that morning, the House shuttled through a government-spending package that, along with raising the debt ceiling, shattered budget caps for defense and nondefense spending. It was the kind of bill that Republicans would have railed against under Obama, indicting it as a fiscal death wish on future generations. Yet, ultimately, 167 Republicans voted in favor of the package—a majority of the majority. In one vote series, the Freedom Caucus's cri de coeur had been rendered all but moot.
The caucus's views on spending have always been somewhat unpopular within other wings of the party—among defense hawks and blue-state Republicans, for example. But now, the politics aren't on their side, either. Obama isn't around anymore to act as their foil, and today, to lambast House Republican leadership is to lambast Trump, too. The president, after all, supported the spending package. And the House is the only body to successfully pass all of his major legislative pushes, including health-care reform.
"The speaker is aligned on policy with the president. That's a huge problem for them," said Rory Cooper, Cantor's former communications director, referring to the Freedom Caucus. "Their ability to threaten Ryan's position is now a diminishing asset."
It is perhaps unsurprising, then, that some Freedom Caucus members have scrambled to stoke the flames of division while they still can. On its face, immigration would seem an obvious way to do that: It's an issue their constituents care about, and it's an issue the president cares about. There's little to lose in sticking their necks out.
Still, the Freedom Caucus could have difficulty convincing voters that things are awry in the House. For all the talk of internecine strife, the House GOP seems relatively united, as passage of the spending-caps deal suggests.
Even on immigration the Freedom Caucus would have trouble making a scene. House leadership has drummed up, at the very least, the appearance of promoting Judiciary Chairman Bob Goodlatte's immigration-reform package, which conservative members strongly support. While the Freedom Caucus alleges the leadership team isn't whipping the bill in earnest, voters see House Majority Whip Steve Scalise talking it up on Laura Ingraham's Fox News show.
Ryan, meanwhile, is avoiding a public fight on the issue—he's made clear he won't move forward with legislation until the Senate does, which looks increasingly unlikely. In this political moment, an attempted coup—or continued allusions to one—could look at best ill-timed and at worst petty. As one House Republican in leadership, who spoke on the condition of anonymity to talk candidly, told me last week, "There are some who believe being relevant means throwing a hand grenade in the middle of the conference. Most of us, at this point, are over it."