Paul Manafort's Fate Is Sealed
For the past decade, Rick Gates was fiercely loyal to his risk-taking boss. Not anymore.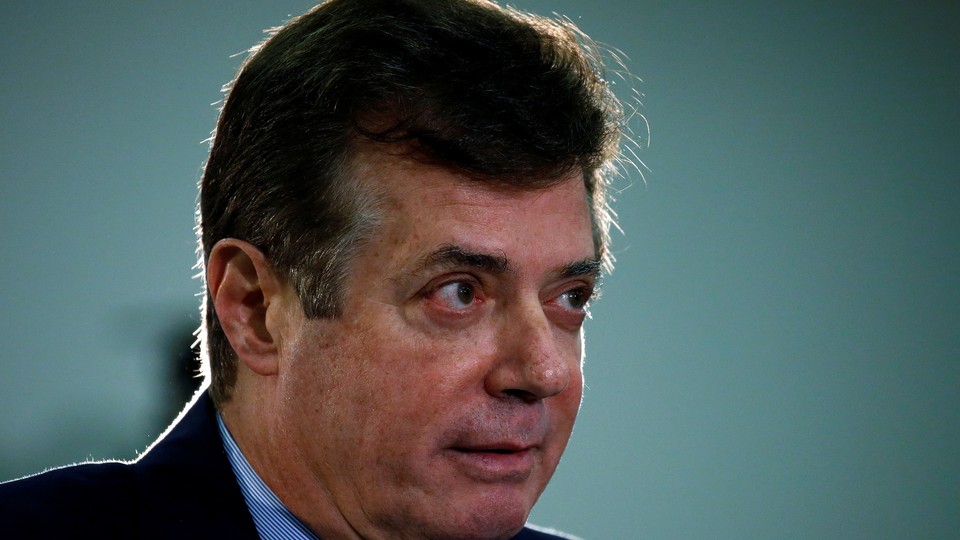 There should be no denying Paul Manafort's fate. Special Counsel Robert Mueller's list of charges keeps on swelling—a repeatedly amended compendium of malfeasance that is now so long and so pointillistic that it could be only defused by a world-historic prosecutorial gaffe. Despite this seeming comprehensiveness, each fresh filing in court contains a moment where the special prosecutor winks at his target, as if letting him know that he has only begun to bring the pain: a small display of how comprehensively he has surveilled Manafort and his minions; a further sampling of the evidence that could be sitting in his reserve stash.
Everyone understands Manafort's fate, except apparently the man himself. Rather than cutting a deal—as his longtime deputy Rick Gates did yesterday—Manafort continues to cut a figure of defiance. He has, in essence, dismissed Gates as a weakling. And even as the bedraggled Gates turned against him, Manafort boasted in a statement that he would not be knocked from his stance: "This does not alter my commitment to defend myself against the untrue piled up charges contained in the indictments against me."
There's one primary reason that Manafort appears so unwilling to reconcile himself with the unimpeachable reality. For his entire career, he has taken audacious risks and managed to get away with them. His friends describe him as wired to take chances that most rational creatures would avoid. Such is the temperament that leads a person to allegedly launder millions, in a long series of batches, each one a fresh opportunity to get busted by the feds. And it has led him to spend much of his career working on behalf of murderous autocrats, capricious dictators, and vengeful oligarchs, like the Angolan insurgent Jonas Savimbi and the Filipino president Ferdinand Marcos. Manafort not only had the skills to bend these characters to his will; he seemingly took pleasure in the challenge of taming and mastering dangerous men. (Trump was the rare strongman he couldn't quite master.)
To live with the constant threat of personal peril requires a healthy dose of denial. Manafort behaves as if he believes everything will eventually fall in his favor, that problems will inevitably resolve themselves. When the Russian oligarch Oleg Deripaska accused him of stealing $20 million in 2011, Manafort simply didn't respond to the aluminum magnate's calls or emails for several years, according to a lawsuit filed by Deripaska earlier this year. Instead of trying to assuage Deripaska, who carries such a fierce reputation that the U.S. has denied him a visa, Manafort acted as if his pursuer didn't exist. It wasn't an entirely foolish bet. When Manafort eventually joined up with the Trump in 2016, he sent emails to Deripaska via an emissary promising him privileged access to the campaign, perhaps providing a tidy moment to settle their old differences. (Deripaska denies having seen the emails and denies any recent contact with Manafort.)
This pattern of flagrance runs through his biography. We can see this in his daughter Andrea's hacked text messages, posted on the dark web by activists irate at Manafort's meddling in their country. When his family caught him in affair in 2015, he promised to end his infidelity. Yet the fact that his daughter had nabbed him once before, and that his marriage very nearly collapsed, didn't preclude him from continuing the dalliance. (Inevitably, his daughters busted him again several months later.) And it was this sense of impunity that permitted him to join up with the Trump campaign in the first place, even though his friends warned him that a career of dodgy dealing would ultimately catch up with him and doom him.
As Manafort pushed forward with these risks, he always had Rick Gates by his side. Gates had come up through the ranks of Manafort's firm, starting as an intern. One of Manafort's former colleagues told me that he could never allow his protégés to grow into their own: "He always saw us as the young people he hired." Most of his deputies I spoke with would come to resent being treated as such junior partners, always assigned arduous and relatively menial tasks. They would eventually leave Manafort's fold, many of them quite bitterly. But Gates tended to his boss with unusual devotion and patience. Mueller's most recent indictment shows the extreme measures that Gates would take to protect him. According to the indictment, if Manafort asked Gates to concoct a phony letter for a bank to procure a fraudulent loan, Gates wouldn't blink. According to the indictment, he fabricated one tale about how he had borrowed Manafort's card and run up a $300,000 bill without paying back the balance, in order to explain away the overdue debt. Gates kept taking personal risks on behalf of his risk-happy mentor.
They were in the mud together for years—and when their alleged misdeeds were finally exposed by Mueller, Manafort could reasonably have convinced himself that Gates would remain loyal to the end. But now Gates has peeled away from his father figure, and that couldn't be any worse for Manafort.
Whatever blanks remain in Mueller's narrative, Gates can fill them. If there are any weaknesses in the existing evidence, Gates can bolster them. With their intimate history and Gates's long immersion in the crevices of Manafort's finances and political dealings, he's pure prosecutorial gold. With the next turns of the Mueller's screw, Manafort will be forced into an ultimate reckoning with all the witnesses, all the evidence, all the sentencing guidelines arrayed against him, a belated, harsh reunion with reality.