How Parkland Students Changed the Gun Debate
Possessed of that blend of innocence and savvy peculiar to teenagers, the Marjory Stoneman Douglas survivors indeed have emerged as a rare, perhaps even unique, voice in the dispute over guns.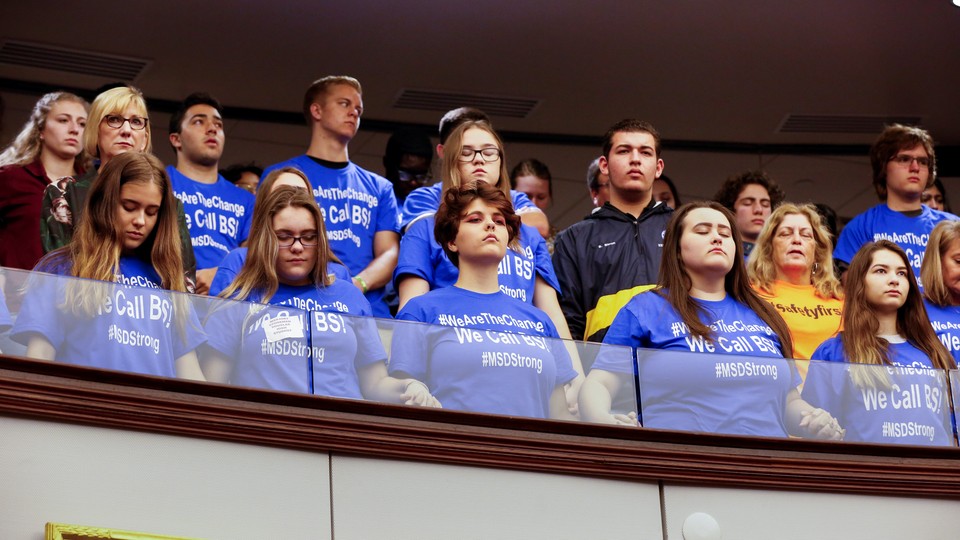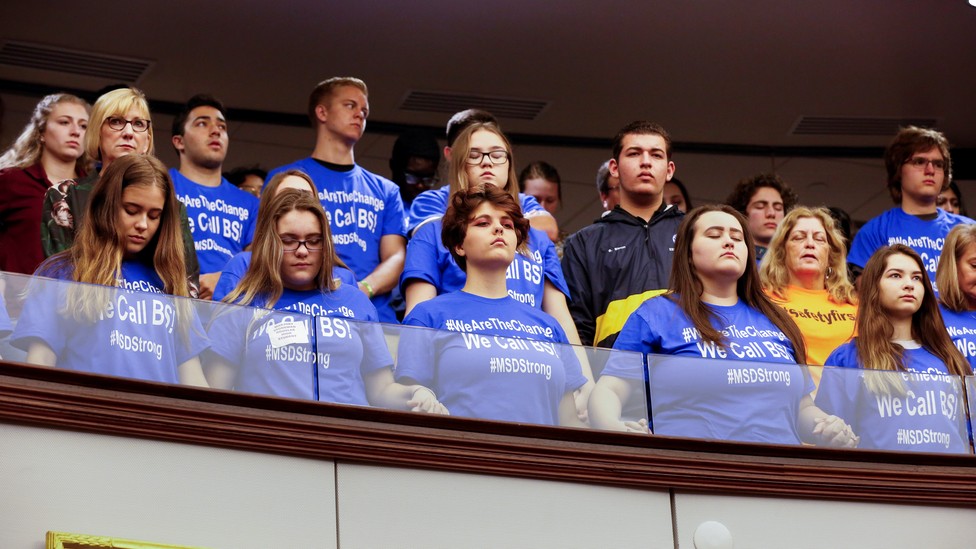 The email that landed in my inbox Thursday morning from Sabrina Fernandez was brief, polite, and painful.
Hi Ms. Cottle,

I've just been back to back funerals which is why I haven't been able to get back to you. Is there any way I can answer all your questions via email by tonight or do you need it immediately?
Eighteen-year-old Fernandez is the student-body president of Marjory Stoneman Douglas High School, in Parkland, Florida. She lives next door to my oldest friend and had graciously agreed to share insights on how she and her classmates are weathering the aftermath of the February 14 mass shooting—especially amid the national frenzy surrounding the #NeverAgain movement that some of the survivors launched to push for gun-law reform.
Fernandez's week had been exactly as rough as you would imagine. Just eight days earlier, 17 of her classmates and teachers had been gunned down. That makes for an awful lot of funerals to attend, an awful lot of friends (and parents) to comfort, an awful lot of grieving to endure. Still, she didn't want me to think she was ignoring me—or that she didn't have anything to say.
Fernandez is not one of the high-profile teens leading the #NeverAgain charge in the media. "We've always had students more politically savvy than others, the faces of the #NeverAgain movement, [whom] I'm proud to call my fellow classmates," she emailed me late Thursday night. "They were dedicated to making a difference prior to this and now more than ever."
But she is no less serious about shaking up the system, and she is crystal clear about the message that she and her fellow survivors want to send political leaders and the public more broadly: "That this change will not be pushed to the side. We will not just be another statistic. We will NOT stop until we see change!"
It's hard not to be awed by the Stoneman Douglas students. They have been through a trauma that would leave most adults curled in a prenatal pretzel under the bed. But these teens have elbowed their way into one of this nation's most vicious policy debates, demanding to have their say. As Emma Gonzalez, a Stoneman Douglas senior, explained at a rally last Saturday: "Every single person up here today, all these people should be home grieving. But instead we are up here standing together, because if all our government and president can do is send thoughts and prayers, then it's time for victims to be the change that we need to see."
Such efforts by survivors have rightly captured the public's attention. Already they have traveled to Tallahassee, Florida, and Washington, D.C. to make their case for stricter gun laws. They have organized protests and marches and rallies that, thanks to social media, have spawned similar efforts. The students of Marjory Stoneman Douglas High School are precisely the type of self-confident, socially aware teens poised to change the gun-control debates across the nation. They have raised $3.7 million for future events. (Here in suburban Washington, D.C., my son and his friends are keeping close tabs on multiple walkouts and marches currently in the works.) They have given speeches and interviews, written op-eds, and gone toe-to-toe on national TV with pro-gun politicians and activists. They have used social media to respond to snarky critics. They have Twitter-smacked Fox News bomb-thrower Tomi Lahren and succeeded (with the help of their legion of social-media followers) in extracting an apology from the professional provocateur Dinesh D'Souza. More satisfying still, when far-right conspiracy mongers started vomiting nonsense about false-flag operations and claiming that some of the survivors were actually "crisis actors," the survivors stuffed the nutters' words right back down their throats.  These kids are masters of social media. They aren't going to take any crap from the kooks and trolls.
Jaded political and media types have been especially impressed. Every time you check the news, some elected official or journalist or pundit or reform advocate is publicly marveling at how these teens are a force unlike anything the gun debate has ever before witnessed. "Why the Parkland Kids May Be Different," teased a Washington Post headline. "I've been covering mass shootings for decades. I've never seen a phenomenon like these students," declared the subhead of a Politico piece. (Got a few hours to kill? Just google Parkland and different for an avalanche of news and commentary.) Even members of Congress are chiming in. "There just seems to be a lot more determination to get something done—to finally get something done," the Democrat Mike Thompson told The Hill on Tuesday. "Maybe it's the organic nature, I'm not sure, but it just feels different. And God knows we need it to be different."
Possessed of that blend of innocence and savvy peculiar to teenagers, the Stoneman Douglas survivors indeed have emerged as a rare, perhaps even unique, voice in the gun debate. They are old enough to advocate for themselves, yet young enough to still embody a certain innocence, to retain a certain idealism about how the world should be. They come across as both fearless and fragile. And like all teenagers, they have no tolerance for BS. Just ask Senator Marco Rubio of Florida, who received a harsh grilling at the CNN Town Hall last Wednesday night. (By the evening's end, the NRA-friendly Republican had gone so far as to say he'd consider a ban on high-capacity magazines.)
More specifically, Parkland—a highly educated, affluent, white-collar enclave—tends to produce the kind of self-confident, socially aware, media-savvy youth who believe that they can change the world. These are teens who've been raised to know their value, to expect their voices to be heard—and who have the cultural resources and know-how to navigate the system. "We are equipped because of our amazing teachers and the education they have provided for us to now use," Fernandez explained.
There is a generational element at work as well. Millennials and post-Millennials are often ridiculed as having an overdeveloped sense of entitlement. But yes, Parkland's teens absolutely feel entitled not to see their friends murdered in their school. And having experienced such horror, they feel entitled to demand answers from their political leaders and to push for reforms to gun laws that they now see as deeply inadequate. The system is FUBAR. They want the so-called grown-ups to cut the crap and get serious about fixing it.
These students are not naive. They have watched the nightmare of mass shootings play out on the public stage often enough to know the drill: The nation is overcome with sorrow and outrage for a couple of days, after which comes the pushback from gun-rights forces, the shifting of the political discussion from guns to mental health or bullying or terrorism or violent video games or angry young men, the drifting of public attention, the lack of action by lawmakers (who know better than anyone how quickly the pressure for reform dissolves), and, finally, the quiet realization by all that nothing is going to change.
This is the precisely cycle that Fernandez and her classmates are determined to break. They understand that to have an impact, they do not have time simply to grieve. They must speak out and mobilize right now, before the initial shock of the slaughter fades and the public loses interest. And they will not let the failure of previous reform efforts discourage them. "The past is the past," Fernandez told me. Other tragedies "weren't in our town, our community, our school. It's a different kind of dedication and passion when it hits close to home."
To be sure, the political and media circus takes a toll. "At times, it can be extremely overwhelming, and we are teens and students affected by an abnormal and extreme tragedy," Fernandez acknowledged. "For some, diving into the politics is healing in itself, for others, they seek solace in their friends and family. It differs from person to person."
For her part, Fernandez is encouraged by the movement's early progress: "I am extremely optimistic because, in only a week, we have talked to government officials who are on our side and want change just as much as we do!"
Indeed, #NeverAgain has already affected the debate. Last week, Oregon lawmakers tightened up some gun restrictions, while Florida lawmakers are hammering out a deal to impose a higher age limit and a longer waiting period for purchasing semiautomatic rifles like the one used at Stoneman Douglas. Just as notably, public outrage is prompting a smattering of corporations to rethink their ties to the NRA.
That said, the Parkland students have also faced some early disappointments. Six days after the shooting, Florida state lawmakers voted against even debating a broad ban on semiautomatic rifles. More narrowly, despite being pressed on the issue at CNN's Town Hall, Rubio would not agree to reject campaign contributions from the NRA. GOP lawmakers in both chambers of Congress are out pitching the usual warnings against rushing to embrace new gun restrictions. Meanwhile, Donald Trump's arm-the-teachers talk comes straight out of the NRA's playbook.
Then again, all grand reform movements are failures until they aren't. Even if the Stoneman Douglas students don't win much in the way of concrete reforms any time soon, they have succeeded in forcing the debate out of its usual rut—a feat that in itself had begun to seem impossible.
I asked Fernandez how she and her classmates intend to make sure that this time things really do go differently. Her answer was at once heartbreaking and inspiring: "We make sure that we don't give up. We make sure that when the media leaves and the news die down, we KEEP GOING! We will never stop until these tragedies NEVER happen AGAIN!"