My High School's Tragedy Actually Led to Change
When seven of my classmates were killed, the government acted swiftly and decisively to prevent a recurrence. That's because of one crucial difference.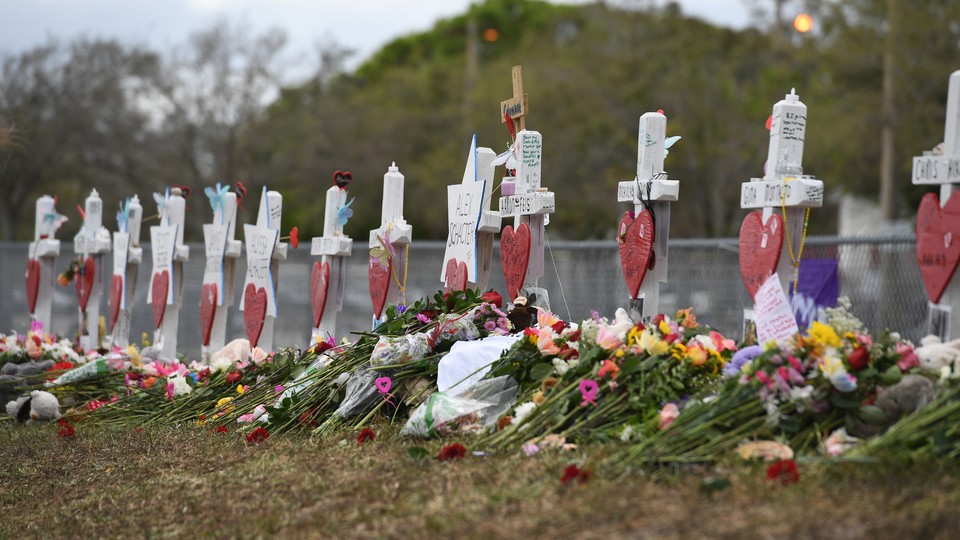 Stories like mine always seem to begin the same way: The sky that morning was so blue—strikingly blue—and nothing seemed out of the ordinary. We were teenagers, unburdened by the weight of the world beyond our small Midwestern town. Nothing bad—nothing really bad—ever happened in Fox River Grove, Illinois.
The next part of the story is the same, too: Shortly after 7 a.m., confusion, fear, and panic ripped through that crisp October morning. Five of my classmates were killed instantly and 24 injured. News helicopters hovered as those of us left grieving huddled together, fearful, shaking, and terribly confused. How could it happen? Here, where nothing happened? Who could let this happen?
It's there, in the aftermath, that my story diverges from so many others: Where other school mass-casualty events are met with inaction, we saw a swift government response—all because of one crucial difference in the tragedy my community faced.
At first, the government backlash happened largely out of sight. We weren't aware that it was already under way when two of the injured students later died, bringing the number of lives lost to seven. Bereft, we listened to our angriest and our saddest music, along with surreal radio-news reports. We chalked banal quotes onto the sidewalk. Nothing made sense, as if we had all been thrust on stage in an absurdist play for which we'd never auditioned.
Grieving parents said the things they always say when awful things happen on beautiful blue-sky days: "I put him on the bus and sent him to school. He was supposed to be safe." Over the days and weeks that followed, we mourned at vigils, wakes, and funerals. Even the most stoic among us wept openly. We felt broken, yet united in our brokenness. Our lives had split into a before and an after, and the after was a dreamlike place of disorder and fear and there didn't seem to be any way out.
Weeks passed. My classmates and I startled at the noises that reminded us of that day. Teachers rearranged classrooms so the empty desks weren't a constant reminder, but we thought of our friends and the way they died constantly. The injured and the siblings of the dead finally returned to school. We were learning to live with loss. In the after, we were a community that this awful thing had happened to.
Months passed. I was the senior responsible for the layout of the memorial page in the yearbook. My class graduated and the school granted a posthumous diploma to the lone senior who'd died. By then, shock and raw pain had compressed into anger and more unanswered questions. Why did this happen? What went wrong? Who could we blame? Investigations, we learned, were still ongoing.
The following fall on an idyllic college campus still living in the before world, I wrote a few of Emily Webb's closing lines from Thornton Wilder's Our Town on my dorm room's whiteboard to commemorate the anniversary. ("Just for a moment now we're all together. Just for a moment we're happy. Let's really look at one another!") Days later, the government answered our gut-punching questions in the form of an official report. Speaking to the Chicago Tribune about the investigation and its findings, a federal official said, "We teach our kids to learn the importance of accountability. In this accident, there was a failure of accountability by a number of organizations."
Then, for our high-school community, and communities around the country, things changed. Public policy changed. All to prevent a similar tragedy from happening to another group of kids.
Things changed because my classmates hadn't been murdered by a gunman at school. They died when an express commuter train struck their school bus, ripping the cabin from the chassis and rocketing young bodies onto the ground.
Things changed because our tragedy was not the tragedy of 17 killed at Stoneman Douglas, or 32 at Virginia Tech, or 26 at Sandy Hook, or 13 at Columbine. It didn't take nearly that many.
It took one train, one bus, seven dead teens, two dozen injured students, and one thorough investigation.
And just one year later, the National Transportation Safety Board made 29 recommendations to 16 organizations ranging from the local school district's bus company to the U.S. secretary of transportation. Changes in communication between agencies, to engineering and training practices, and more were all implemented. In response to our tragedy, the government changed the rules to keep us safer.
For those of us living in the awful after of unnecessary loss, these actions were foundational to our understanding of the responsibility adults bear to protect youth and improve society. We saw adults support us, then we saw them work together to determine what went wrong, then we saw them make change happen to keep that awful thing from happening again. The survivors grew up with the understanding that adults fix things.
The survivors of Stoneman Douglas, Virginia Tech, Sandy Hook, Columbine, and countless other school shootings have been given no reason to believe this is true. There is no such action to answer their sickening loss. It's always too complicated, too soon to politicize. What kind of worldview do these students develop when tragedy strikes and nothing results but hand-wringing and despair? What lessons about their value, their safety, and their futures? What do they learn about agency and accountability and responsibility when tragedies happen that are far more deadly and far less accidental than what Cary Grove experienced in 1995 and the only response is thoughts and prayers?
When nothing changes? When their world breaks and no one even tries to fix it?
We are teaching our children that their lives are the cost we are willing to pay to avoid the hard work of mitigating gun violence. That their fear, their bravery, their sacrifice has been worth it to us. We have enlisted them, unwittingly, in a battle the government is unwilling to fight. They are facing the firing line and we have told them where to stand.
I don't suggest that solving the problem of gun violence is easy. But the enormity of the problem is not a barrier to trying in the first place. Children know this because it's what they're taught every day. Walk into any classroom and read the inspirational posters proclaiming this lesson: that hard work is worth it, and that people can overcome great obstacles if they never give up. Across the country, children echo these mantras:
When I fail, I learn.
If Plan A doesn't work, try Plan B.
Don't say "I can't." Say, "It's hard and I'm going to give it my best effort."
And now, Take action! Run, hide, fight!
Thoughts and prayers alone weren't enough for Fox River Grove, and they shouldn't be enough for Parkland. It's hard—but we need to give it our best effort.