Michael Wolff and the Smearing of Nikki Haley
It's an age-old story, and a uniquely tiresome one: a woman's reputation, sold out to sell stuff.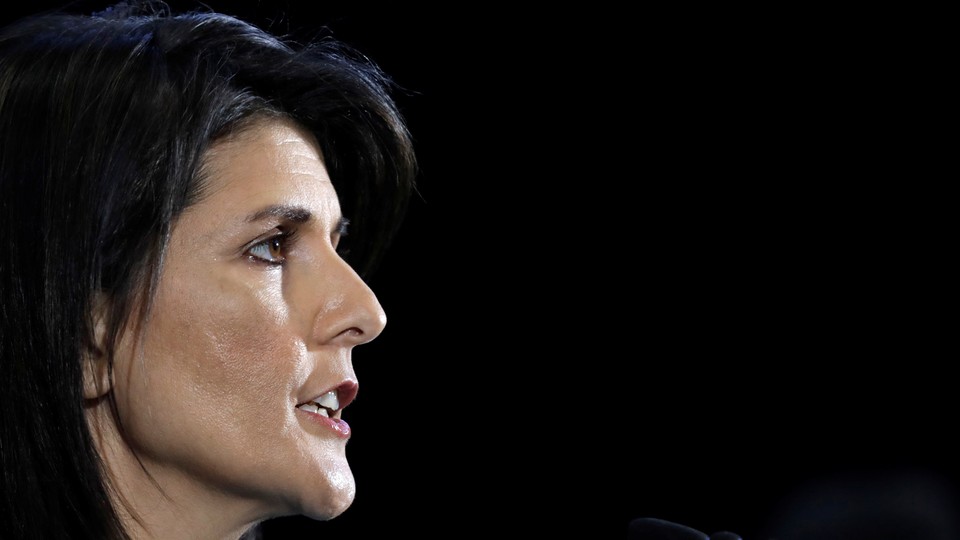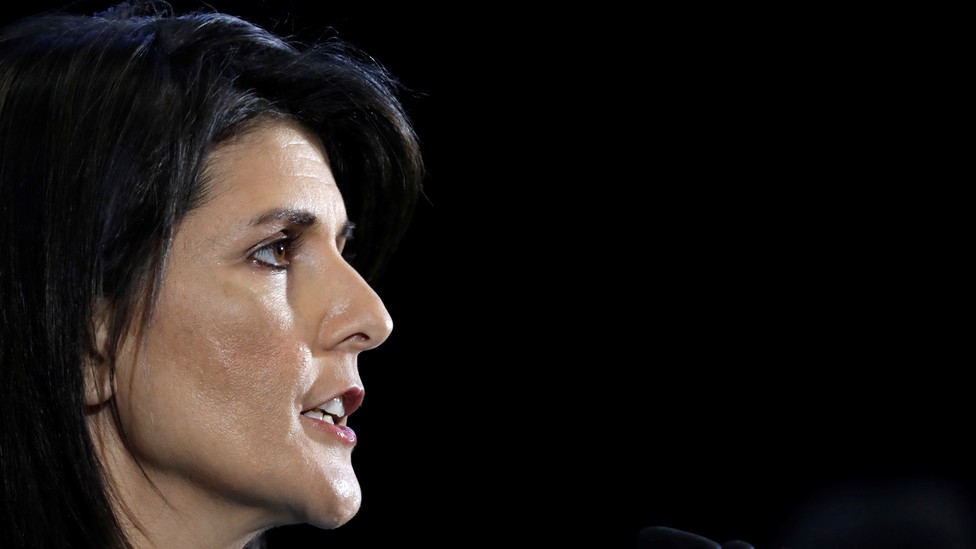 "She had become a particular focus of Trump's attention, and he of hers. … The president had been spending a notable amount of private time with Haley on Air Force One, and was seen to be grooming her for a national political future."
That was the writer Michael Wolff, in his dubiously sourced but indubitably bestselling book Fire and Fury, commenting on the working relationship between the United States's president, Donald Trump, and its ambassador to the United Nations, Nikki Haley. In the book, which has been described by reviewers perhaps most often as "explosive" and next-most-often as "questionably true," Wolff further claimed that loyalists to Steve Bannon, the former White House strategist, feared "Haley's hold on the president"—and that the UN ambassador, should Trump fail to win another term in office, had fed her own presidential ambitions with the idea "that she, with requisite submission, could be his heir apparent."
With requisite submission: It's one of those throwaway phrases that may well, in retrospect, prove distinctly revealing. During an appearance on HBO's Real Time with Bill Maher last week, part of the publicity tour for a book that hardly needs it, Wolff claimed to be in possession of information that was "incendiary"—indeed, so incendiary that he could not, in good conscience, publish it in the book itself. Donald Trump, Wolff claimed, is (currently) having an affair. Of this, the author elaborated, he was "absolutely sure"—but he lacked, he admitted, the smoking gun (or, in this case, he joked, the "blue dress") that would prove it beyond a doubt. And, so, Wolff would not, in the name of responsible journalism, name names. What he would do, however, was give the viewers of Real Time—and by extension anyone armed with curiosity, savvy, and ostensibly a $17.99 copy of Fire and Fury—a clue so they could figure out for themselves the identity of the president's alleged paramour. All they'd need to do was … give a close reading to a passage toward the end of Wolff's book.
"Now that I've told you," Wolff said, "when you hit that paragraph, you're gonna say, 'Bingo.'"
And, so—whirligigs whirl with a lulling efficiency—America's amateur private eyes were soon publicly congratulating themselves on having solved the riddle Wolff had laid out for them: She had become a particular focus of Trump's attention, and he of hers. A notable amount of private time with Haley on Air Force One. Grooming her for a national political future. It was Haley. It had to be. Bingo.
By the end of last week—whirl, whirl, whirl—Wolff's outsourced insinuation had, predictably, shed the coy caveats that had kept it from being published in the first place to expand, instead, into that most ancient form of the alternative fact: gossip. The kind of information that is not proven true, but—this is its unique cruelty, and its unique appeal—always could be. The rumors (Haley! Trump! Air Force One!) spread, indeed, with their own such fire and fury that, late last week, Haley herself was compelled to address them head-on—via an interview she gave to Politico's Women Rule podcast. In the conversation, Haley denied the pseudo-allegations. Vehemently. Unequivocally. "It is absolutely not true," she said. Haley called Wolff's rumor-retailing "highly offensive." And "disgusting."
As she explained it:
I have literally been on Air Force One once and there were several people in the room when I was there. He says that I've been talking a lot with the president in the Oval about my political future. I've never talked once to the president about my future and I am never alone with him.
That might have settled the matter. However—whirl, whirl, whirl—it did not. This week, Wolff, doing more Fire and Fury publicity, appeared in a video interview with theSkimm. His interlocutors—two young women, patient with and yet manifestly baffled by their subject—informed him that Haley had been "really distraught" about the rumors being spread at her expense. Wolff professed surprise at this characterization. "Or she seems to me," he said, "I would say she seems to have embraced it."
He added: "All she does is hammer on this fact. I mean, if I were being accused of something, and I am not accusing her of anything. She hasn't tried to avoid this, let's say."
And then: "The book doesn't accuse her. I didn't accuse her. So in effect, some other reporter accused her."
As pure rhetoric, it's remarkable what Wolff attempted to do in that exchange. With one comment—one string of only semi-sensical self-exonerations—the reporter simultaneously denied that he himself was the source of the rumors … and, at the same time, blamed Nikki Haley for addressing the stories being spread at her expense. Fire and Fury has been called a "perfectly postmodern White House book"—336 pages of questionably true explosiveness, packaged in ink and pulp—and, here, via Wolff's cheeky interview with the "Sip 'n Skimm" series, was the perfectly postmodern coda to the whole thing: an insinuation in the guise of an accusation. Plausible deniability, denied to such an extent that the denial became the fact of the matter. A rumor so nice Wolff spread it twice.
And: a rumor that manages to be both "incendiary" and yet, in its contours, blandly familiar. In one way, certainly, the gossip that has followed Haley this week—despite her denial of an affair, and indeed because of it—suggests quintessentially contemporary anxieties: the impunity of fake news, the tyranny of the spectacle, the nihilism that triumphs when truth is treated as an impediment rather than the point. In another way, though, Wolff's coy allegations against Haley (and ostensibly against Trump, as well—but the cost of such rumors, of course, is rarely distributed equally) are evocative of one of the stalest stereotypes there is: the strain of gossip that is used to advance the reputation of the spreader even as it attempts to reduce the reputation of the subject. The kind of rumor-mongering that has so often been weaponized, in particular, against women.
"The idea that these things come out, that's a problem," Haley told Politico, of the rumors being spread about her. "But it goes," she added, "to a bigger issue that we need to always be conscious of: At every point in my life, I've noticed that if you speak your mind and you're strong about it and you say what you believe, there is a small percentage of people that resent that and the way they deal with it is to try and throw arrows, lies or not."
Reputation, to be sure, is an equal-opportunity good. Men and women alike, at work and far beyond, are seen and appraised and experienced and judged; men and women alike walk the world in constant risk of being assessed harshly—and even unfairly, even wrongly. Women, though, historically, have borne the brunt of the reputational risk. And they have borne it precisely in the way Wolff is summoning in his flippant-but-also-nationally-televised insinuations of a Haley/Trump affair: women, assessed not according to the workings of their minds, but according to the workings of their bodies. Women, shamed, specifically, about sex. Women, who can spend whole careers working hard and well, only to have the effort diminished by one knowing whisper about how she really accomplished what she did. Women, still, have relatively few ways to ascend; there are so many ways, though—still—for them to be brought down again.
It's no surprise, then, that reputation, as a currency and as a constraint, has been a shadowy figure in so many of the stories that have been told during the current iteration of the #MeToo movement. Many of those who have been harassed and abused, but who have not spoken of that experience until now, have stayed silent in part because they have been concerned—with ample reason—for their own reputations. They haven't wanted to be labeled as difficult. They haven't wanted to be labeled as complicit. They haven't wanted to be labeled at all.
Michael Wolff, bard of the sensational and the banal, began this saga with a rumor whose arrow aimed straight at Nikki Haley's reputation. That she would defend herself against it, Wolff suggested—the suggestion is itself both sensational and banal—is its own proof that her reputation deserves diminishment: evidence of Haley's opportunism, if not, indeed, her guilt. It's a tautology that, as will usually be the case, reveals much more about the spreader of the rumor than it does about the subject. In Fire and Fury, Wolff anonymously quotes a White House senior staffer mocking the administration's UN ambassador for being "as ambitious as Lucifer"—yet another person, apparently, who looks at Nikki Haley and finds her failing to behave "with requisite submission."