A Scandal That Exposes the White House's 'Adults'
The Rob Porter debacle revealed all the White House's persistent weaknesses—from inexperienced staff to inexcusable decisions.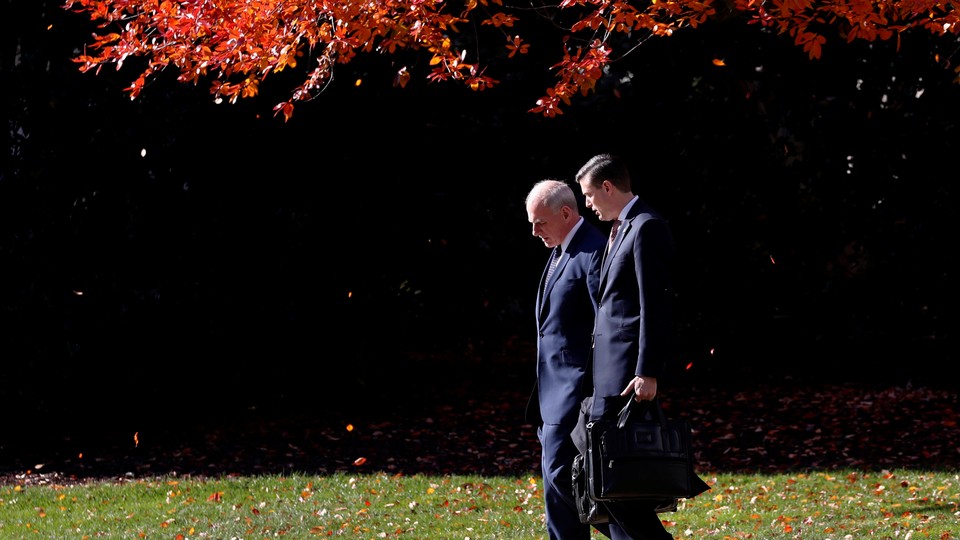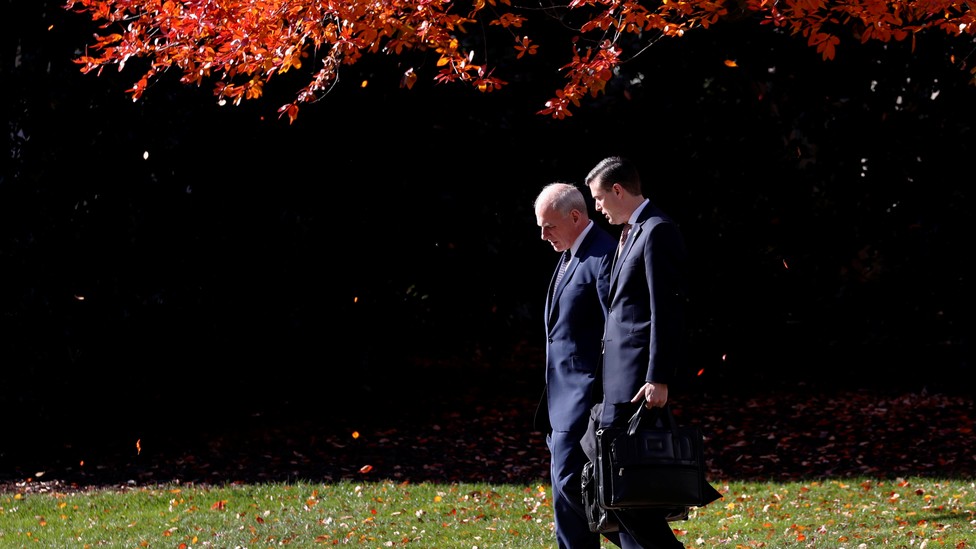 On Friday, as the White House rushed to quell increasing anger about the exit of staff secretary Rob Porter and its handling of domestic violence, President Trump stoked the controversy, suggesting he believed Porter's denials, despite photographic evidence.
"We found out about it recently and I was surprised by it, but we certainly wish him well and it's a tough time for him," Trump said, in his first comments about Porter's departure. "As you probably know says he's innocent and I think you have to remember that. He said very strongly yesterday that he's innocent so you have to talk to him about that, but we absolutely wish him well, he did a very good job when he was at the White House."
The president did not offer any sympathy for Porter's victims.
Trump's reaction conflicts with the White House's attempts to control the damage from Porter's departure, amid accusations of physical and verbal abuse from two ex-wives. On Friday morning, Chief of Staff John Kelly held a staff meeting in which he tried to portray the White House as taking accusations of domestic assault seriously, and argued (against all evidence) that he had acted swiftly and decisively when he learned the accusations were credible. A White House spokesman also tried to convince the press on Thursday that the administration deplored domestic abuse, and suggested that published photos had been a major factor in Porter's exit.
The president, it turned out, had other ideas. Trump's reaction is reminiscent of his handling of Roy Moore, the U.S. Senate candidate in Alabama, who was credibly accused of sexual harassment or assault by multiple women. As the rest of the GOP backed away from Moore, Trump stood by him, saying, "Well, he denies it." Trump's decisions about who to believe and who not to believe are notable; in two cases, he has assumed the credibility of men accused of abusing women.
Trump's choice to side with Moore and Porter is inseparable from the many accusations of sexual harassment and assault lodged against him, as well as a recording in which he boasts about sexually assaulting women. The president has denied any wrongdoing. Yet while he grants the presumption of innocence to men like Porter and Moore, he does not grant the same presumption to others—such as the Central Park Five, young men of color who Trump wanted executed in the 1980s, and whose innocence he has refused to accept.
Given the president's comments, can anyone believe Kelly's claim that the White House takes domestic abuse seriously? Similarly, can anyone believe Porter would have been fired absent press reports and especially the publication of photos?
As the public learns more about the allegations against Porter, the story begins to look like another manifestation of the same troubles that have long plagued the White House: disorganization, a lack of accountability, a struggle to recruit competent employees, and a president who tends to blow up the official message.
Note how Trump's view of the situation is at odds with what his aides are saying. No one else in the administration has argued that he is innocent, though spokesman Raj Shah on Thursday defended the decision not to fire him by saying the White House wanted to take his denials seriously. Nor has anyone in the administration made the argument that even if Porter is guilty of assault, it should not disqualify him from working in the West Wing.
Several reports have focused on what the White House knew before news reports earlier this week revealed that both of Porter's ex-wives had accused him of physical and verbal abuse; The Intercept also published photos of one of them showing a black eye. The White House declined on Thursday to say what administration officials knew when, but Politico reports that Kelly learned several weeks ago that the FBI would recommend denying security clearance to Porter. The Washington Post reports that Kelly learned of accusations against Porter in the fall, and that White House Counsel Don McGahn knew about them in January 2017:
In January 2017, when McGahn learned of the allegations, he wanted Porter to stay put because he saw the Harvard Law-trained Capitol Hill veteran as a steadying, professional voice in the White House, according to people familiar with the matter. His view didn't change in June when the FBI flagged some of its findings to the White House. Nor did he act in September when he learned that the domestic violence claims were delaying Porter's security clearance, or in November when Porter's former girlfriend contacted him about the allegations, according to these people.
This is perhaps a morally indefensible stand on McGahn's part, but it's not an irrational one. Porter was, according to most accounts, one of the few truly competent people in the White House—a rare professional on a team comprised largely of hacks, novices, and, uh, Omarosa. (This is perhaps unfair: Manigault-Newman was actually one of the few staffers with previous executive-branch experience.) McGahn made a cold calculation that amid infighting, incompetence, and chaos, Trump simply couldn't afford to lose someone like Porter.
What's remarkable about the Porter episode is who it sweeps in: Porter, Kelly, McGahn. These were the purported adults in the room. Those ejected from the White House thus far had tended to come from the ranks of career partisan political operators (Reince Priebus, Sean Spicer, Mike Dubke) or the wild-eyed outsiders (Anthony Scaramucci, Steve Bannon, Sebastian Gorka). But even people who had recognized that Kelly was not a moderate had viewed him as at least a relatively competent administrator. The Porter episode exposes some of his weaknesses.
McGahn's reputation has been more up and down. He entered as one of the more veteran Republican hands in the administration, but one with a reputation as an unpredictable maverick. He reportedly talked Trump out of firing special counsel Robert Mueller by threatening to resign, but on other questions, including the firing of Michael Flynn, McGahn has not seemed entirely on the ball.
The irony is that these weaknesses among the supposed adults would be exposed by an episode that itself stemmed from the lack of competence in the West Wing. Because so many White House staffers were unqualified, Kelly chose a devil's bargain of keeping a relatively professional but credibly accused domestic abuser on staff; as a result, he has dragged the White House further into chaos and scrutiny. Staffers expressed disbelief to the Post about Kelly's plainly untrue account of events. Maggie Haberman enumerates some of the many false statements—some of them knowingly false—that Kelly has made. The New York Times notes that this is not the first time that Kelly has spoken up on behalf of an alleged abuser when he deemed the culprit competent. In 2016, he testified on behalf of a colonel court-martialed for the sexual harassment of two subordinates, calling the man a "superb Marine officer."
Kelly faces a genuine problem in the lack of experience among aides in the White House. Many staffers have been bad at their jobs, and hiring new ones has proved challenging. Porter, credited with helping instill new discipline around the Oval Office, was both an example of this problem—his previous experience was on Capitol Hill, not in the executive branch—and in his ability to instill a degree of process and order, an antidote to the general lack of experience.
When most presidents assemble their White House teams, they draw heavily on members of previous administrations, since it's wise to have people who have worked in the executive branch and have a feel for the work. Many people who have worked in the executive branch before have previously obtained security clearances, speeding the process of renewal. But the Trump administration drew few experienced hires from past administrations. There were several reasons for that. One was that Trump was temperamentally distrustful of experience, and was convinced that he as a businessman could run government more efficiently than veteran swamp-dwellers.
A second was that Trump decided to disqualify many would-be employees because they (like most of the Republican Party establishment) had opposed him early on. Stories abounded of staffers ruled out because of old tweets critical of the president. A prominent example was Elliott Abrams, a veteran Republican who had been critical of Trump but was willing to work for him, and who would have given the beleaguered State Department some veteran leadership; Trump rejected him. The comparison between Abrams and Porter is a disturbing window into Trump's priorities: Past criticism of the president was unacceptable, but spousal abuse was not.
Finally, many people who might have been competent additions to the administration and had not made public comments critical of Trump nonetheless didn't want to work for him—out of concerns about his policy choices, his temperament, or his management style. As it turns out, those concerns were well-founded. The Trump administration has been extremely disorganized, and many West Wing staffers are also now forced to hire costly lawyers in connection with the special counsel probe into Russian interference in the 2016 election.
Porter was a novice, in that he did not have West Wing experience, but he did have political experience as chief of staff to Senator Orrin Hatch. While he awaited his clearance, Porter worked with an interim security clearance, which allowed him to handle classified material. This is typical. Many White House staffers initially do this while the clearance process moves forward. Usually that takes only weeks, but because the Trump White House included so many employees who had never undergone the clearance process before, and in some cases were poorly vetted, the process dragged on unusually long. The Post reports that dozens of staffers continue to work with interim clearance, including the president's son-in-law Jared Kushner, whose clearance process has been bedeviled by incomplete and belated disclosures.
Eventually, the White House was informed that Porter would not be recommended for clearance. According to Bradley Moss, a Washington lawyer who works on national-security issues, this is common: A staffer will be informed that his or her clearance will not be granted, but that's not made public, giving the staffer a chance to gracefully seek a new job. Yet Moss noted that even if a staffer failed a check, a president could still decide to grant clearance. Given that Porter left only after news reports, and after Kelly and others being aware of the accusations for months, one question is whether the White House would have simply allowed Porter to continue indefinitely absent public pressure.
At the outset of his presidency, Trump seemed guided by the view that running the government simply couldn't be that hard, and the caliber of people he hired to run it didn't matter all that much. As a result, he hired people whose entire experience was in partisan politics, or who had scant and/or embellished resumes, or who were misfit toys. The president soon realized that government wasn't as simple as he'd believed—"Nobody knew health care could be so complicated," he said, incorrectly and infamously. But his staffing problems remain unresolved. As the Porter story shakes out, Trump is said to be variously angry at Communications Director Hope Hicks and at Kelly. He may have legitimate grievances with either of them, but as the Porter case illustrates, the problem is not contained to any individual member of the staff. The problem is the staff as a whole, and its ultimate source is the man who hired them.