What Rick Gates's Guilty Plea Means
The former Trump campaign aide pleaded guilty to conspiracy to commit bank fraud and lying to the FBI on Friday, the third Trump aide to admit he committed a felony.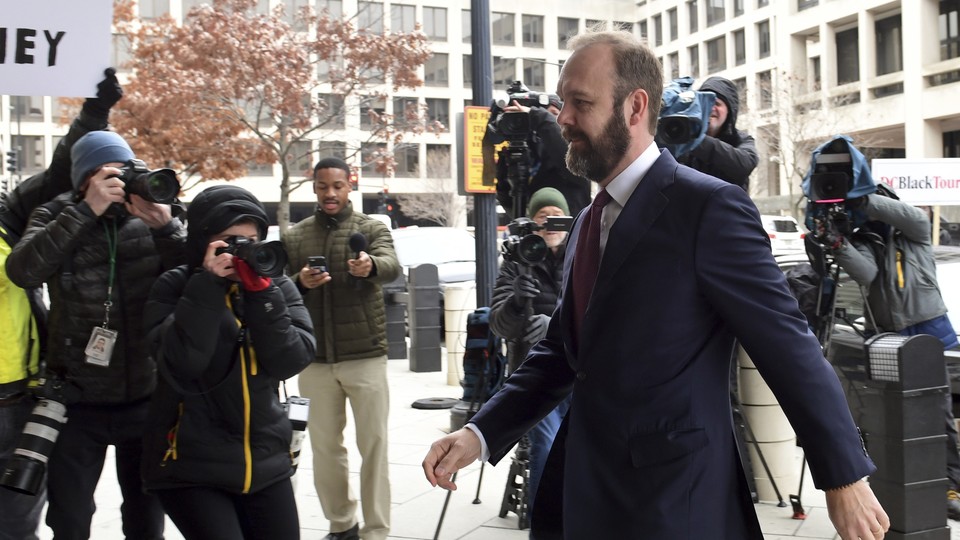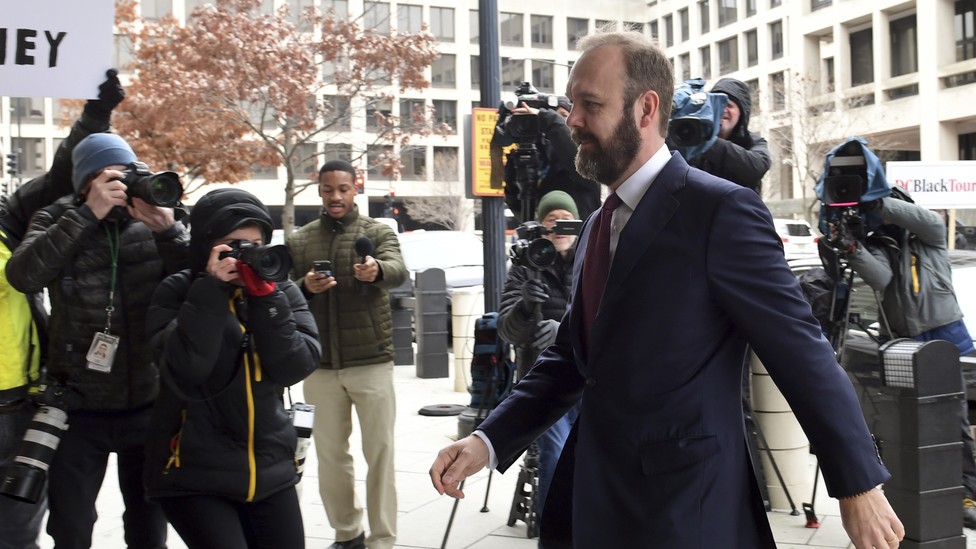 Updated on February 23 at 4:01 p.m.
Rick Gates, a former top aide to President Trump on his campaign and in the White House, pleaded guilty on Friday to conspiracy against the United States and making false statements, and agreed to cooperate with special counsel Robert Mueller's investigation into Russian interference in the election.
On Friday morning, the court unsealed a new "criminal information" document from Mueller, dated February 2, including those two counts. Mueller had previously charged Gates with a range of crimes, with indictments coming from grand juries in both Washington, D.C. (12 counts), and Virginia (32 counts). Gates had previously pleaded not guilty in Washington.
The plea caps a busy series of days in Mueller's investigation, especially in relation to Gates and his former business partner Paul Manafort, who served for a time in summer of 2016 as Trump's campaign chair. Earlier this week, a lawyer pleaded guilty to lying to the FBI about his conversations with Gates. On Thursday, Mueller unsealed a new indictment from a Virginia grand jury with 32 counts that laid out, in extensive detail, an alleged scheme of tax evasion, bank fraud, and conspiracy.
Rumors of a Gates guilty plea have circled for several days now. Gates had reportedly participated in a "queen for a day" interview, in which a prospective cooperator answers questions openly for investigators as part of the plea process, on the agreement that prosecutors won't use information from the interview against them. Thursday evening, The Daily Beast reported that Gates had fired his attorney, Tom Green; Green then denied that was true.
To a great extent, the details in Friday's criminal information are similar to what Mueller has already alleged about Gates. More important than the details is Gates's plea, which appears to be part of a methodical effort by Mueller to flip witnesses as part of his case, and in particular to pressure Manafort. Beyond that, Gates's guilty plea represents the third time that a member of Trump's team has pleaded guilty to felony charges.
The only substantive difference in the criminal information filed Friday appears to be one count of a false statement. Incredibly, Gates admitted in court on Friday that a false statement came during a proffer session with Mueller's team—in other words, Gates lied to the special counsel in the process of trying to arrange a plea.
According to Mueller, Gates met with the special counsel's team on February 1, 2018, and told them that Manafort had told him that during a March 19, 2013, there had been no discussion of Ukraine. "In fact, as he then and there well knew," the document states, Manafort had made no such statement, and "GATES had participated with Manafort in preparing a report that memorialized for Ukraine leadership the pertinent Ukraine discussions that Manafort represented had taken place at the meeting."
Mueller states that a congressman was at the meeting. This appears to have been Representative Dana Rohrabacher, a flamboyant California Republican with close ties to Russia, to whom Manafort made a $1,000 contribution three days later. Gates's then-lawyers filed to withdraw from the case the very day that Gates allegedly lied to Mueller, citing "irreconcilable differences ... which make our effective representation of the client impossible."
Gates's expected plea would seem to tighten the noose around Manafort. The indictments released on Thursday reveal that the federal government has extensive evidence in the form of documents and communications to back up its charges against both Gates and Manafort, including communications in which Manafort appears to describe crimes and conspiracy to commit them. Yet despite a growing mountain of evidence against Manafort, and the growing pile of penalties that he faces, he has refused to plead guilty or cooperate with Mueller.
"Notwithstanding that Rick Gates pled today, I continue to maintain my innocence," Manafort said in a statement Friday. "I had hoped and expected my business colleague would have had the strength to continue the battle to prove our innocence. For reasons yet to surface he chose to do otherwise. This does not alter my commitment to defend myself against the untrue piled up charges contained in the indictments against me."
ABC News reported that in a letter to friends, Gates wrote that he had hoped to "vigorously defend" himself, but decided it wasn't worth it. "The reality of how long this legal process will likely take, the cost, and the circus-like atmosphere of an anticipated trial are too much. I will better serve my family moving forward by exiting this process," he reportedly wrote.
While Mueller has played his cards close, the prevailing theory is that he hopes to convince Manafort to cooperate and turn over evidence about the Trump campaign. All of the charges against Manafort so far involve behavior outside the auspices of the Trump campaign.
The details apart, it's useful to draw back and consider the broader picture. As the president is fond of pointing out, Mueller has not specifically accused anyone on the Trump campaign of any crimes in colluding with Russia. (This is not the same as saying that there was no collusion, as I have written.)
Yet the following has happened: Michael Flynn, who Trump chose as his national-security adviser after serving as a high-profile campaign surrogate, pleaded guilty to lying to the FBI. (In particular, he told agents he had not discussed sanctions with the then-Russian ambassador, when he had.) George Papadopoulos has also pleaded guilty to lying to the FBI, and while Papadopoulos was never on the level of a Flynn—the president's right-hand man on defense and security issues—the White House's attempts to dismiss him as a mere gofer conflict with photos of a meeting with candidate Trump. (Papadopoulos's lie also concerned collusion; he told FBI agents he had no contact with Russians while working on the campaign, which was not true.)
Rick Gates has pleaded guilty. Although the charges against him stem from work outside the Trump campaign with Manafort, they continued through his time working on the Trump campaign. Nor are Gates's own ties to Trump minimal. He was deputy chair of Trump's campaign under Manafort, and continued to work for the campaign even after Manafort's August 2016 ouster from the campaign. He was deputy chair of the Trump inaugural committee, and helped to found America First Policies, an outside nonprofit set up to support Trump's priorities until leaving in March 2017. Gates has now admitted that his crimes continued throughout this period.
All this comes in addition to the detailed evidence laid out on Thursday against Manafort, the man Trump chose to run his campaign during a crucial stretch. Mueller alleges that Manafort also engaged in criminal behavior before, during, and after his stint on the Trump campaign.
Starting during the campaign, Trump has survived a series of gaffes and revelations that would have killed any other candidate's career many times over. The accusation of collusion with Russia drives Trump to fury, but the focus on whether he was in league with the Kremlin has perhaps served the president well, at least in the immediate term. The focus on that extreme scenario has distracted from the seriousness of what is already known about this presidency, including a reality that might have toppled any other president. Whatever else Mueller reveals going forward, he has shown that as candidate and president, Donald Trump has chosen to surround himself with criminals.