Kevin Cramer Moves Closer to Launching a Senate Campaign
The House Republican from North Dakota received an offer from oil tycoon Harold Hamm to be his finance chair.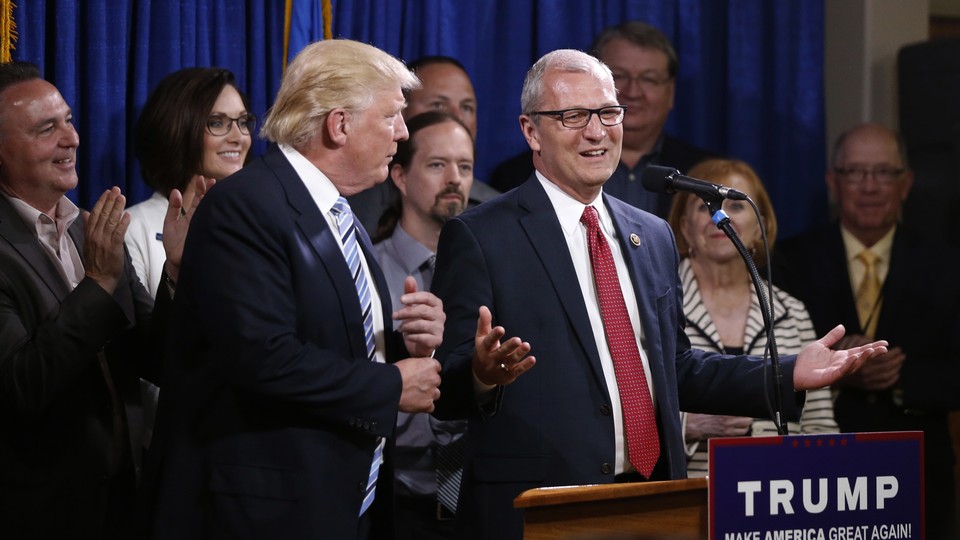 Updated at 2:49 p.m. ET
Oklahoma oil tycoon Harold Hamm has offered to be North Dakota Representative Kevin Cramer's finance chair for his potential Senate bid, The Atlantic has learned—the clearest sign yet that Cramer will make a play for Senator Heidi Heitkamp's seat.
According to two Republican sources with direct knowledge, Cramer would also likely face an uncontested primary: Should he decide to run, North Dakota state Senator Tom Campbell, the current Republican front-runner, would likely abandon his Senate campaign and seek Cramer's House seat instead.
Cramer's candidacy would be good news for the party: Heitkamp is among the most vulnerable Democratic senators up for reelection, one of 10 running in states that Donald Trump carried in 2016. But GOP leaders have privately fretted that Campbell lacks the name recognition and fundraising power to beat her in November.
Hamm made the offer to helm Cramer's finance team this week, according to the two Republicans, who relayed Hamm and Cramer's conversation. (Sources I spoke with for this story spoke on the condition of anonymity to discuss private conversations.) Hamm, who is also a board member of the pro-Trump nonprofit America First Policies and was once a rumored pick to be the president's energy secretary, has been a key behind-the-scenes influence on Cramer's decision. According to a source with direct knowledge, he's lobbied Cramer hard in the last month, impressing upon him Heitkamp's vulnerability and shifting trends in the GOP's favor since Congress passed tax reform. (A Politico/Morning Consult poll released Wednesday has the GOP edging out Democrats on a generic ballot for the first time since April.)
It's unclear if Cramer will accept Hamm's offer if he runs: An associate who runs his political operations could not be immediately reached for comment. Cramer has told confidants that he plans to make an announcement by the end of the week about his future plans.
The national and state Republican parties are expected to overwhelmingly back Cramer's Senate bid. Trump courted him intensely at the tail-end of 2016, only to have Cramer announce in January that he'd once again seek reelection to the House. He announced his decision in a radio interview, citing family considerations. Hanging on to his House seat, Cramer said, would be "far less intense than flying around the country for the next 10 months every weekend" to fundraise for a Senate bid. It was a major blow to the Senate's recruiting efforts: Cramer had established himself as a high-profile player in developing the administration's energy agenda; he authored Trump's energy policy during the 2016 campaign and urged the president early on to withdraw from the Paris climate accord.
One of the sources with direct knowledge of Hamm's offer told me that Campbell is well aware party officials will coalesce behind Cramer, and he's been telling associates that he will try to replace Cramer if he runs.
Reached by phone on Wednesday, Campbell confirmed to me that he is taking "serious consideration" of Cramer's seat, the only one in North Dakota, should his fellow Republican try for the Senate. "Kevin is a good friend and we think alike," Campbell said. "The last thing I want to do is split the party.
"It's all hinging on Kevin's decision," he added.
Campbell also told me he met with Vice President Mike Pence last week in what he described as a "get-to-know-you" session, but he declined to elaborate on whether the Senate race came up.
Meanwhile, Cramer's associates are already scrambling to get regional and national fundraisers on the calendar. "This is already engulfing my team," Dan Eberhart, an energy executive and GOP donor, told me. "We are trying to get five fundraisers on the books for him."