Infrastructure Week Is Always Next Week
President Trump on Tuesday night made yet another push for a major bill to rebuild roads, bridges, and railways. But to the frustration of lawmakers, his long-delayed plan is still not ready.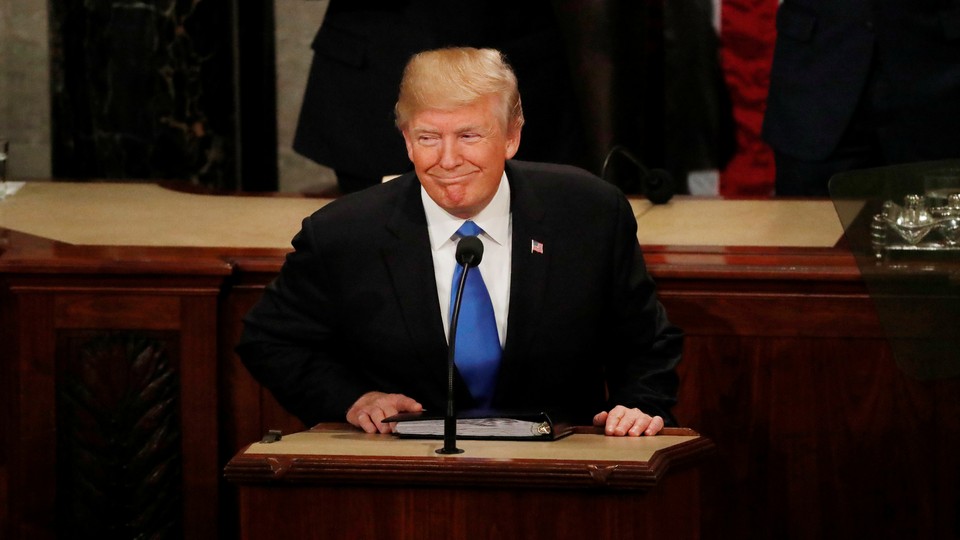 President Trump devoted about 200 words of the more than 5,000 he uttered on Tuesday night to calling for a $1.5 trillion package "to permanently fix our infrastructure deficit." But lawmakers itching to see the administration's long-awaited plan for rebuilding the nation's roads, bridges, railways, and waterways—and more importantly, how to pay for it—will have to wait.
Again.
Summoning his own background in the building business, the president has touted a bold infrastructure proposal in just about every major speech he's delivered either as a candidate or commander in chief—it made it into his inaugural address, his debut address to Congress 11 months ago, and again in his first State of the Union on Tuesday. But an actual plan has never followed. Always-promised, about to happen, just around the corner. The ever-overshadowed "Infrastructure Week," originally held by the White House last June, has become a running joke on Twitter. (The website Jalopnik has a helpful timeline of the Godot-like nature of the administration's infrastructure agenda.)
So when I asked the White House on Wednesday to flesh out Trump's teaser on infrastructure from his State of the Union address, it came as little surprise to learn from spokeswoman Natalie Strom that "more details would be coming a week or two after the speech."
For Democrats, the delays have become a source of frustration more than humor. "By now, I'm used to the president's rhetoric never resulting in actual policy proposals," said Senator Chris Murphy of Connecticut, who noted a similar lack of follow-through on the president's pitches to combat the opioid epidemic, bring down prescription drug prices, and invest in job-training programs.
From the moment Trump won, infrastructure represented one of the few areas where many Democrats genuinely felt bipartisan action was possible: Here was a Republican president who loved deal-making and big projects, who was unafraid of spending money and who, just maybe, could bring along a congressional GOP that repeatedly stiffed Barack Obama's pleas for a major infrastructure investment. Trump had even tacked to Hillary Clinton's left on the issue during the campaign, belittling her infrastructure plan as insufficient.
"The president has tapped into something important," Representative Elizabeth Esty, a Connecticut Democrat and a point person on infrastructure for several congressional working groups, told me in an interview Wednesday. "His 'Make America Great Again' is in its own weird way aspirational. Americans do want big things. They do dream things."
In an alternative version of Trump's presidency that Democrats like to muse about, he starts not with a partisan project like health care but a bridge-building—literally and politically—bipartisan push on infrastructure. That, of course, was not to be. And the more time passes, and the more Democrats hear about Trump's ideas for infrastructure, the less interested they've become. Gone are the hopes that the president would support upwards of $1 trillion in direct federal investment for infrastructure. The $1.5 trillion that Trump mentioned would not be a direct public investment, but the total generated from a variety of sources. He didn't name a number for the federal government's share on Tuesday, but the White House has previously said it would put up just $200 billion over 10 years. "Every federal dollar," Trump said, "should be leveraged by partnering with state and local governments and, where appropriate, tapping into private-sector investment—to permanently fix the infrastructure deficit."
On the surface, the president's pitch appeared to be more ambitious than he had previously discussed—what was once a $1 trillion infrastructure plan had grown to $1.5 trillion. A White House official ascribed the change to the "enthusiasm" that state and local officials had shown in recent meetings, suggesting that their constituents would be willing to take on a larger share of funding.
But the top-line number, Democrats and advocates for more funding said, is less important than where the money is coming from. "I was pleased to hear more money proposed," Esty said. "What we did not hear, however, was more federal commitment."
Though the details remain scarce, what the administration is proposing is that the federal government would help states and cities fund projects with matching funds or loan guarantees, but that the burden would largely fall to them or private entities. "What I heard was more leverage," Esty told me in a phone interview. One of the groups in which she's working on infrastructure policy is the business-friendly New Democrat Coalition, which has made the issue a priority.
Trump's emerging proposal has exposed a divide between more moderate Democrats on one end who believe a public-private partnership model could work with more direct federal spending, and progressives who have denounced the approach as a bid to privatize infrastructure and fund it with tolls rather than public money. "What they want to do is sell off public resources to Wall Street, to the president's cronies, to investors," said Representative Mark Pocan of Wisconsin, a co-chairman of the Congressional Progressive Caucus. "And that would be a terrible way to have infrastructure built."
Liberals also flagged Trump's call to streamline the permitting process as a way of completing big projects faster. Senator Jeff Merkley of Oregon, speaking along with Pocan to reporters on a conference call hosted by the Progressive Change Campaign Committee, said that "seemed like it was code for rolling over environmental protections, and that is simply unacceptable."
Moderates like Esty were more open to Trump's approach overall, but they chastised the White House for its lack of engagement and for what they said was an unrealistic expectation for how far Trump could stretch federal dollars. "Engaging the private sector is great where appropriate," she said, "but it's not going to deal with chronic underfunding, the chronic shortchanging, the chronic under-maintenance that has been going on for decades now. We have been living off the investments of the '50s, '60s, and '70s, and the bill is going to come due."
Esty said Republicans have told her they've asked the administration to have Trump make a stronger public case for a pricey bill. "To date," she said, "he has not shown a willingness to take the political lumps for that, or to take on his own party for the case that needs to be made." The White House has been happy to let lawmakers take the lead, but absent a big presidential push, infrastructure has stalled. At the heart of the challenge is figuring out how to pay for a major public expenditure. Republican leaders have squashed the idea of raising the gas tax for the first time in nearly a quarter century, and the $1.5 trillion tax cut they enacted last year will exacerbate a short-term revenue crunch.
With Congress stuck on immigration and budget fights, the window for tackling major bipartisan legislation before the 2018 midterm campaign consumes the Capitol will close quickly. Republicans remain lukewarm to the issue altogether, and Democrats may see an advantage in waiting to fully engage Trump until 2019, when they hope to be in a stronger negotiating position to demand more federal spending. Progressives are already talking about paying for an infrastructure bill by rolling back some of the GOP tax cuts, which would be a nonstarter without a Democratic majority in one or both chambers of Congress.
As a result, if and when Trump finally releases a detailed infrastructure plan, it may be too late to matter.