How a Nazi Made the Ballot in Illinois
The strange candidacy of Arthur Jones points to failures of democratic safeguards on every level.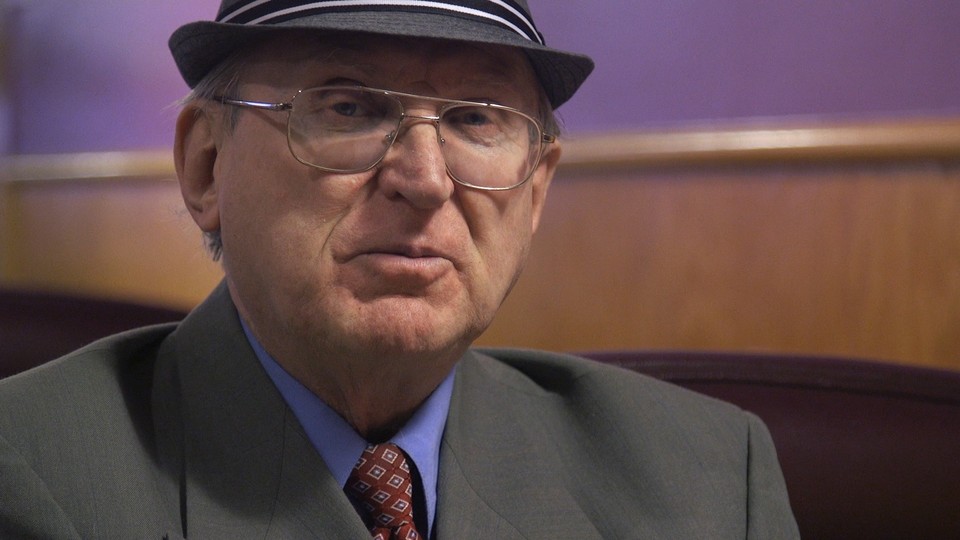 The Holocaust denier who is running unopposed in the Illinois Republican primary for U.S. Congress doesn't describe himself as a Nazi. His party, however, does.
Arthur Jones now prefers the term "white racialist," he told The Atlantic—and even if he loses in November, his ability to share his extremist views has already been buoyed by a series of dramatic failures that led him to the ballot in the first place, from a state party unable to recruit an alternative candidate in a highly partisan district, to voters signing ballot-access petitions without paying much attention.
In an interview, Jones said he believes that white people are more intelligent than black people. Two of his primary political goals include ending America's wars in the Middle East, which he says primarily serve the interests of Israel, and cracking down on so-called sanctuary cities. "I will work with the [Ku Klux] Klan, with socialists—I exclude communists of course—any patriotic organization that is in general agreement with my beliefs and principles," he said.
Jones, a health-insurance agent living in Lyons, Illinois, spent eight years as a member of the National Socialist White People's Party—previously known as the American Nazi Party—and has been active with the America First Committee since the 1980s. Illinois's third congressional district, which encompasses part of Cook County, has been represented by Democrat Dan Lipinski since 2005 (and by his father, Bill Lipinski, before that). Jones has run unsuccessfully in the primary for the district six times since 1998.
He makes no secret of his views. The Anti-Defamation League has flagged him as a "longtime neo-Nazi." His campaign website features sections including "News" and "Contribute" and "Holocaust?" He told me that he was disappointed in President Trump for appointing so many Jewish people to his Cabinet. (Plus, he said, "there's a whole layer of other Jews that you don't see that actually make the policy.")
The state GOP has offered a full-throated condemnation of Jones's candidacy. "The Illinois Republican Party and our country have no place for Nazis like Arthur Jones," said Illinois Republican Party Chairman Tim Schneider in a statement. "We strongly oppose his racist views and his candidacy for any public office, including the 3rd Congressional District." The state's Republican National Committee members, Demetra DeMonte and Richard Porter, declined to comment on Jones's candidacy.
This is the closest Jones has gotten to elected office. When he ran in 1998, the Cook County Republican Central Committee denounced his candidacy, saying it would be a "national embarrassment" if he was nominated. That year, the GOP nominated Robert Marshall for the seat—who once called drunk driving a "grossly overblown" problem and began a League of Men Voters to advocate for fathers in custody battles. (Marshall lost.) Most recently, Jones filed to run in the 2016 Republican primary, but the Illinois State Election Board threw out his petition in response to a GOP challenge, citing invalid signatures.
This year, the 70-year-old Jones went door to door gathering more than 800 petition signatures himself. He told me that when he introduced himself to voters, he stressed his foreign-policy views, rather than his thoughts on race. He was the only Republican to turn in the paperwork by the December filing deadline. So Jones's name will be the only one on the Republican primary ballot on March 10, as the deadline for entering the race—even as a write-in candidate—has passed.
Of course, even if Jones wins the nomination, it's not likely that he'll win the seat: While Illinois's third district is relatively conservative on social issues, its voters have elected Democrats to Congress in 24 of the last 25 elections and chosen the Democratic candidate in the last four presidential elections. Even so, the fact remains that the GOP nominee for a U.S. House race will almost certainly be a former Nazi who told me he believes "all men aren't created equal." It's the "national embarrassment" the GOP feared, and compounds the electoral challenges for a party whose leader just six months ago said there were "some very fine people" among a group of white nationalists in Charlottesville, Virginia—and who continues to face accusations of racism after he reportedly referred to African nations as "shithole countries."
So why, if Jones is so widely disliked, wasn't the local Republican Party prepared to head him off with a candidate of its own? Republicans, said Christopher Mooney, the W. Russell Arrington Professor of State Politics at the University of Illinois at Chicago, should have been able to scrounge up at least one loyal party member to gather the necessary signatures and get on the ballot. "You're always gonna get a body," Mooney said. "Here we've got a Nazi body. Anytime you've got a Nazi running, somebody was asleep at the switch."
But the same thing happened in 2016: Even after getting Jones disqualified from the race, Republicans still didn't manage to put a candidate on the ballot. Lipinski ran unopposed. Asked to explain the lapses, the Illinois GOP blamed a lack of interest. "There was just no other candidate who was willing to run," said state party spokesman Aaron DeGroot, citing Democratic gerrymandering as the main reason for that. While it's true that Illinois's congressional districts were drawn to the benefit of Democrats, the Chicagoland area is generally so liberal that most races wouldn't be competitive no matter how you sliced them.
That consistent Democratic advantage has "demoralized" Republicans in the area, Mooney said, and it's likely that conservatives in the third district are feeling even more disheartened this year than normal. Illinois's Republican governor, Bruce Rauner, is one of the least popular governors in the country, and progressives are promising that a political reckoning has finally come to the third district: Bernie Sanders won the district in the presidential primary, and Lipinski, a conservative Democrat, is being challenged by a more progressive member of his own party.
All of that, coupled with Trump's historically low approval ratings, has national GOP prospects looking bleak, and made candidate recruitment harder. Generally speaking, "Republicans are hunkering down," said Mooney. "They see the clouds on the horizon."
And just as the Illinois Republicans failed to find a challenger for Jones, another safeguard of the political system seems to have broken down, as well: The state's ballot-access guidelines, which Mooney told me are intended to "limit the fringe element from cluttering up the ballot," required Jones to get the signatures of 603 registered voters. I spoke with multiple people who signed Jones's petition, and they were shocked to learn they had supported the candidacy of a former Nazi. "I probably just signed it because he asked me to," said 63-year-old Linda Florczak-Wieser of LaGrange when I called her on Wednesday. Another voter from nearby Worth said she didn't even recall signing the petition in the first place. And when I asked 93-year-old Alice Brunell how she felt about Jones's views, the Bridgeview resident replied incredulously, "I didn't know that!"