The Spectacular Implosion of Eric Greitens
How did Missouri's Republican governor go from rising star to felony charges in barely one year?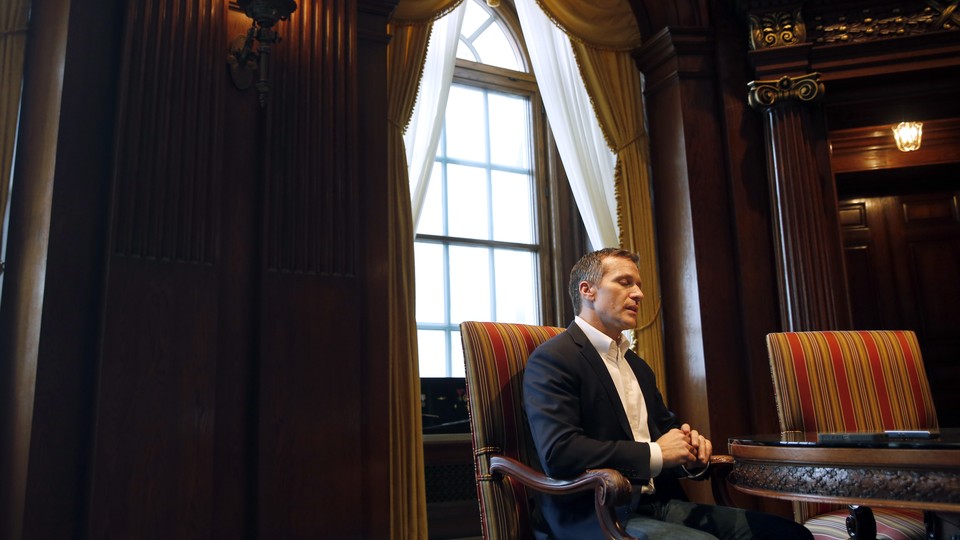 It's customary to refer to a politician's quick rise as "meteoric." Overlooked in that cliché is a truth about what happens to meteorites: They strike the ground violently and destructively.
That's worth considering in light of the meteoric rise of Missouri Governor Eric Greitens, who was arrested Thursday afternoon and charged with felony invasion of privacy charges in connection with a 2015 extramarital affair. The first-term Republican has not resigned, but he'll face an uphill battle to hold onto his office, and his once-bright political career seems likely to, well, crater.
Greitens's troubles began in early January, when several outlets reported that he had engaged in an extramarital affair in 2015. The ex-husband of Greitens's former lover surreptitiously recorded her describing how Greitens had photographed her nude and indicated that the images would serve as blackmail material. "You're never going to mention my name, otherwise this picture will be everywhere," she quoted him as saying on the tape.
Greitens has acknowledged the relationship, describing it as a personal error, but insisted he had never blackmailed the woman or threatened to do so. An indictment released Friday and dated December 22, 2017, does not offer any details, but it closely tracks the publicly reported details of the case.
According to a grand jury, "on or about March 21, 2015, in the City of St. Louis, State of Missouri, the defendant knowingly photographed K.S. in a state of full or partial nudity without the knowledge or consent of K.S. and in a place where a person would have a reasonable expectation of privacy, and the defendant subsequently transmitted the image contained in the photograph in a manner that allowed access to the image via a computer." It's a class-D felony, carrying a maximum prison sentence of seven years.
Greitens was released and is due back in court on March 16. In a statement, his lawyer called the charges "baseless and unfounded."
The governor traversed the path from rising star to defendant in near record time. A native St. Louisan, he scored a full scholarship to Duke, where he designed his own major in ethics, followed by a Rhodes Scholarship, and then joined the Navy SEALs, serving abroad and winning a Bronze Star and Purple Heart. Returning to civilian life, he was awarded a prestigious White House fellowship, then formed a nonprofit dedicated to veterans' issues. He published three books, including a memoir and a collection of letters to a fellow veteran grappling with PTSD. He also married, and has two young children.
In other words, Greitens had built a perfect resume for politics. The question was what to run for, and in what party. Although he had been a lifelong Democrat, Greitens announced that he was a "conservative Republican" in a 2015 FoxNews.com essay, saying that his experience with the Department of Veterans Affairs had shaped his view of government. "The problem is that most Democrats seem to think more money and bigger government are the solutions to virtually every single problem. They're wrong," he wrote. It was a happy coincidence that Missouri was more favorable turf for a Republican than a Democrat. Greitens racked up adoring coverage in conservative media. "If Eric Greitens sent you his résumé, you wouldn't believe it," wrote F. Bill McMorris.
In 2015, Greitens announced he would run in the Republican primary for Missouri governor, his first race for elected office. Greitens charted a course as a dedicated family man, an outsider, and the reverse of the tainted politicians who held sway in the state.
"I'm running for governor because we need a political outsider to move Missouri forward. Like you, I'm tired of the career politicians and lobbyists who are ruining our state," Greitens said when he announced his candidacy, adding, "We have in Missouri a political class of corrupt consultants, well-paid lobbyists, and career politicians who have been in Jefferson City for decades and they have produced nothing for us but embarrassment and failure."
Running as an outsider is a time-tested strategy, but Greitens's decision to run on family values was audacious, since he was still conducting an extramarital affair after announcing his candidacy, according to an email obtained by the St. Louis Post-Dispatch.
Greitens briefly made national news during the campaign with an ad that mostly consisted of the candidate firing a machine gun for 30 seconds. In another, he rhetorically blasted career politicians before doing some more literal blasting, firing off a rifle and concluding the spot with a Michael Bay-style explosion. He won handily over Chris Koster, then the state's attorney general, in November 2016.
But the campaign rhetoric about corruption among elected officials didn't endear Greitens to them, even those in the Republican Party. In early January, a Kansas City Star columnist asked whether the governor was finally learning to work with legislators. But when the affair story broke a week later, Greitens found himself with few allies in Jefferson City, or anywhere else. Republicans opted to keep him at arm's length. Just this week, members of the state house moved forward a bill that would criminalize "revenge porn."
Greitens has repeatedly said he has no intention of resigning, but it's difficult to do the job of governor while under a felony indictment, and what little support he retains is likely to get shakier. He is also reported to be the subject of an FBI investigation.
Here's the thing about career politicians, Greitens's great bogeymen during the campaign. No one likes to defend them, and sometimes they, too, get caught up in extramarital affairs. But in general, career politicians manage to make a career in politics because they know how to stay out of trouble. First-time candidates are a risk. Maybe they'll turn out to be clean-cut and competent, but maybe they'll be indicted for a felony barely a year into their term in office.