Trump's Real Scandal Is Hiding in Plain Sight
The emphasis placed on whether the Trump team colluded with Russia to interfere in the election threatens to overshadow the scandal in plain sight.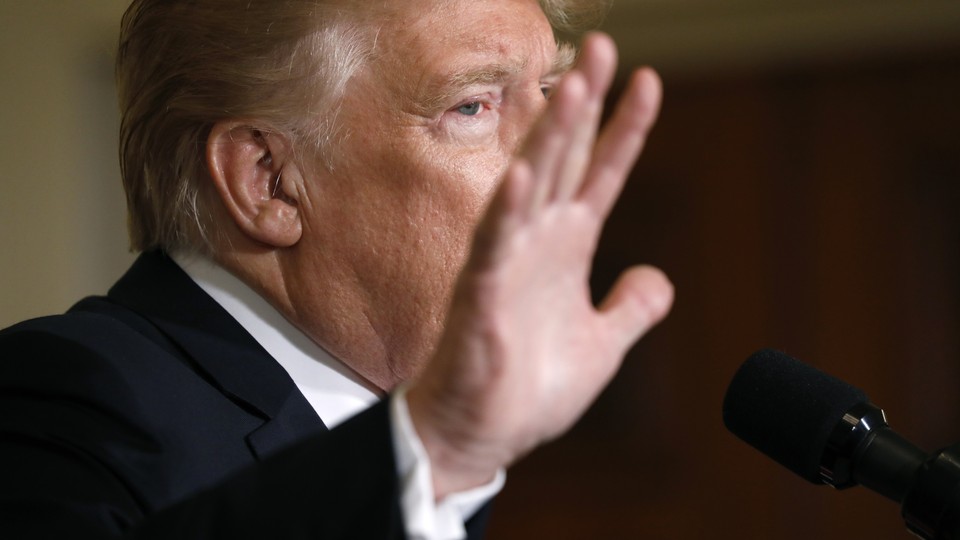 There was a time when the White House's frequent denials of collusion with Russia appeared largely defensive. Over time, however, their primary purpose has morphed. These days, the denials serve instead to distract from the ever-clearer picture of a president surrounded by crooks and liars.
"Consistently we have said there was no collusion," Ivanka Trump told NBC News Monday. "There was no collusion.  And we believe that Mueller will do his work and reach that same conclusion." That echoes her father and a White House statement from February 16, after Special Counsel Robert Mueller indicted a group of Russians for interfering in the election. "President Donald J. Trump … is glad to see the Special Counsel's investigation further indicates—that there was NO COLLUSION between the Trump campaign and Russia and that the outcome of the election was not changed or affected," the press secretary wrote.
Collusion with Russia may or may not turn out to be a real scandal, depending on what  Mueller finds, but it is not the only scandal. (Indeed, while the question of whether any crime was committed remains open, the contacts with Russia that are already known, from George Papadopoulos to the June 2016 Trump Tower meeting, make these denials ring hollow.) The scale of dishonesty and criminality that is now apparent is an enormous scandal in its own right.
On Friday, Rick Gates pleaded guilty to conspiracy against the United States and making false statements. He faced a much longer slate of charges, but agreed to cooperate with Mueller. Gates's troubles with the truth were so severe that he went to the outlandish length of lying to Mueller during a meeting about a plea deal. (It didn't work, and ended up producing one of the charges to which he pleaded guilty.) Gates came into the Trump orbit through his mentor and business partner Paul Manafort, who served for a time as Trump campaign chairman, but that shouldn't cloak his deep involvement in Trump world: He was deputy chairman of the campaign, staying on after Manafort was ousted in August 2016; he served as deputy chair of the Trump inaugural committee; and he helped found America First Policies, an outside support group, remaining there until he was pushed out as his legal troubles increased.
Then there's Manafort, who Trump decided to place atop his campaign in spring 2016, and who led it through the crucial period of the Republican National Convention. Manafort steadfastly denies any wrongdoing, but a pair of documents from Mueller unsealed last week reveal a brutal array of documentary evidence against him, including technological troubles in producing a doctored profit-and-loss statement and what appears to be a note to his son-in-law instructing him to mislead a bank appraiser.
The White House has distanced itself from Manafort and Gates by pointing out that the crimes with which they are charged occurred outside the auspices of the campaign. This might be convincing if Mueller's indictments merely sketched out tax fraud—a not-altogether-uncommon private crime. But Mueller alleges that fraud was a core instrument of Davis Manafort, the men's company. In a new indictment released Friday, Mueller alleges that Manafort worked to create a ring of European leaders who would boost Ukraine's reputation around the world, while making sure their compensation was invisible.
What was Trump seeking when he brought Manafort on? Presumably, he sought the skills that Manafort and Gates had perfected working for leaders in places like Ukraine—the very business that centered on fraud. (It's worth noting, once again, the bizarre reality that Manafort offered to work for Trump for free.) And even after he pushed Manafort out, in part because of renewed scrutiny of his past work, Trump kept Gates in his inner circle.
The dishonor roll doesn't end there. Manafort and Gates seem to have at least been somewhat effective lobbyists, registered or not. Michael Flynn was not so successful. Flynn, having allegedly failed to disclose foreign travel when renewing his security clearance in 2016, entered into a lobbying scheme on behalf of Turkey—though he didn't file documents acknowledging that until 2017. In the course of that work, Flynn suddenly espoused views of the Turkish government diametrically opposed to what he'd previously said, and, according to former CIA Director and Trump adviser James Woolsey, discussed a plan to kidnap the Turkish cleric Fethullah Gulen from exile in the United States and take him to Turkey, where he is accused of fomenting a 2016 coup.
Flynn appears to have continued this work right up until the moment he was designated as the incoming national-security adviser in November 2016. He didn't disclose the work, even though as the president's right-hand man on security and defense issues, he would have dealt closely with Turkey. Flynn was also involved in a bizarre civilian-nuclear-reactor scheme in the Middle East and reportedly continued to push the scheme even after becoming national-security adviser.
Somehow, none of this—nor Barack Obama's explicit warning to Trump about Flynn—was enough of a red flag to prevent Flynn's hiring. He didn't last long. Flynn was pushed out on February 13, 2017, after The Washington Post revealed he had lied to Vice President Pence about conversations with the Russian ambassador about sanctions. Flynn has since admitted, in a guilty plea, that he also lied to FBI agents about those conversations. He is now cooperating with Mueller.
These top-level positions join other, lower-ranking officials who are also in legal trouble. George Papadopoulos has also admitted he lied to the FBI about conversations with Russians, and is cooperating with Mueller. Though a former Trump aide dismissed Papadopoulos as a "coffee boy," Trump praised him by name, and photos show the two of them in a meeting. Carter Page, a volunteer foreign-policy adviser, offered confusing and contradictory information in testimony to Congress, and a memo from House Intelligence Committee Democrats released on Saturday alleges that intelligence gathered by the Justice Department also contradicts Page's testimony.
Outside the scope of the Russia investigation itself, the Democratic memo once again shows the dangers of believing close Trump ally Devin Nunes, the chair of the House Intelligence Committee. The Democratic memo rebuts the most controversial claims made in a memo from Republicans on the committee released earlier in February.
Elsewhere in the Trump orbit, the last month has revealed the foibles of other members of the administration. Rob Porter, former staff secretary, was forced out after accusations of domestic abuse by both of his ex-wives became public. Porter initially tried to sidestep the allegations by telling a clutch of powerful Washington reporters, during an off-the-record meeting, that one of the women had been injured in an accident.
In his attempt to downplay the story, Chief of Staff John Kelly offered a story that other West Wing aides believed was so false they expressed concern to reporters about it. Given his stellar military career, Kelly was granted a presumption of innocence when he joined the White House. That can no longer be justified. In October, he told a pejorative story about Representative Frederica Wilson that turned out not to be true; when video evidence contradicted Kelly, however, he and the White House refused to concede the point. Then on Porter, Kelly said he had acted as soon as he learned of the allegations against him, a claim contradicted by FBI Director Christopher Wray during sworn testimony.
The White House press shop also offered contradictory statements about Porter, though it's hard to tell whether that's simply because other West Wing officials were misleading them. The communications team has hardly distinguished itself, though, beginning in the first days of the presidency, when it went to war with a false claim about inauguration crowds, then introduced "alternative facts" into the lexicon.
Why do so many White House staffers lie? It might come from their boss. As Brian Stelter noted, the president shamelessly changed the meaning of a comment he'd heard on television about the House Intelligence Committee memo, refashioning it into a bludgeon against ranking Democrat Adam Schiff:
Holy moly. The @FoxNews anchor said "Congressman Schiff, he ARGUES the REPUBLICAN memo omitted and distorted key facts." Trump just deleted 5 words from the quote to allege the opposite meaning. https://t.co/UlSQUcc0bD

— Brian Stelter (@brianstelter) February 25, 2018
Washington is also filled with Trump appointees who have found themselves facing charges that they are unqualified for the offices they hold, unethical in how they have used them, or both at once. Axios reveals that Trump is considering appointing his personal pilot, John Dunkin, to lead the Federal Aviation Administration. The nugget of news produced an immediate tizzy, as yet another case of Trump trying to select someone close to him without obvious qualification for an important job. The immediate reaction is perhaps unfair to Dunkin, who is little known and may very well be suited to the job.
It's not unfair to Trump, though. One of his senior advisers is his son-in-law, Jared Kushner, who has been given a sweeping portfolio of complex tasks, despite no experience in government; he is working without a permanent security clearance, and reportedly may not receive one until Mueller's probe is complete because of unknown issues the special counsel is investigating. Another senior adviser is Kushner's wife, and Trump's daughter, Ivanka, who enjoys the trappings of White House work but on Monday said it was inappropriate to ask her about the many accusations of sexual misconduct against the president.
To head the Department of Housing and Urban Development, Trump chose Ben Carson, who had endorsed Trump for president after ending his own campaign, but had publicly said he was not qualified for the gig. To head HUD's largest regional office, Trump appointed Lynne Patton, who had no experience in housing but worked for years for the Trump family and spoke at the Republican National Convention.
Appointees with more obvious qualifications keep turning out to be flawed in other ways. Trump selected as commerce secretary Wilbur Ross, who retained investments in companies with links to the Kremlin until they were revealed in the document dump known as the Paradise Papers. He appointed another Wall Street billionaire, Carl Icahn, as a senior adviser on regulatory issues, until Icahn precipitously quit after questions from The New Yorker about whether he was using the job to further his own interests.
The secretary of Health and Human Services resigned over spending more than $1 million on private and military jets. A government report said Veterans Affairs Secretary David Shulkin had committed "serious derelictions" in spending on a European trip. EPA Administrator Scott Pruitt is also under fire for travel spending; the EPA initially said Pruitt had been granted a "blanket waiver" to travel in first class, for safety reasons, only to change its story when pointed to rules that specifically bar such a blanket policy.
At the Consumer Finance Protection Bureau, interim chief Mick Mulvaney dropped an investigation into a payday lender who had contributed to his campaign. Mulvaney's spokesman initially said that career staff had recommended dropping the probe, then admitted when pressed by NPR that Mulvaney was involved in the decision.
That's just a sampling. It doesn't require any further evidence of Trump campaign ties to Russia to grasp the scope of the scandal already in plain sight. Every administration ends up producing examples of corruption and lying, but most presidents take years, and often more than one term, to produce a ledger even half so extensive as what Trump has managed in barely a year in office. It's an old trope to imagine how lonely the Greek philosopher Diogenes, who famously walked around with a lamp seeking an honest man, would feel visiting the American capital. In Trump's Washington, even the hard-bitten cynic might despair.