Devin Nunes, 'Great American Hero'?
The president's praise for the chair of the House Intelligence Committee makes the congressman something of an outlier in Trump's pantheon.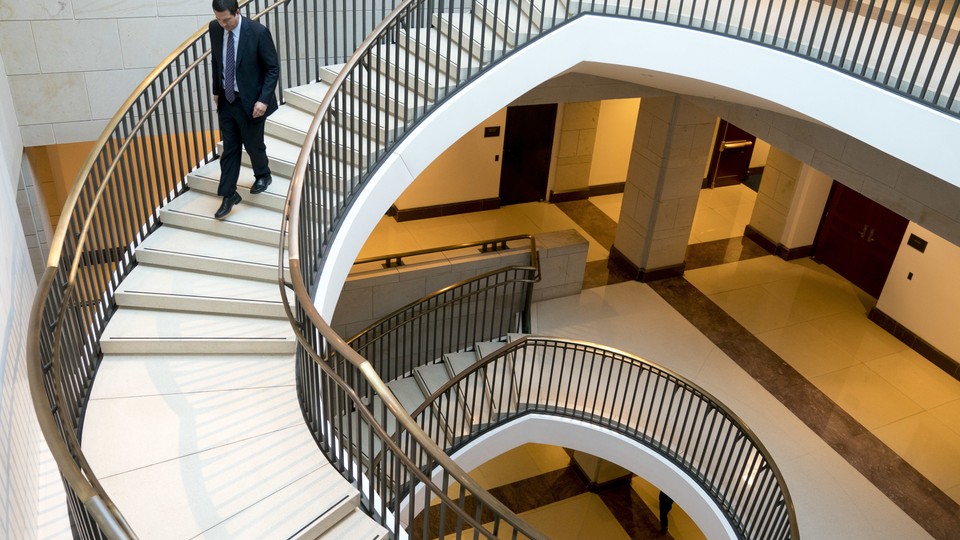 Donald Trump's flair for insults is well noted, but his knack for backhanded compliments is perhaps under-appreciated. Note the finely calibrated use of the conditional tense in this Friday morning tweet:
The pesky "may" aside, the Republican chair of the House Intelligence Committee isn't getting much love elsewhere. Democrats accuse him of duplicitousness in the memo about the FBI's surveillance of Carter Page release on Friday. Intelligence officials accuse him of endangering national security. And even Republicans are edging away, tepidly supporting the release of a Democratic rebuttal and saying the memo should not affect the jobs of Special Counsel Robert Mueller or Deputy Attorney General Rod Rosenstein.
Maybe Trump is genuine, though. He also boasted over the weekend, "This memo totally vindicates 'Trump' in probe." (It doesn't, and who knows what those scare quotes around his name mean.) Labeling the California Republican a hero is all the more impressive when you consider the short list of other luminaries upon whom Trump has bestowed that honorific. Looking at Twitter, astronauts form a big contingent:
Also making the cut is Bob Dole, a former Senate majority leader and presidential candidate; Presidential Medal of Freedom winner; and Bronze Star and Purple Heart recipient in World War II:
So does John McCain, a Vietnam War POW:
That's a little confusing, since Trump has also retweeted an assertion that McCain is not a hero.
Captain Humayun Khan, whose father excoriated Trump at the 2016 Democratic National Convention, won the label:
Among the others who Trump described as a hero are Steven McDonald, a New York detective shot and paralyzed in 1986, who died in 2017, and Captain Andrew Maitner, a cancer-stricken Army veteran. He also deemed now-Representative Ron DeSantis, a Florida Republican and Bronze Star winner, a "Navy hero." Most of the other times the term has come up, it's been Trump retweeting others calling him a hero, though there's also this tweet, which hasn't aged well:
Draw back the camera a little from Trump's Twitter feed to his public statements more broadly and a consistent pattern starts to appear. Trump adds a few obligatory civil-rights mentions (Martin Luther King Jr., Medgar Evers) and another astronaut (Buzz Aldrin).
By and large, however, when Trump talks about heroes, and especially "American heroes," he tends to be speaking about servicemembers current and former. The tendency to refer to everyone who has served in the military as a hero has occasionally created fierce debates. Critics argue that simply donning the uniform does not make one a hero. Certainly it is true that however admirable enlisting may be, the actions of the soldier or sailor or marine who (for example) sacrifices herself to save the lives of comrades deserve a higher level of praise. My colleague James Fallows might point out that the inflation of hero status comes at a time when, as he puts it, "the American military is exotic territory to most of the American public."
This is not the time or place to decide that debate. The question is, does Devin Nunes belong in the same Trumpian pantheon as military members, moon men, Medgar Evers, and, well, Lance Armstrong? Nunes is certainly a public servant, having spent most of his adult life as an elected official of some variety or another, though equating this to heroism would define the label down much more aggressively than applying it to all servicemembers.
In more recent events, Nunes has leveled serious but unsubstantiated accusations of improper use of intelligence at Obama-administration officials; dissembled about the source of his information for those accusations; and now released a memo whose veracity is, at best, in question, in what looks increasingly like a partisan jab. Nunes may someday be recognized as a Great American Hero. But then again, he may not.