The Empty Rituals of an American Massacre
Senate Majority Leader Mitch McConnell expressed his "deep sadness," but continues to block gun-control proposals that enjoy the support of most Americans.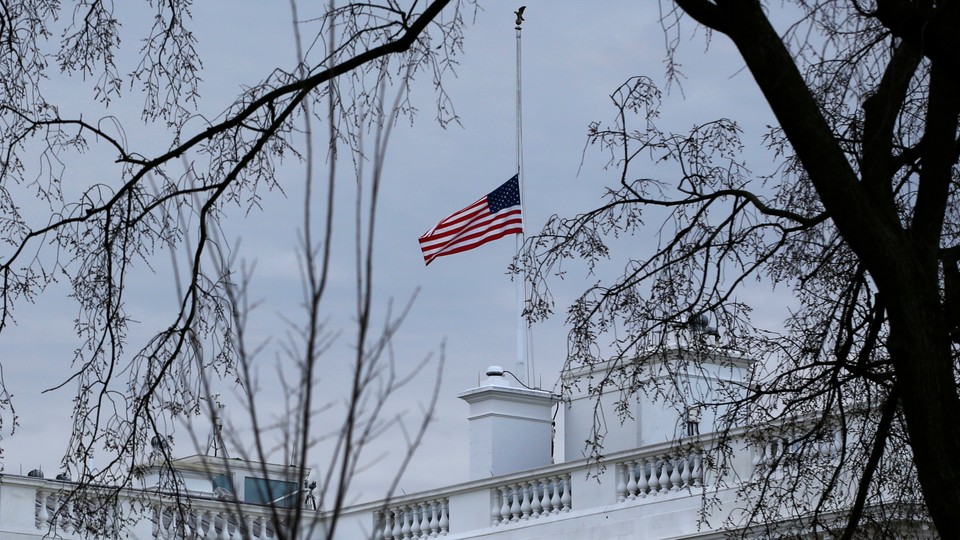 The financial and political power of the National Rifle Association leaves many politicians terrified of crossing it. And because of its ideological and propaganda power, a segment of Americans now equates any proposed limit on gun use or ownership as a catastrophic step toward the extinction of individual liberties and the dawn of a confiscatory, totalitarian state.
Americans recognize that public-safety controls on use of a car—licensing laws, speed limits, insurance requirements, DUI penalties—don't threaten the "right to drive." They recognize that restrictions on some prescription drugs don't threaten their right to buy aspirin, nor do limits on what they can carry onto a plane threaten their right to travel or fly. But the NRA and its allies have succeeded in making gun control an absolute issue. If you believe in the Second Amendment, then whatever the potential control—on gun-show sales, on bulk purchases of ammunition, on waiting times for background checks—it must be fought as a step not so much onto a slippery slope as over a cliff and into the abyss.
Thus even a restriction that seemed common sense a generation ago—for instance, banning a weapon like the AR-15 that was explicitly designed for use by troops in combat, and was never meant to be in civilian hands—now is anathema. A weapon meant for soldiers or perhaps SWAT teams has now been sold by the millions to civilians in the United States, who use it mainly for "personal protection" and "hunting," but also in most mass killings. "I think the shift you're seeing now is the military-style weapon is here to stay because it's appealing to a whole new generation," Steve Denny, owner of a gun shop in North Carolina, told John Boyle of the Asheville, North Carolina, Citizen Times back in 2014. "You can see it in the industry," Denny said, according to Boyle. "The industry had to change from military-style weapons being something that they sold sometimes to them being something that is at the forefront of all their advertising—the tactical use of a firearm."
There are things that can be done to reduce the frequency of gun massacres. We know that because in every other developed country on Earth they have been done, and have made a difference. Australia, Scotland, Norway, Canada, Germany, Finland—these and other countries have had occasional horrific mass shootings. These countries have just as high a proportion of mentally ill people as the United States does, just as many with pent-up grievances. But only America has an endless series of gun killings.
As Margot Sanger-Katz and Quoctrung Bui pointed out in The New York Times after one of the U.S. massacres last fall, there's substantial overlap between the moderate gun-control measures that international experts think would be reduce killings, and those that have majority or near-unanimous support in opinion polls of Americans. But we know that in the terrain of modern American politics, such measures have no place. We'll be talking about something else in a week or two.
---
We know something else as well, which is the sequence of political and press response that will unfold after this latest schoolyard gun massacre in Florida. The sequence is the one I described nearly six years ago, after what was then an attention-getting massacre—the one in a theater in Aurora, Colorado, which with "merely" 12 fatalities is no longer in America's top 10. It's the sequence I discussed in a video last fall, after what is for now still the highest-casualty gun killing, in Las Vegas. The sequence is:
As news of the killing comes in, cable channels give it wall-to-wall coverage.
The NRA ducks its head down and goes dark for hours or days, in its Twitter and other social-media outlets.
Politicians who have done everything possible to oppose changes in gun laws, and who often are major recipients of NRA contributions, offer "thoughts and prayers" to the victims, say they are "deeply saddened," praise the heroes of law enforcement and of medical treatment who have tried to limit the damage, and lament the mental-health or cultural problems that have expressed themselves via an AR-15.
"Thoughts and prayers" are of course admirable. But after an airline crash, politicians don't stop with "thoughts and prayers" for the victims; they want to get to the bottom of the cause. After a fatal fire, after a botched response to a hurricane, after a food-poisoning or product-safety failure or a nursing-home abuse scandal, "thoughts and prayers" are the beginning of the public response but not the end. After a shooting they are both.
These same politicians say that the aftermath of a shooting is "not the right time" to "politicize" the tragedy by talking about gun laws or asking why only in America do massacres happen week after week after week.  
The right time to discuss these policies is "never."
The news moves on; everyone forgets except the families and communities that are forever changed.
The next shooting comes, "thoughts and prayers" are offered, and the cycle resumes.
If this summary sounds too cynical, think back to what has happened since a gunman killed or wounded more than 600 people in Las Vegas less than five months ago.
---
In this familiar sequence, the role of one man deserves study, as emblematic of the age as a whole. That person is of course Mitch McConnell, 75-year-old senator from Kentucky, leader of Republicans in the Senate for the past decade.
I'm deeply saddened by the horrific violence in Florida. Praying for the victims, their families, and the Parkland community. Always grateful for first responders who charge into harm's way.

— Leader McConnell (@SenateMajLdr) February 15, 2018
A history of our era will show Mitch McConnell as both the most effective purely partisan figure of the time—LBJ in the Senate, Sam Rayburn in the House, their records will pale—and a person uniquely destructive of trans-partisan governing norms. How has he changed norms? For the full picture I refer you to a wonderful short 2014 book about McConnell by Alec MacGillis, called The Cynic (well reviewed in The New York Review of Books by Robert Kaiser), and a prescient 2011 profile in The Atlantic by Joshua Green, called "Strict Obstructionist."
Of course since those accounts, McConnell changed national and political history with his unprecedented refusal to consider Barack Obama's nominee for the Supreme Court, Merrick Garland, and by blocking the Obama administration's efforts to issue a bipartisan warning about Russian election interference during the summer of 2016. Both moves enhanced the chances of Donald Trump's election: the Garland stonewall in giving conservatives a clear-cut reason to vote for a man whose policies and personality might otherwise leave them queasy, and the Russian-interference stonewall in making that issue seem a fringe concern. Although no one suggests that this is the reason for McConnell's actions, it's a matter of historical record that his wife, Elaine Chao, who had been secretary of labor for George W. Bush, was named to another cabinet position, as secretary of transportation, by the victorious Donald Trump.
McConnell's effect on gun legislation is representative of the politics of this issue and of McConnell's instincts and influence overall. The crucial moment came after Obama's reelection victory over Mitt Romney, in 2012.
Five weeks after the election, on December 14, a disturbed 20-year-old with an AR-15 went to the Sandy Hook Elementary School in Newtown, Connecticut, and shot dead 20 little six- and seven-year-old children, plus six staff members.
At the time, it seemed unimaginable. At the time, it seemed that this atrocity might be the one that finally changed the public mind and thus public policy about dealing with guns. At the time, it seemed that pictures of these children and their families might have an effect like that of horrific images from the Vietnam era, for instance 9-year-old Kim Phuc running in terror, naked, after a napalm attack.
Associates of Barack Obama say that he considered the day he got the Sandy Hook news the worst day of his presidency. And two months later, in the first State of the Union address of his second term, he made the case for gun legislation with a passion and intensity quite rare in these big, formal speeches.
The ending of his speech was built around the phrase and concept that people devastated by gun violence deserved at least the respect of a formal up-or-down congressional vote on gun-control laws. He said, with a cadence I noted at the time and will illustrate with italic emphases:
Of course, what I've said tonight matters little if we don't come together to protect our most precious resource—our children.

It has been two months since Newtown. I know this is not the first time this country has debated how to reduce gun violence. But this time is different. Overwhelming majorities of Americans—Americans who believe in the Second Amendment—have come together around commonsense reform—like background checks that will make it harder for criminals to get their hands on a gun.

Senators of both parties are working together on tough new laws to prevent anyone from buying guns for resale to criminals. Police chiefs are asking our help to get weapons of war and massive ammunition magazines off our streets, because they are tired of being outgunned.

Each of these proposals deserves a vote in Congress. If you want to vote no, that's your choice. But these proposals … deserve a vote. Because in the two months since Newtown, more than a thousand birthdays, graduations, and anniversaries have been stolen from our lives by a bullet from a gun.

One of those we lost was a young girl named Hadiya Pendleton. She was 15 years old. She loved Fig Newtons and lip gloss. She was a majorette. She was so good to her friends, they all thought they were her best friend. Just three weeks ago, she was here, in Washington, with her classmates, performing for her country at my inauguration. And a week later, she was shot and killed in a Chicago park after school, just a mile away from my house.

Hadiya's parents, Nate and Cleo, are in this chamber tonight, along with more than two dozen Americans whose lives have been torn apart by gun violence. They deserve a vote.

They deserve a vote. They deserve a vote!

Gabby Giffords deserves a vote.

The families of Newtown deserve a vote.

The families of Aurora deserve a vote.

The families of Oak Creek, and Tucson, and Blacksburg, and the countless other communities ripped open by gun violence - they deserve … a …. simple ….  vote.

They deserve a simple vote.
---
They deserved a simple vote—up or down, yes or no, on gun-control measures that had support of more than 50 senators and of a much larger proportion of the public in opinion polls.
They deserved that vote, and didn't get it, because Mitch McConnell led a filibuster of the measures Obama had proposed and a majority in the Senate supported. Those measures couldn't get 60 votes to break the filibuster, and they died.
McConnell didn't do this on his own: The money and ferocity of the NRA were behind him. But he was the face, instrument, and leader of the effort to say: No, not even these murdered little children "deserve a vote."
Schools should be places where children can learn, and faculty and staff can work, without fear of violence. My colleagues from Florida will carry home the prayers of the whole Senate, for victims and their families, for the community of Parkland, and for the first responders.
— Leader McConnell (@SenateMajLdr) February 15, 2018
Now he is "deeply saddened" by another school massacre.
As are we all, Mr. Majority Leader. By your works, history will know you.