Congress Braces for Another Shutdown Fight—With Two Days Left to Go
A long-term budget deal that's coming together in the Senate is complicating short-term spending negotiations.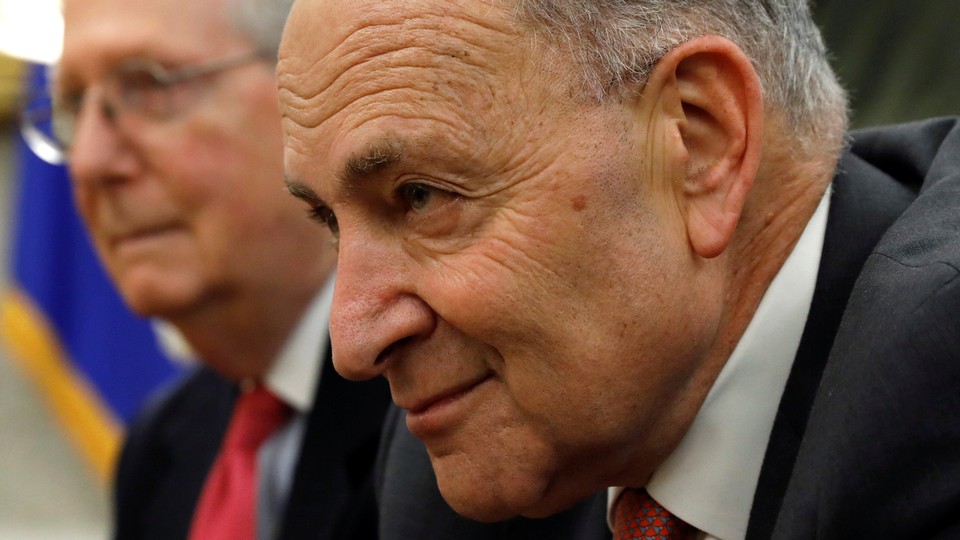 In an all-too-familiar situation of late, the House and Senate once more find themselves grappling over a stopgap measure to fund the government—with just two days left to go before their self-imposed deadline.
On Tuesday evening, the House kicked off negotiations with a bill that would fund domestic programs through March 23, while boosting defense spending for the whole year. The plan came together after Republicans huddled behind closed doors Monday night and Tuesday morning to hash out concessions among members from the multiple ideological wings of the conference. The bill was an easy win among defense hawks in particular, who've argued that the recent series of short-term funding solutions has thrown the Pentagon into disarray.
House lawmakers are under no illusion that the Senate, which needs Democratic votes to pass most legislation, will sign off on their proposal. "Democrats have made clear for several years now that, yes, we want to increase military spending, but we want the same for domestic levels," a senior Senate Democratic aide told me. (The staffers and lawmakers I talked to for this story spoke on the condition of anonymity so they could speak freely.) The House bill "seems more about managing internal House Republican dynamics than it does actually legislating," the aide added.
Earlier on Tuesday, there appeared to be two possible outcomes: The Senate would either sign off on the $659.2 billion increase in defense spending and add in a parallel increase in domestic spending, or lawmakers would strip the measure of all extra defense spending and send yet another "simple" stopgap bill back to the House. How Republicans in the lower chamber would respond, however—especially to a simple spending measure—was anyone's guess. "I would have to see the details, but would probably vote for it," one top House conservative told me, referring to the simple CR. A few minutes later, though, another top conservative lawmaker told me via text: "I believe we would have to throw a penalty flag on such a proposal. ...There is no reason Democrats shouldn't support our troops."
The waters became even more muddied by mid-afternoon on Tuesday, when Senate Majority Leader Mitch McConnell and Minority Leader Chuck Schumer emerged from a meeting optimistic that a long-term budget deal was near—a massive spending package they hope to attach to the short-term funding bill. Congressional leaders have been battling for nearly eight months now to reach an agreement on long-term spending caps, which would set funding levels for the next two years and prevent the month-to-month showdowns they've been dealing with. The numbers in the budget deal are reportedly huge, shattering current defense and non-defense caps by $300 billion.
News of the deal's development immediately scrambled the calculus among House conservatives. For now, it seems the Senate will send the deal, along with a simple short-term funding bill, back to the House for approval. According to a senior GOP aide with direct knowledge, the Freedom Caucus is "really pissed off" that Office of Management and Budget Director Mick Mulvaney, who's also a former member of their group, is "signing off" on "these ridiculous numbers." Asked if the caucus would take an official stance against the package, the aide said: "If we have zero supporters, we may not even need to."
Which is to say that Speaker Paul Ryan, who supports the package, will likely rely on House Democrats to seal the deal. And that poses its own problem: House Democratic leadership has been adamant that it won't agree to any spending measure that fails to address the fate of those enrolled in the Obama-era Deferred Action for Childhood Arrivals program. All eyes now are on House Minority Leader Nancy Pelosi—and whether she'll heed any call from Schumer to fall in line.
"My guess is [she won't], but as I understand it, a chunk of her caucus probably votes for it," said one Senate Democratic aide who has been communicating with House leaders. "If it's less than half, though, it's definitely a no."