Congress's Ever-So-Brief Return to the Debate Over Gun Control
A post-massacre ritual takes on a new twist, but with the same end result.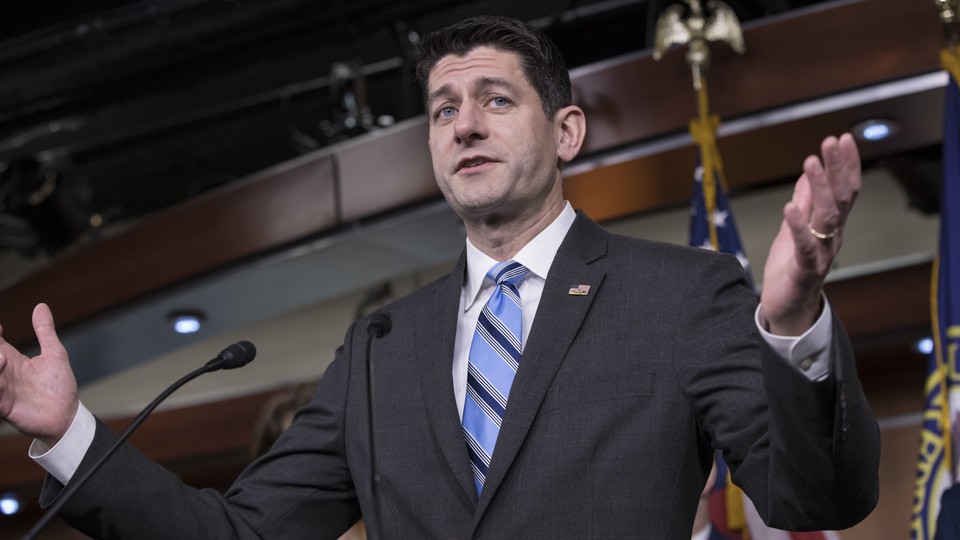 House Speaker Paul Ryan found himself in an all-too-familiar position on Thursday, facing reporters after yet another mass shooting and having to explain why Congress had done nothing to respond to what many consider to be an epidemic of gun violence across the country.
"This is one of those moments where we just need to step back and count our blessings," Ryan said, speaking a day after a student expelled from Marjory Stoneman Douglas High School in Florida allegedly gunned down 17 of his former classmates and teachers. "We need to think less about taking sides and fighting each other politically and just pulling together."
This time, however, Ryan could point to a specific action House Republicans had taken since the last mass shooting that captured the nation's grief, the November massacre of more than two dozen churchgoers in Sutherland Springs, Texas. That shooting had come a month after 58 Las Vegas concert-goers died in the largest mass shooting in U.S. history. In December, on a vote that largely fell along party lines, the House had passed legislation to tighten up the National Instant Background Check System, in response to the revelation that the gunman in Texas had a record of domestic violence that should have barred him from purchasing a gun.
"That's a piece of legislation we passed that's sitting in the Senate," Ryan said.
What the speaker did not mention was why the bill hasn't passed the Senate, or why only six Democrats voted for it in the House: In addition to the modest changes to background checks, the legislation secured for the National Rifle Association its top federal priority—a provision treating concealed-carry permits essentially as driver's licenses that would override the stricter regulations of individual states.
Such is the reality of gun legislation in a city run by Republicans elected in no small part due to promises to defend the Second Amendment and thanks to voters mobilized by the NRA. For even the most incremental gun-control measure to advance, it must be accompanied by a much more dramatic expansion in the right to carry firearms. Congress has similarly failed to act on bump stocks, the mechanism for accelerating the firing speed of semi-automatic rifles used in the Las Vegas shooting; lawmakers in both parties initially called for banning them, but after Republicans tossed the issue into the hands of the Trump administration, nothing happened.
Both Ryan and President Trump sought to move the post-shooting debate away from guns entirely and in the direction of mental health. "It is not enough to simply take actions that make us feel like we are making a difference. We must actually make that difference," Trump said in remarks that omitted any direct mention of the gun debate. Ryan pointed to legislation enacted into law over a year ago that devoted more funding to mental health and made other changes sought by advocates to promote treatment of mental illness rather than punishment. But given the continued spate of mass shootings over the last year, the speaker acknowledged it had yet to make an apparent difference in reducing gun violence. "The question is, are those laws where they need to be. Is it being implemented properly? Are they being enforced correctly?" Ryan said.
Democrats who have advocated a much more aggressive legislative response did what they could, which wasn't much. They delivered speeches on the House and Senate floors calling out Republicans for inaction, demanding votes on legislation to expand the background-check system and, in some cases, to revive a ban on assault weapons that lapsed a decade ago. House Minority Leader Nancy Pelosi and the House Democratic point man on gun legislation, Representative Mike Thompson of California, challenged Ryan to remove a prohibition on research by the CDC into gun violence as a public-health issue and to appoint a select committee on gun violence. "I have said it over and over: I would rather pass gun-safety legislation than win the election," Pelosi said. "Because people die from this."
But she also acknowledged what is becoming increasingly evident: Absent an unmistakable directive from the voters, there will be little political impetus for legislators to change course. "This is something," she said, "that we have to have the public really demand."
Democrats frequently point to polls showing broad support for expanding background checks and other modest gun-control measures, but there is less evidence that the issue moves voters to the ballot box, or of Republicans and conservative Democrats being punished for their positions. Nor is it easy for advocates to keep the spotlight from moving off the latest atrocity and away from the push for a legislative response. After Pelosi and Thompson made their lengthy pitches for GOP action on guns, the Democratic leader moved on to castigating Republicans for their recent tax cuts and pushing for an urgent extension of protections for young undocumented immigrants in the Deferred Action for Childhood Arrivals program.
By the afternoon, the Senate had moved on, too, holding a series of four failed votes on immigration amendments. Twenty-four hours after the latest shooting, Congress's brief return to the frozen politics of gun legislation seemed to be over.