Can Speaker Ryan Convince House Republicans to Support the Budget Deal?
The Senate is celebrating their two-year spending pact, but some conservative lawmakers in the lower chamber are refusing to support the agreement.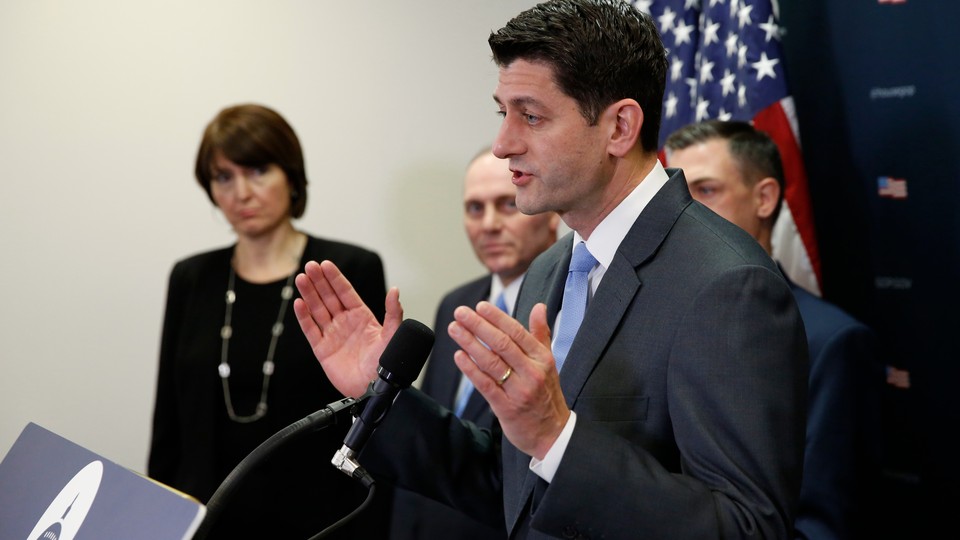 As Senate leadership celebrated their agreement on a massive two-year budget deal, Speaker Paul Ryan struggled to convince his conference's right flank that the legislation was worth supporting.
The Senate hasn't even yet passed its funding package—which includes a stopgap bill to keep the government open until March 23, along with a two-year, $300 billion increase in defense in domestic spending, a one-year suspension of the debt limit, and $81 billion in disaster relief—but House leaders are already trying to contain opposition among their members.
Negotiations have sparked a resurgence of the internecine strife that has wracked the conference in recent years: Spending hawks in the Freedom Caucus, for instance, are decrying the deal. If Republicans support this package, they argue, they've signaled to voters that the party's message of fiscal prudence—the message that sealed their majority in 2010—is a sham. Moderate Republicans, meanwhile, counter that the bill's long-term Pentagon funding, not to mention its cessation of the pattern of month-to-month government funding, makes the deficit  a necessary pill to swallow.
Those tensions were brought into sharp relief this afternoon, when Ryan pitched his members on the deal's terms in a closed-door conference. Over salads and sandwiches from Corner Bakery, members listened as Ryan hyped the stability this would bring the Pentagon. He also argued that revenue from the recently passed tax plan, along with a small series of offsets, would help stymie any fiscal fallout from the long-term deal (Republicans believe economic growth will offset the cost of the tax law; most analyses say otherwise). "It once and for all gives Secretary Mattis what he needs on defense," says New York Representative Chris Collins, who supports the package. "There's a bitter pill of sorts we are swallowing on the fiscal side, but there's a point at which we have to get things done."
"But I think we're gonna need votes coming both ways," Collins added. "I don't think I'm going to be on the 7:30 flight tomorrow going home."
Virginia Representative Barbara Comstock echoed that the fiscal "bitter pill" of the package was perhaps less biting in the context of where domestic funds will actually go, as well as tax reform. "The additional domestic spending is going to be on our priorities, which are infrastructure and things like the opioid crisis," she said. "I feel this is a good bill that's mainstream, conservative, and complemented by the tax relief of families and businesses, I think it will be very positive."
She added: "I think [Freedom Caucus members] need to have more confidence in what the tax bill is going to do."
But conservatives left the room incensed. "I'm not only a no; I'm a hell no," Alabama representative and Freedom Caucus member Mo Brooks told reporters. "This spending bill is a debt junkie's dream … Quite frankly, I'm astonished that the Republican Party seems to be the party of big government in this day and age."
Arizona Representative Paul Gosar, also a member of the Freedom Caucus, borrowed Brooks's language to describe his own stance. "There's no way in hell I sit by and vote for this." Of GOP leadership, he said, "frankly, I don't get their logic … it seems like to us that they're throwing a life vest to Chuck Schumer and the Democrats."
"If we were so uptight about the military, send what we sent yesterday and keep sending it back," Gosar added, referring to the stopgap bill passed yesterday by the House, which included only an increase in defense spending. "Just break 'em."
There to rub salt in the wound was the Heritage Foundation. The conservative think tank—whose political arm is a crucial voting metric for conservatives up for reelection—issued a statement blasting the caps deal as a non-starter. "The country cannot afford an irresponsible plan that welcomes back trillion dollar deficits with open arms," the statement read. "Congress should reject this deal."
Other Freedom Caucus members said the deal's development gave them reason to question Ryan's leadership and fiscal bonafides. "I can't believe Paul Ryan, a former Budget Chairman, is gonna do that [to us]," former Freedom Caucus Chairman Jim Jordan told me on the phone.
In private conversations, aides are predicting that more than 60 Republicans will defect, meaning that Republican leadership will have to lean on Democrats to send the package to President Trump's desk. For House Minority Leader Nancy Pelosi, it's a heavy lift: in the last shutdown fight, mere weeks ago, Pelosi pledged that her caucus would not support any future stopgap bill that does not address the so-called "dreamers," undocumented immigrants brought to the U.S. as children, who were shielded by the Obama-era Deferred Action for Childhood Arrivals program. This morning on the House floor, Pelosi exercised her privilege of limitless speaking time to make that clear; as of press time, she's been speaking filibuster-style for more than five hours, reciting letters from "dreamers and urging Congress to pray for them. "During the night when I was thinking and praying so hard about our Dreamers, I thought, maybe we should just pray all day on the floor of Congress," Pelosi said."Maybe I should bring my rosary blessed by the pope ... his holiness, Pope Francis, or the one before that, Benedict," she added.
Yet people familiar with discussions among House Democrats predict Pelosi will ultimately cave. Which isn't to say Pelosi herself will vote for the spending deal; rather, she may free up her caucus to break rank. "The reason she's on the floor right now is for one reason: To make the progressives feel good, say she fought for us, bla bla bla," says one person close to House Democratic leadership.
"We all know how the story is going to end," the person added. "I wouldn't be surprised if 40 to 50 [Democrats], maybe even more, vote for this."
The whip count on both sides, however, is still in flux. House Republicans will use their next vote series, expected later this afternoon, to whip their vote. Whether Pelosi does, in fact, give her caucus her blessing, remains to be seen. If she doesn't, Congress could find themselves in yet another shutdown.
"There's no way to gauge how many people will vote for this," said Texas Representative Louie Gohmert, who opposes the bill. "Some people are excited, think we oughta celebrate. Some of us are rather depressed."