Billy Graham, the Great Uniter, Leaves Behind a Divided Evangelicalism
The preacher, dead at 99, advised presidents, mentored clergy, and influenced millions of people. Will his legacy of non-partisan outreach continue?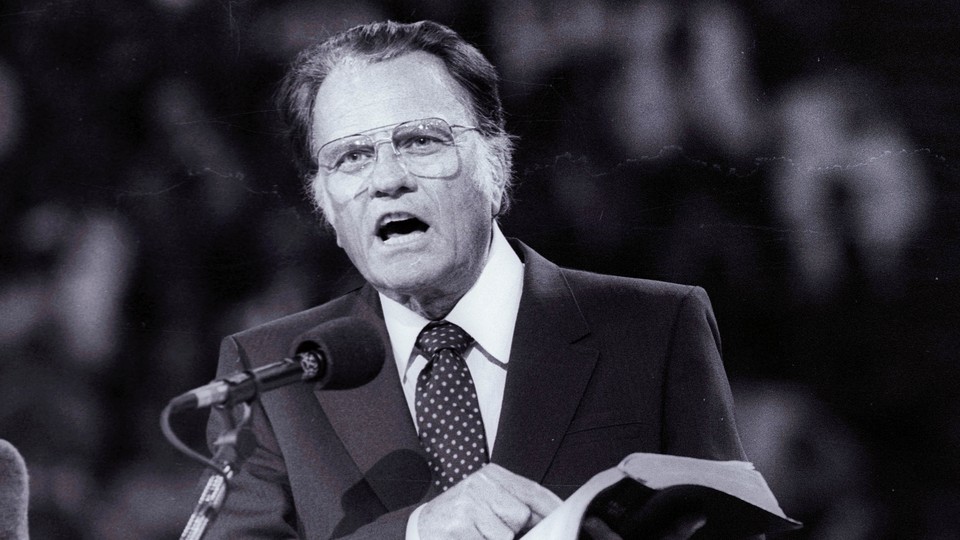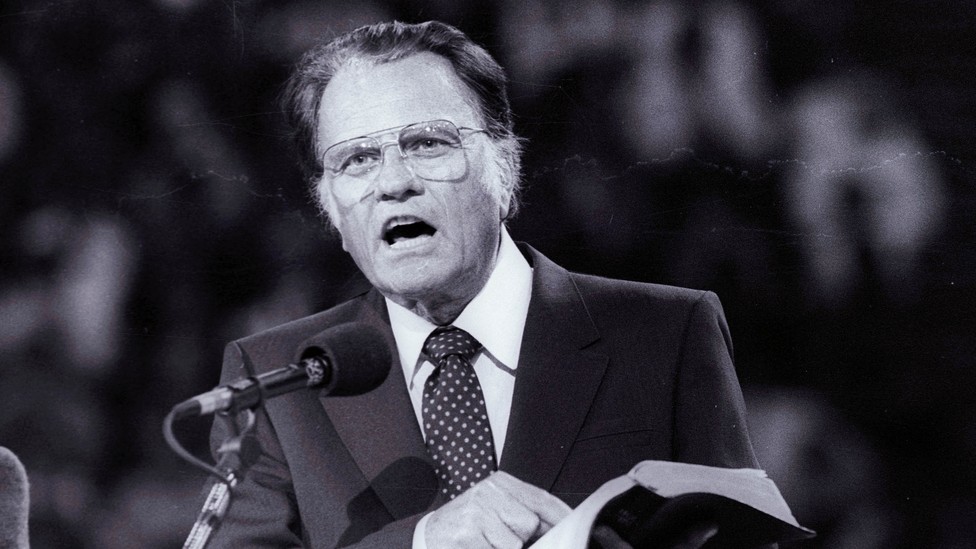 Billy Graham, the famous preacher who reached millions of people around the world through his Christian ministry, died on Wednesday at 99. Over the course of more than six decades, he reshaped the landscape of evangelism, sharing the gospel from North Carolina to North Korea and developing innovative ways to communicate the message of the Bible. He influenced generations of pastors and developed friendships with presidents, prime ministers, and royalty around the world. His death marks the end of an era for evangelicalism, and poses a fundamental question: Will his legacy of bipartisan, ecumenical outreach be carried forward?
Graham came up as a preacher during the post-war era, a time when American Christianity was being radically remade. "When Billy came on the scene, fundamentalism, as it's called, was really prevalent," said Greg Laurie, the pastor of the California megachurch Harvest Christian Fellowship and member of the board of the Billy Graham Evangelistic Association, in an interview. "Billy wanted to broaden the base and reach more people."
During this era, Christianity was becoming tightly twined with American nationalism—a shift helped along by Graham, who sent President Eisenhower regular updates on his crusades and corresponded about theology, according to one of Graham's biographers, William Martin. Technology was also facilitating new ways of reaching audiences in America and abroad, and Graham was one of first pastors to use television and radio, along with books and a newspaper column, to build huge audiences across geographic lines.
Although the term "evangelical" is now commonly used to refer to Christians who focus on personal salvation and outreach about the gospel, it wasn't always so common. "Billy was sort of the original evangelical," argued Jack Graham, the pastor of Prestonwood Baptist Church in Plano, Texas, who serves with Laurie on President Trump's unofficial evangelical advisory council. (He's not related to Billy Graham.) The North Carolina preacher was focused on evangelism, or sharing the good news of the gospel. As he grew more popular, he became the face of the movement to many around the United States and the world.
Born in Charlotte, North Carolina, in 1918, he was ordained as a pastor in Florida in 1939 and got his degree at Wheaton College in Illinois, an elite Christian school which now hosts an outreach and training center named for its famous alumnus. "We have an entire section devoted to the life and ministry of Rev. Graham," wrote Ed Stetzer, a Southern Baptist pastor who runs the center, in Christianity Today—the magazine founded by Graham in 1956. "Billy Graham was beloved by both Christians and non-Christians, admired by those who love Jesus and those who have rejected Him. And with his passing today, we are at a loss for words in many ways."
As Graham's ministry developed, he focused on outreach—often crossing lines of partisanship and doctrinal alignment. Graham was an admirer of Pope John XXIII, according to Martin, and visited Pope John Paul II at the Vatican. He would bring Catholic priests and liberal pastors on stage with him at crusades, said Laurie, sometimes causing a scandal among his fellow Southern Baptist pastors.
He was also firmly committed to remaining bipartisan, proudly claiming that he provided spiritual counsel to 12 sitting presidents and participated in events surrounding nine inauguration ceremonies. "Billy had great influence on people from every side of the aisle, politically," said Jack Graham. "To me, he reminds us always that more important than partisan politics, more important than the political divisions that we have today, that Christ can unite us." Even President Trump met Graham, before he won the White House: Laurie said the now-president sat with the preacher at Graham's 95th birthday party.
Especially early in his ministry, however, Graham was sometimes hesitant to cross political lines, particularly over issues of race. Initially, he held segregated meetings where it was the local custom, wrote Martin in his biography of Graham, A Prophet With Honor, and he repudiated Martin Luther King Jr.'s famous "I Have a Dream" speech: "Only when Christ comes again," Graham said, "will the little white children of Alabama walk hand in hand with little black children." He also critiqued the techniques of civil-rights leaders: "Jim Crow must go," he said in 1962, according to Martin, "but I am convinced that some extreme Negro leaders are going too far and too fast."
King later hit back in an article for the Saturday Evening Post: "America is fortunate that the strength and militancy of Negro protest have been tempered by a sense of responsibility," he wrote. "This advantage can be dissipated if some current myths are not eliminated. The first such myth is that the Negro is going ahead too far, too fast."
Still, Graham was far more sympathetic towards civil rights than many other white Christian pastors of his generation, and he pushed for non-segregated crusades early in the 1950s. That legacy left him beloved across different groups of American Christians. "Our generation owes this giant of the Christian faith a debt of gratitude for paving the way for sharing the Gospel with the world with humility, graciousness, and integrity," wrote Gabriel Salguero, the president of the National Latino Evangelical Coalition, in a statement on Wednesday.
Indeed, many of today's most prominent evangelical pastors count him as an influence. Jack Graham remembered seeing him as a child during a revival in his town and listening to him preach as a teen. "There was truly something that set him apart as a pastor to the pastors and a leader to the leaders," said Paula White, the senior pastor of New Destiny Christian Center in Florida and one of Trump's evangelical advisers. "My first meeting with Dr. Billy Graham, I literally felt like I was in the presence of God."
When Laurie met Graham in 1995, he said, "I felt like he was the closest person I'd ever met to Jesus Christ." Graham was famous for his strict personal codes of conduct—including the so-called Billy Graham rule, which prohibited him and the men working in his ministry from being alone with women who weren't their wives. Laurie said this integrity came through in private meetings. "It was not a disappointment to know him privately," he said. "It was actually way more thrilling to see: He's the real deal."
Today, evangelical Christianity is on the rise in regions including Africa, Latin America, and Asia, and many leaders in these communities would likely credit Graham as an inspiration.
Yet in America, Graham's legacy of outreach across lines of race, class, and political party doesn't seem as resonant in contemporary evangelicalism. "There's always been divisions, politically, but it seems like they're greater today," said Laurie. "The genius of Billy Graham is that he was able to rise above that. And I would hope and wish that we could still have that today." His son Franklin, who leads his father's evangelistic association and the charity Samaritan's Purse, has become a controversial figure, and many of the evangelical leaders who serve as advisers to Trump have been criticized for not holding the president to a higher standard of conduct.
There won't be another Billy Graham, said Laurie, but he hopes that subsequent generations of evangelical leaders will follow his model. "It's just an incredible story of God's love," Jack Graham added. "How God can take a lanky North Carolina farm boy, really out of nowhere, and raise him up to be a preacher to the generations."