Turning the Hill's 'Me Too' Moment Into Legislation
Lawmakers on both sides of the aisle are attempting to curb sexual harassment in Congress.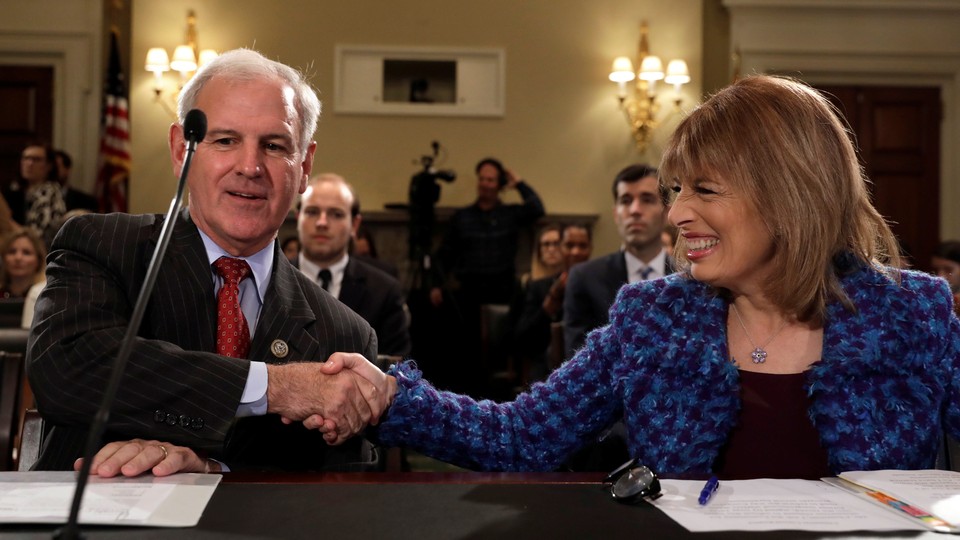 Drip. Representative John Conyers. Drip. Senator Al Franken. Drip. Representative Joe Barton. Drip. Representative Trent Franks. Drip. Representative Blake Farenthold. Drip. Representative Ruben Kihuen. Drip?
Congress knows it has a sexual harassment problem. Big time. And members are braced for it to continue plaguing them through the midterms. For weeks, in fact, political Washington has been anxiously awaiting the Big Expose rumored to be in the works by a major news outlet—Politico? MSNBC? Ah, The Washington Post!—that will bust between two- and four-dozen lawmakers for varying degrees of piggishness.
Don't hold your breath. The latest word is that a mass takedown is not happening: Vetting allegations against one or two members at a time is daunting enough; a few dozen would be madness. That said, there are naughty lists floating around, which reporters are diligently working through. So while the dam may not abruptly burst on congressional bad boys, the toxic trickle will likely keep on trickling.
The public is unamused. It's the swamp at its swampiest, and neither team can risk looking insufficiently appalled. (Nothing focuses the political mind like a high-stakes election.) Thus has emerged a rare bipartisan push to address the Hill's long-running freakshow of men behaving badly.
Hearings are being held. Experts are being consulted. Legislation is being crafted. In mid-November, a bipartisan group of House members introduced the Me Too Congress Act, spearheaded by Jackie Speier. Shortly before the December break, 20 Senators, led by Kirsten Gillibrand, introduced a nearly identical bill titled the Congressional Harassment Reform Act. As lawmakers settle back into work this month, a second bipartisan House plan is being readied by Administration Committee Chairman Gregg Harper. ("We are looking to introduce the bill soon," his office told me this week.)
Almost everyone, it seems, wants a piece of this action.
Long-time reform advocates are thrilled by the new urgency. "This conversation is in such a different place than it was even six months ago," said a Democratic Senate staffer involved with the effort. "It's insane how much more willing people are to talk about the types of things that had been getting swept under the rug."
"If only everything could be done this way," said an aide to Speier. "It has been remarkably bipartisan."
Oh, sure, there has been some grumbling. Early on, a small, vocal cluster of lawmakers opposed requiring public disclosure of settlements and making individual members financially liable for settlements. (Currently, a Treasury slush fund is available for handling such unpleasantness.)
"They were quickly put in place by Ryan and Pelosi," said Speier's aide. "Leadership of both parties realizes one of the things the American public is united on is that there has to be transparency and members have to take responsibility."
Or as multiple people wryly observed: The public may not get worked up about lawmakers' harassing staff, but they are furious that their taxes are being used to cover up the mess.
So what will all this bipartisan energy amount to? Outside experts say there is much to admire in the current bills. They all seem "fairly comprehensive," said Maya Raghu, Director of Workplace Equality for the National Women's Law Center. And all focus on bringing transparency and accountability to the existing joke of a system (which protects the interests of members rather than complainants). But they are just "first steps," said Raghu. To really clean things up, say reformers both on and off the Hill, Congress needs to address some larger accountability issues.
Having studied harassment-related issues for years, lawmakers like Gillibrand and Speier came to this effort with a solid sense of do's, don'ts, and common pitfalls. (Also handy: In 2016, the EEOC released a report on workplace harassment, including best practices and tips on effective training. ) In addition, their teams have spent much time of late trying to identify and address "loopholes" specific to misbehavior on the Hill, say aides.
Reform advocates point to several important elements of the emerging legislation: A point of contact would be designated to whom targets of harassment could report problems. No longer would complainants be required to undergo 30 days of counseling and 30 days of mediation. Mandatory non-disclosure agreements would be done away with (though complainants could request confidentiality). Settlements would neither be kept secret nor paid out of a slush fund. Legal protection would be extended to unpaid staff, such as pages and interns. Anti-harassment training would be mandatory, and climate surveys would be regularly conducted to track overall progress and problems.
A "holistic" approach is vital, all agree. Relying on any one tool—for instance training (which was recently made mandatory in both chambers)—isn't merely ineffective; it can be counterproductive.
"With no follow up, training is a joke," says Heidi-Jane Olguin, the president and CEO of Progressive Management Resources. (PMR works with companies who have landed in legal hot water over harassment problems and agreed to third-party monitoring.)
"There has even been research showing that companies that rely only on training are doing more harm than good," said Speier's aide. "True predators can use training to work out how to do something without it being strictly in violation of the law."
No question, training brings its own challenges. The EEOC found that participants with a "tendency to harass" or "gender-role conflicts" may have "a negative reaction" to training. Olguin recalled "multiple occasions" where companies had to halt training because it was poorly done to the point "it just so bordered on inappropriate"—the irony of which is simultaneously depressing and hilarious. More ironic still, one attorney told me her story of being hit on by a man with whom she was conducting anti-harassment training.
Messaging can be tricky as well. What is and isn't acceptable behavior must be clearly outlined, and top management (in this case lawmakers) must stress their commitment to a harassment-free workplace. That said, experts warn against a message of "zero tolerance." Explained Raghu, "There needs to be some proportionality for accountability. If the only resolution is to fire the harasser no matter what the behavior, it will make employers less likely to investigate and impose consequences. It also makes people reluctant to come forward. Many don't want the harasser fired. They just want the harassment to stop so they can get on with their jobs."
Far more broadly, a key concern among reformers both on and off the Hill is whether Congress will be able to achieve any level of clarity and consistency in its policies and procedures—much less establish real oversight.
Aides and members alike note that each lawmaker runs his (or her) office like a mini fiefdom, accountable to no real authority—aside from the voters back home, of course. This means that, even if the most comprehensive of the current bills gets passed, Congress is likely to wind up with 535 separate approaches to sexual harassment.
Such variation lends itself to confusion. Raghu stressed that there really needs to be "more clarity" about what actions will trigger an investigation, "what standards will be used to determine if a member did commit harassment or assault," and "what principles will be used to determine the consequences." Handling it through legislation may be too complicated, said Raghu, "but certainly leadership on both sides should be thinking seriously about whether there should be some sort of uniform policy."
Some on the Hill feel the need for at least minimal oversight of how lawmakers use their office budgets (another avenue used to quietly dispatch harassment claims). Others favor establishing a mechanism for expelling harassers. Still other reformers think some sort of oversight body should be established.
But such issues strike directly at members' autonomy—meaning they require bigger fights that no one is eager to pick lest this bipartisan moment turn sour.
Everyone grasps the need to tackle this issue swiftly, before public attention flits on to the next outrage. "We don't want to lose the momentum," said Raghu. "We want to make sure that all that bravery of the people who came forward is harnessed and results in real, lasting structural change."
At the very least, lawmakers want to be better prepared to handle the next drip, drip, drip.