Trump's State of the Union Will Be an Economic Victory Lap
The president will talk immigration, infrastructure, and trade on Tuesday night. But his biggest goal will be selling the public on the things he's already done.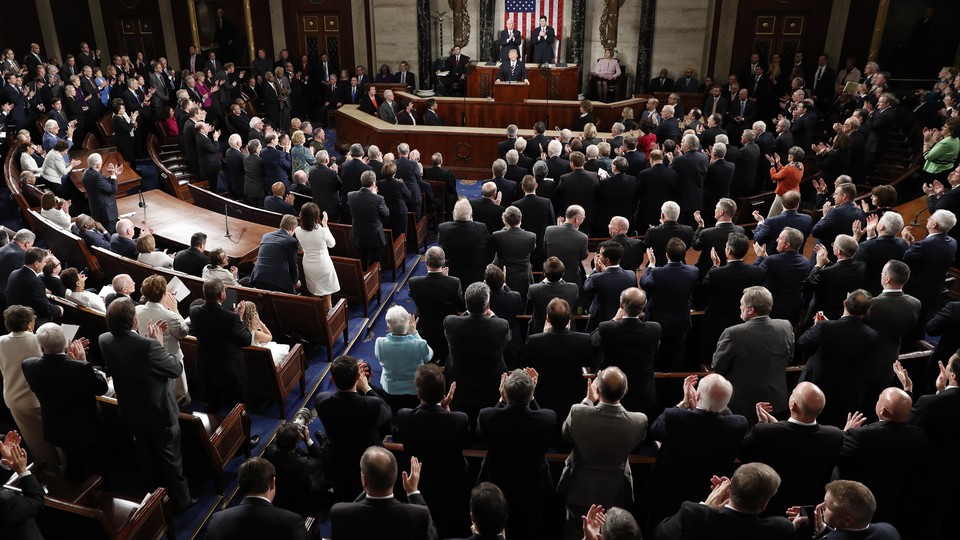 As readers of his Twitter feed are well aware, President Trump firmly believes his first year in office has unleashed an economic boom fueled by the deregulation of business and the promise of tax cuts that Republicans in Congress delivered on last month. On Tuesday night, Trump plans to use his State of the Union address to make sure he gets the credit for it.
A highlight reel of accomplishments and strong economic data points will be one of five main themes of Trump's speech, which will also focus heavily on immigration, infrastructure, trade, and national security, the White House said Friday in a preview for reporters. "People will be reminded, in some cases surprised, but they will be reminded about how much President Trump accomplished in his first year," a senior administration official said on a conference call held on the condition of anonymity.
Presidents in both parties have traditionally devoted a portion of their annual State of the Union speeches to patting themselves on the back and touting their record. But even for an avid self-promoter like Trump, this task carries additional importance.
He's a president starting his second year in worse standing with the public than any of his predecessors, and he's heading into a midterm election that could wipe out his party's majorities in Congress. A Republican defeat in November could cripple Trump's presidency, and the party's chances rest in large part on how well it can sell the public on the $1.5 trillion tax cut Trump signed in December and the broader success of the economy.
How much credit Trump actually deserves is debatable. Most of the trends that Trump will point to—a strong stock market and steady job gains—began under Barack Obama. The president has also exaggerated the extent to which the economy is growing faster than it did under his predecessor. The Trump administration's aggressive deregulation agenda may have boosted the business environment in the short term, but its long-term cost is uncertain.
The speech, of course, will not be entirely backward-looking. Trump will pitch the immigration framework the White House released on Thursday, which calls for a path to citizenship for 1.8 million young undocumented immigrants in exchange for $25 billion in funding for the president's border wall and significant reductions in legal immigration. He'll detail the administration's long-awaited $1 trillion infrastructure plan that will reportedly place a large burden on states and cities to fund new projects. And, according to the senior administration official, the president will renew his call for "fair and reciprocal" trade that he issued at an economic summit in Vietnam last fall.
Unlike the president's agenda in 2017, that trio of issues all have, on the surface, the potential for bipartisan cooperation in Congress. But a week after a government shutdown and with the next election looming, the appetite for bipartisanship is waning. Democrats swiftly rejected the White House's proposal on immigration and are hoping for a more favorable deal in the Senate to extend the protections of the Deferred Action for Childhood Arrivals program. And although they have urged Republicans to prioritize infrastructure investment for years, Democrats have been chilly toward Trump's push to force states to put up most of the money.
A surprising omission on the list of major themes was health care: If Trump plans to call on Republicans to make another attempt at repealing and replacing the Affordable Care Act, it is not expected to be a central part of the speech. That might be a surrender to political reality as much as anything. Though conservatives are pushing for the GOP not to give up, the party's slimmer, 51 to 49 majority in the Senate likely makes full repeal all but impossible. Trump will, however, speak about his plan to tackle the opioid crisis and point to a guest of First Lady Melania Trump's as part of that effort. Another guest sitting in the first lady's box will be a beneficiary of the Republican tax cut, the White House said.
Though the address will be "mostly about domestic issues," the official said, it will include a lengthy section on national security that will touch on North Korea and other global hot spots. In response to questions from reporters, the official would not say if Trump planned to repeat his blustery threats of "fire and fury" if North Korea does not suspend its nuclear testing.
Technically, Tuesday's address is Trump's first State of the Union, although he delivered his first speech to a joint meeting of Congress a few weeks after taking office. After a chaotic start to his presidency, that address was notable for how conventional it was; it was more optimistic in tone than Trump's inaugural address, with the kind of bipartisan grace notes that have come to be expected in such speeches.
Republicans have gotten bits of positive polling data in recent weeks that show the Democratic advantage in 2018 narrowing and Trump's approval rating starting to tick up. They have argued that the results indicate that the public's view of the tax law—which was deeply unpopular at passage—is improving and that voters have taken notice of the booming stock market and announcements of bonuses and pay raises by major companies. Both the president and the GOP have a long way to go, but beating back a November wave must start with Trump hammering home that sales pitch on Tuesday night.