Why Trump Can't Quit Steve Wynn
The casino magnate faces allegations of sexual assault and harassment, but the president revels in his flattery and attention.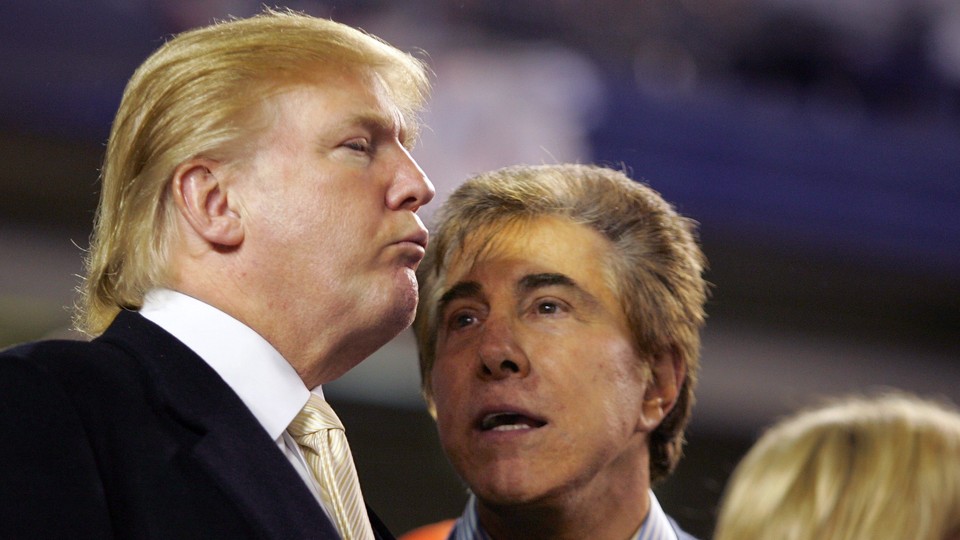 Steve Wynn is under siege. The casino magnate is facing a range of allegations—from sexual harassment to forced sex—from former female employees, according to The Wall Street Journal. Then on Saturday, Republican National Committee Chair Ronna Romney McDaniel announced she had accepted Wynn's resignation as the RNC's finance chair. Wynn called the claims of assault "preposterous" in a statement, but the board of directors of Wynn Resorts has formed a committee of independent directors to investigate the allegations in the article.
But there's no indication that President Donald Trump is moving to sever ties with his fellow mogul. Trump loves people who flatter him, and Wynn flatters him profusely. In other words, Wynn may be the most controversial example of Trump's insistence on surrounding himself with successful businessmen despite the baggage they bring—but he's also part of a larger pattern.
The close relationship between the two men is a recent development. During the Republican primary, Senator Ted Cruz met privately with Wynn to discuss a potential endorsement when he was in Las Vegas for a primary debate, in December of 2015. Wynn, whose net worth Forbes estimates at $3.5 billion, had given money to Cruz in the past, and the Texas lawmaker's team hoped to score his official imprimatur.
The meeting went well. According to a person with direct knowledge of the gathering, who requested anonymity so as to discuss a confidential conversation, Wynn expressed optimism about Cruz's chances within the crowded GOP field. Wynn then lambasted Trump, the frontrunner at the time, castigating the real-estate mogul's record as a "businessman" and "casino owner." Wynn snickered about how Trump's Vegas property stood pitifully far from the Strip, the stretch of land coveted by any hopeful casino or hotel owner in the city. "He was just clowning on him," the source recalled. (Asked about this account, a spokesman for Wynn said, "Mr. Wynn does not reveal personal conversations.")
So when, on the eve of Trump's decisive victory in the Nevada caucus two months later, the candidate touted his support from none other than Steve Wynn, Cruz's camp was stunned. Wynn, standing alongside fellow casino mogul Phil Ruffin, beamed from the crowd. Cruz's team watched the rally unfold on cable news. In the space of a year, Wynn would become a member of the president's cadre of informal advisers, his hand-selected finance chair of the RNC, and as such, an indispensable fundraiser for the party.
The episode reflects in miniature the 30-plus year arc of Trump and Wynn's relationship, from hate to love to—well, it's complicated. And it helps explain why, even now, Trump is unlikely to abandon his fellow mogul. Trump has enjoyed their reversal of fortunes, with his onetime rival now seeking to curry favor.
Multiple Republican sources say Wynn's retreat from the political scene will have a lasting and negative impact on the GOP's fundraising prowess. "No small number of GOP lawmakers have stayed at Wynn Resorts in the last two years and relied on him for donations," the Republican strategist Steve Schmidt said. "This could be devastating."
Of the nearly two dozen sources interviewed for this article, almost all of whom requested anonymity so as to candidly discuss private conversations, not one seemed to think that the president would simply sever ties with Wynn. And while sources close to the president predict Trump may publicly attempt to distance himself from Wynn in the coming days, they're less sure about how he'll navigate their increasingly close relationship in the long run—and what that will mean for the party as a whole.
The initial bout of friction between Trump and Wynn dates back to the 1990s, when the two engaged in a vicious legal battle over Wynn's efforts to expand to Atlantic City that included allegations of fraud, money laundering, perjury, and even claims that an investigator working on behalf of Trump Hotels & Casino Resorts Inc. had become a mole for Wynn's Mirage Resorts, a battle summarized by The Daily Beast last January. "He's an incompetent," Wynn told The Wall Street Journal in 1996. The suit was privately settled in 2000. "They hate each other's guts. It's like poison," the casino analyst Marvin Roffman told The Philadelphia Inquirer at the time.
The president still nurses the wound of those years and the insults Wynn lobbed at him, according to sources close to Trump. Which means that when Wynn came crawling during the election, singing his former foe's praises, Trump was eager to kick back and watch the show. They were chummy along the campaign trail during the general election, with Wynn also stumping with Trump's sons Don Jr. and Eric. "It was always just billionaire ego bullshit," said one Trump campaign official who witnessed their exchanges. "Like, 'Haha, my building is a couple feet taller than your building.' That kind of thing."
Indeed, Trump was always quick to "tease" Wynn that he "came on late" to the campaign, according to a Republican consultant who has been in several meetings with the two of them. It was as though to remind Wynn that Trump, though content to reopen the lines of communication, wouldn't be seduced so easily.
Yet far from keeping Wynn at a distance, Trump seemed insistent on tightening their relationship. "They became pretty close," said former Speaker of the House Newt Gingrich. The Republican consultant said Trump did consider Wynn a "friend," but it was known that the president took great pleasure in how their roles had reversed. Wynn had once been the catalyst for Trump's shortfalls in Vegas, and now, when it came to Wynn's policy priorities, Trump was the one who pulled the strings.
During the transition, Wynn bordered on "sycophantic" in his outreach, according to a former senior White House official, particularly on the topic of China. Careful to punctuate his requests with lavish praise, Wynn, who runs a massive casino operation in Macau, often urged Trump to reconsider his pledge to be "tough on China." (There's no evidence that White House actions that affect China—most recently slapping tariffs on solar-panel and washing-machine imports—have been in any way influenced by Wynn. Asked if Wynn had ever used his relationship with Trump to influence China policy, a spokesman for Wynn said, "No, he has not.")
Wynn then volunteered to arrange entertainment for Trump's inauguration, to help achieve the aura of "soft sensuality" that the event's chairman,Tom Barrack, had promised. According to the source who has sat in on meetings with Trump and Wynn, however, it was "a struggle, but it wasn't Steve's fault." Not even Wynn's extensive rolodex of celebrities could help him nab the artists he wanted most, including Tim McGraw, Faith Hill, and Elton John. "As soon as he'd get close to bringing one on, word would leak out, and they'd immediately deny," the source said. "Steve got very frustrated. He was clearly upset."
Which made him wary at first when Trump asked him to take over as finance chair of the RNC. He was already versed in how tenuous the electoral map looked for Republicans in the lead up to 2018. Trump courted him by giving him a tour of the White House, pausing often to ask Wynn—an avid art collector—about certain paintings. "He would ask him what the valuation of all the art was," said a Republican consultant to whom the exchange was relayed. "You know, that's Trump, he's always wanting to know what things are worth." For his part, the source said, Wynn thought it was "funny." "I think he found it charming."
Thus Wynn was crowned fundraising juggernaut of the RNC, a title sources inside and close to the RNC say he wore well. Indeed, it's been a banner year for the group—it raised a record-breaking $107 million in the first three quarters of 2017. (One former RNC staffer is careful to note that chairman Ronna Romney McDaniel herself has proven to be a prolific fundraiser.) Dan Eberhart, a Republican donor who attended the group's quarterly meeting at Manhattan's Pierre Hotel in December, remembered Wynn's speech that evening as "fabulous." "He's been a bigger success as a fundraiser than people thought he would be," Eberhart said. "He said he'd just gotten off the phone with [Senator] Cory Gardner and that they'd been talking regularly about tax reform." Eberhart recalled that Wynn spoke with no notes, "as he's mostly blind." (Wynn suffers from a degenerative eye disease.) He added that Wynn praised Trump as "a helluva competitor" in the casino business—a stark contrast, of course, to his private words to Cruz less than two years prior.
Wynn took on something of a mythic quality around the RNC building, said the former RNC staffer. "He was respected in the RNC because people knew Trump was a fan of him. He was a co-equal to Ronna instead of under her, which was rare." Access to Wynn was tightly controlled, with many staffers never communicating with him directly—always through an intermediary. Which made it hard at times to reach Wynn when his approval of, say, a finance statement was needed—the staffer remembers one such delay, when Wynn was off the grid, yachting with a member of a royal family.
His starlike aura could be intimidating. The staffer recalls one of Wynn's trips to the building, when top RNC officials reminded staffers to "clean their desks" and "dress nicely" in preparation for his visit.
From the beginning of Trump's administration, Wynn saw the president often, sometimes to the bewilderment of White House senior staff. One source recalls walking into the residence in February 2017 to find Wynn and his wife, Andrea Hissom, having breakfast in one of the private dining rooms with the president. "It wasn't even on the schedule," the source says, adding that Wynn privately dined at the White House five times since Trump took office—more than any other guest.
It's tough to intuit just how much Wynn's hobnobbing with Trump translated into actual influence over White House actions. Perhaps the most vivid example of Wynn marrying his direct access to the president with his own policy agenda came in October 2017. The Wall Street Journal reported that Wynn hand-delivered a letter from the Chinese government urging the return of Miles Kwok, the Chinese businessman who fled the country, seeking asylum in the U.S. (Wynn denied the report at the time). Kwok is still in the United States. But one source directly familiar with the matter remembered notably how Wynn was able "to work Trump up into a tizzy" over the situation, playing into the president's well-known desire "to get the bad guys out" of the country.
All of which is to say that in the last year, Wynn has settled quite comfortably into Trump's innermost orbit. But on Friday, the Journal dropped its report on longstanding allegations of sexual assault from Wynn's employers. While Wynn's closest associates knew a story was in the works, most RNC staff were blindsided. "A lot of the mid-level staff got hit sideways and it derailed a lot they had planned" for the day, said the former RNC staffer.
Those plans, according to a source briefed on the matter, included the Republican Party of Virginia issuing a statement blasting Senator Tim Kaine for accepting donations from a person accused of sexual misconduct. The party's national outfit, in the wake of the allegations against Wynn, scrambled to stop the release. (A spokesman for the Virginia GOP said he was not immediately able to comment.)
Moreover, officials had begun informally strategizing on how to capitalize on a New York Times report that Hillary Clinton had shielded a staffer from accusations of sexual misconduct. Those talks were put on hold.
Wynn and his closest associates went dark in the 24 hours that followed. Politico reported that McDaniel and Trump discussed the matter by phone on Saturday morning. By that afternoon, she'd announced Wynn's resignation. This was all done, according to one top RNC member, with "no communication" to members. The member told me no notice was given of Wynn's resignation before McDaniel's statement, and they did not receive official, emailed confirmation until close to 6 p.m., nearly four hours after the fact.
One GOP strategist in Nevada with knowledge of Wynn's thinking said he has already indicated that he will "fight the allegations against him—hard" and has no plans to resign from his corporation. Others with the president's ear have proven reluctant to level judgment: "It's very important to make all of these allegations subject to proof. There has to be proof and a process," said Alan Dershowitz, who recently appeared on Fox News alongside Wynn, calling him "smart and funny and fair."
The consultant close to both Wynn and Trump was confident that regardless of the RNC's decision, "The president will want to keep Steve around him. He likes him—he's gonna be last to throw a rock at a buddy of his." Which means that Wynn's access to Trump could very well continue unfettered—in the shadows, off the schedule, as it largely has been until now.