Donald Trump Embraces the Streisand Effect
The president's threats to sue Steve Bannon, Michael Wolff, and a publisher over a forthcoming book are more likely to bring the book publicity than deliver him a win in court.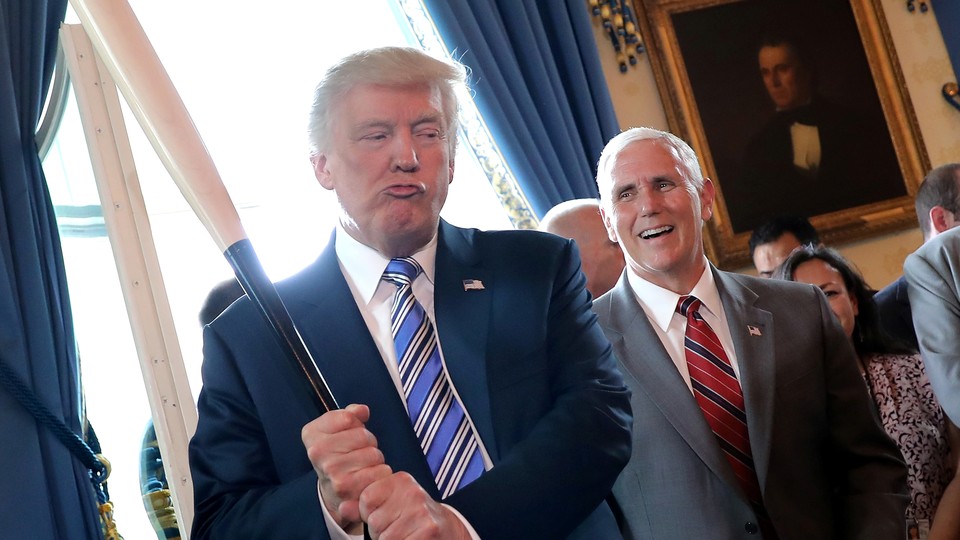 Last month, Jared Kushner began seeking the help of a crisis-communications firm. Perhaps the White House senior adviser could make a referral for his father in law, too. There's no scenario in which Michael Wolff's new book on the Trump administration wouldn't be a bombshell, but Donald Trump's strategy for responding to the book seems certain to only increase the scrutiny on it.
So far, the pushback has included an astonishing statement from the president on Wednesday: "Steve Bannon has nothing to do with me or my Presidency. When he was fired, he not only lost his job, he lost his mind." Wednesday night, lawyers for Trump sent Bannon a cease-and-desist letter, accusing him of libel, slander, and breach of confidentiality and non-disparagement agreements. On Thursday, The Washington Post reported, lawyers also sent a letter to Wolff and his publisher, Henry Holt, alleging libel and demanding they "immediately cease and desist from any further publication, release or dissemination of the book."
Trump is represented in the matter by Charles Harder, the Beverly Hills attorney who, paid by billionaire Trump ally Peter Thiel, sued on Gawker on behalf of Hulk Hogan, effectively shutting the site down.
But Trump's double-barreled response is risky, both as a matter of law and as a matter of politics.
"It would surely be another terribly self-destructive act by the president if some sort of action were commenced on his behalf," the First Amendment lawyer Floyd Abrams told me Thursday. "The chances of success in such an action are all but nonexistent and the risks to the president of commencing such an action are overwhelming."
A suit against Wolff and his publisher would be especially tough. In order to win, Trump would likely have to prove that Wolff and the publisher printed information that they knew was false. In the United States, it's very hard to win a libel suit against a publisher or media outlet—as Trump knows well, since he has repeatedly complained that libel laws need to be loosened for plaintiffs. Many of the most damaging quotes to emerge from the book so far, like Bannon's description of the June 2016 Trump campaign meeting with a Russian lawyer as "treasonous," or aides' repeated assessments of the president as unintelligent and distracted, are matters of opinion and not fact, and therefore not subject to libel laws.
Besides, the book is already printed and shipped. There's no real way to stop it reaching the public at this point; the first quotes emerged when The Guardian found a copy at a bookstore ahead of the release date.
The open question is what sort of confidentiality or non-disparagement agreements Bannon might have signed. While Abrams said such contracts wouldn't likely affect Wolff's right to report what Bannon told him, it could open Bannon up to lawsuits.
Trump is a longtime aficionado of NDAs, and many former campaign staffers seem to have signed them, including former manager Corey Lewandowski and aide Sam Nunberg, whose NDA was entered into the record as part of a lawsuit Trump filed against Nunberg for leaking. Trump might have a case against Bannon for anything Bannon said about Trump before he was president, but Abrams doubted there'd be any enforceable equivalent that applied to Bannon's work in the White House. "Once Bannon was in the government I think it highly unlikely that anything he said could be the basis of a contractual lawsuit by the president," he said.
NDAs often serve largely as a deterrent. When Lewandowski joined CNN as a commentator, legal experts told The Washington Post that it might be tough to enforce his NDA, but that threat of defending a costly lawsuit for people who break such a contract tends to keep them from doing so. If they do violate the deal, though, the damage is done, and a lawsuit can be punitive but never restorative.
There are, however, considerable risks for Trump in filing suit. Some observers have claimed the simple fact of a lawsuit would validate the book. "The White House can't argue simultaneously that the book is completely incorrect and Bannon violated a non-disclosure agreement," Politico's Playbook argued. "If he violated a non-disclosure agreement then something he said was right!" But Abrams said that argument, while not ridiculous, was overblown. For example, Trump made his ex-wife Ivana sign an agreement in which she agreed not to say anything about him—positive, negative, or neutral. It's conceivable (if hard to believe) that Bannon could have signed a similar agreement.
If a lawsuit did go forward, however, Trump would open himself up to defense lawyers poring through all sorts of information he probably doesn't want made public. Presidents are largely immune to litigation while in office, but if Trump initiated a suit, he'd open himself up to discovery.
"It would be an opposition researcher's dream," Abrams said. "The sort of discovery which would result from a challenge to this book, which deals with issues as broad as the president's intelligence, would allow enormous discovery. His college grades! It's very hard to minimize the potentially relevant areas that discovery could go into."
Of course, the chances of Trump going forward with the actual lawsuit are somewhere between slim and none. On the one hand, Trump is more litigious than any president before him. Yet on issues of libel and defamation, Trump has repeatedly promised to pound nemeses with lawsuits and failed to follow through. In October 2016, he threatened to sue The New York Times over a story about allegations of sexual harassment against him; no suit has emerged. (The suit against Nunberg was a notable exception, but that case was quickly dismissed.)
Trump is unlikely to sue, and if he does sue, he is unlikely to win. But threatening the lawsuits and delivering bellicose statements like the one he did about Bannon on Wednesday carries a risk of its own—as Trump's frequent antagonist Barbra Streisand could remind him. Fifteen years ago, Streisand sued a little-known website, seeking the removal of a picture of her Malibu home from an archive of California coastline photos. Streisand's suit was dismissed, she had to pay the defendants' legal fees, and—worst of all, from her perspective—the suit brought exponentially more attention to the website than it had before. The phenomenon of lawsuits or threats to sue that only call more attention to something the plaintiff had sought to suppress is popularly known as the Streisand Effect.
Perhaps Trump wishes to replace her name with his own, as is his wont. Such intense presidential agitation can only bring more attention to the book, though it's already leading bestseller lists. "Is there a place on the best-seller list that's higher than #1?" Times media critic Jim Rutenberg quipped in response to the letter to Holt and Wolff.
Since the days when he was leaking gossip about himself to New York tabloids, Trump has taken the position that all publicity is good publicity, so it wouldn't be a great surprise for him to espouse the same view now. But what works when one is trying to build up a name is less useful when one is already president of the United States and world famous, but needs to be able to govern. The threats against Bannon, Wolff, and Holt are not only unlikely to go anywhere, but they also offer unintentional validation of the misgivings about his judgment that aides voice in the book.