Trump Under Oath Is a Different Person
What the president's previous depositions suggest about how his interview with Special Counsel Robert Mueller might go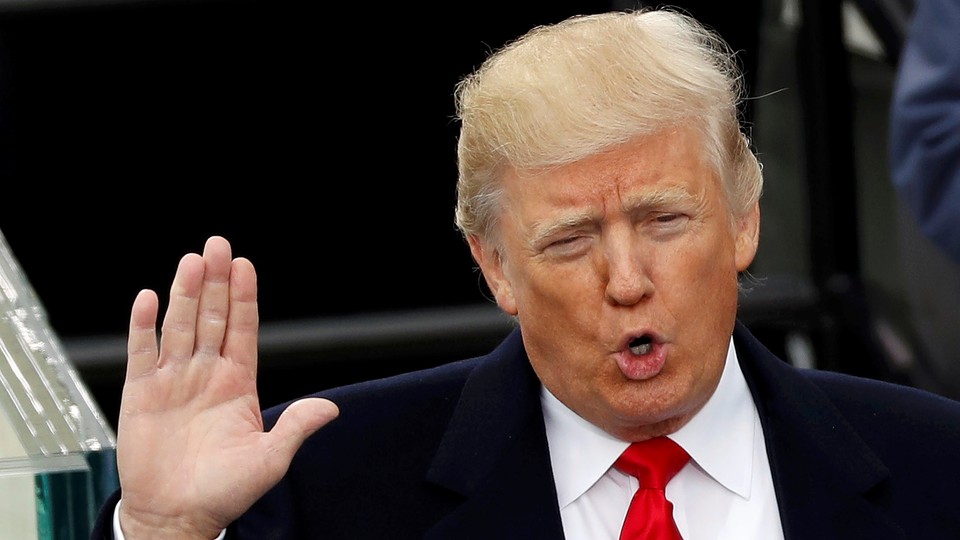 Sometime soon, President Trump is likely to be deposed by Special Counsel Robert Mueller and his team. Several outlets, beginning with NBC News on Monday, report that Trump's lawyers are negotiating with Mueller about the president testifying under oath, though Mueller has made no formal request so far.
The specific importance of such a deposition is hard to judge. Trump's lawyers, who also appear to have leaked word of the discussions to the press, present it as a sign that Mueller is nearing the end of his investigation, though they have previously, and incorrectly, predicted the probe would be over by Thanksgiving or Christmas. The New York Times reports that Mueller seems interested in topics that would imply more of a focus on the possibility of obstruction of justice than on collusion with Russia during the campaign, but that is somewhat speculative.
Assuming the deposition occurs, Trump will make political history as only the fifth sitting president to be deposed, following in the footsteps of Ulysses Grant, Gerald Ford, Jimmy Carter, and, most consequentially Bill Clinton—whose lie about not having a sexual relationship with Monica Lewinsky in a 1998 deposition led to his impeachment. For Trump, however, depositions are familiar territory. In 2012, he said during a deposition that he had done more than 100 over the course of his career.
Transcripts, and in one case video, of three depositions taken over the last decade provide a fascinating look into how the prolifically dissembling president behaves when he is under oath. The Donald Trump who emerges from these depositions is the same but different from the one familiar to Americans today. He is just as apt to bluster and braggadocio, and sometimes peevish. But within the confines of conference rooms and offices, he is calmer, more restrained, and more deliberate than his public persona, and with the tether of his oath holding him back, often acknowledges when he is wrong or has misrepresented things in the past.
Trump's tendency toward inflating things—his net worth, his intellectual prowess, his actions—has become a defining characteristic of his career in politics, as it was in his career in business. Fact-checkers have made tallying the lies and untruths that the president delivers nearly a competitive sport. As a result, it's striking to see Trump in a setting where he is obliged to tell the truth, under penalty of law.
For example, Trump is involved in litigation against Geoffrey Zakarian, a chef who had signed a lease to open a restaurant in Trump's hotel in D.C., but pulled out in response to inflammatory comments that Trump made as a presidential candidate. During the deposition, an attorney read Trump a document boasting, "Mr. Trump is personally involved in everything that his name represents. This commitment has made him the preeminent developer of quality real estate known around the world, and in all his endeavors the Trump  gold standard is apparent." Is that true, she asked?
Trump: Yes.

Q: And when it says that you're personally involved in everything that your name represents, what does that mean, that your name represents?

Trump: Well, I think that, you know, I do things that don't necessarily have my name on it. But I'm involved with, when we put our name on a hotel such as this one which is very important, I'm very much involved in the details.
In fact, that was not true, as Trump acknowledged a few minutes later:
Q: Did you review the lease at all before you signed it?

Trump: No.

Q: So did you have any understanding when you signed the lease as to what your rights were relative to getting damages against the tenant in the event of a default by the tenant?

Trump: No. When I signed the lease, you know, my son said we have the lease, so I signed the lease. But, really, they knew it much better than I did. I wasn't involved in the lease. I signed it, but I wasn't involved in it.
He added, "I signed hundreds, much more than that. But I don't generally review them. I have somebody that—whether it's an executive or in this case one of my children, you know, I rely on people to do these things. Including lawyers that I've had for many years, like [Trump Organization general counsel Alan] Garten or somebody. So I rely—so I very rarely get too involved in it."
When he was caught exaggerating the speed of completion of the hotel project, Trump simply pretended he hadn't. "We're substantially ahead of schedule," he insisted, even as the lawyer asked (and received an answer) to a question about when the timeline for opening had moved back from 2015 to 2016.
As The Washington Post noted in a 2016 piece, Trump's tendency to back off his most obviously fake statements was especially pronounced in a December 2007 deposition. Trump had sued the journalist and author Tim O'Brien, who had written a book saying Trump's net worth was far less than the billions he claimed. Trump sued O'Brien for libel and defamation. The Post found 30 occasions in that deposition alone where Trump admitted to making false statements.
This being Trump, the acolyte of "truthful hyperbole," he couldn't let go entirely. Instead, he found repeated ways to explain his untruths. Why had he claimed to own 50 percent of a business when he only owned 30? Because Trump hadn't had to put up cash upfront, he said, "the 30 percent equates to much more than 30 percent." Why had Trump claimed to have been paid $1 million for a speech when, as he acknowledged under oath, he'd actually received $400,000? He had decided that the value to his brand made up another 600 grand.
Was it true that Trump had not received any loans from his father, as he'd told O'Brien? Under oath, he offered a different story: "I think a small amount a long time ago. I think it was like in the $9 million range." Why had he inflated his net worth? The reason, he said, was that it varied, and just not with the market. "My net worth fluctuates, and it goes up and down with markets and with attitudes and with feelings, even my own feelings," Trump said.
Trump had an explanation that would telegraph his approach when he later decided to run for president: "I'm no different from a politician running for office. You always want to put the best foot forward."
Yet at other times, Trump simply conceded he'd been wrong. Faced with a public statement that membership at a golf course had cost $300,000, 50 percent higher than the real figure—as a Trump Organization document stated. "Correct," Trump said. He also excused errors in a book published under his name, saying, "I read it very quickly," even though he was credited as author.
Trump's suit against O'Brien was dismissed.
The rare aptitude for honesty is not the only thing that's notable about Trump's demeanor in depositions. In most cases, videos of his appearances are not available. In a suit over Trump University, for example, transcripts of two depositions were released, but Judge Gonzalo Curiel (yes, the one Trump said was biased against him because of his Mexican heritage) blocked the release of the videos. But in the Trump Hotel case, videos were released.
They show a Trump who is calm and deliberate, and while his speaking style is recognizable, he seems to take his time and consider answers and thoughts far more carefully than he does in public appearances. This is not the only case where this public-private split happens; as I noted last year, when transcripts of Trump's conversations with world leaders leaked, they revealed a far more articulate leader than the public President Trump.
This is not to say that he's happy—few people enjoy depositions. For the first half of the Trump Hotel deposition, Trump sits with his arms crossed, looking cross. In other cases, he is even more querulous. During the Trump University deposition, Trump was angry from the start, accusing the opposing counsel of "harassment" when she asked him to spell his name. "I think the lawsuit is trying to hurt the brand, and I honestly look forward to winning this case and suing your law firm for as much as we can sue them for, and we will be doing that," he said.
Later, he scolded the lawyer as she handed him documents. "Could you not lick your finger before you give me a document, please. Would that be okay?" Trump said. "It's disgusting." In a 2011 deposition, he blew up when a lawyer asked to take time to pump breastmilk. "You're disgusting," he said, and walked out.
Some of his irritability may represent a strategic choice. In the Trump University deposition in particular, Trump's lawyer repeatedly tangles with the deposing lawyer, objecting to lines of questioning and eventually calling for a break to call the judge to discuss whether certain subjects were permitted. But Trump seems to get in on the act, too. He often acts aggrieved about certain lines of questioning or treats the opposing lawyers as though their questions are preposterous. He also repeatedly goes on tangents, bragging about the value of his business or about his political success or whatever else might strike his fancy, even as he accuses opposing counsel of filibustering. These techniques for running out the clock, as well as the penchant for projection, will be familiar to anyone who watched Trump debate in 2015 or 2016.
If there is one tendency that emerges from the depositions that might have bearing on Mueller's probe, it's that Trump demonstrates little involvement in or awareness of what's going on at his business. It helps that Trump claims to have done practically no preparation for the Trump University and Trump Hotel depositions. (Former: "How did you prepare for your deposition?" "I didn't prepare." Latter: "I would say virtually nothing. I spoke with my counsel for a short period of time.") Over and over, though, he shows himself to be disconnected from the administration of his business empire.
It's not just his statement on the hotel restaurant, that "I wasn't involved in the lease. I signed it, but I wasn't involved in it." Asked what his responsibilities with regard to Trump University were, Trump offered a gauzily meaningless statement: "Well, it was very important to me, because if I can impart knowledge to people to make their lives better, that is a very important thing to me." Confronted with his lawyer's statement saying that Trump did not have "substantial control" of Trump University, Trump tried to find a way to have it both ways. "So I thought it was a—I thought it was a very—so it was a very important thing to me, actually, the school," he said.
But Trump clearly had little knowledge of how Trump University ran. He insisted he had reviewed resumes of teachers, but couldn't remember many of their names, how they were chosen, or what they taught. He could not explain what students received in the apprentice or Gold Elite programs. He did not recall receiving a letter from the New York Department of Education demanding that the company drop the "university" moniker. Asked whether he'd reviewed an agreement, he replied, "Probably. I mean, I have lawyers that do this. I don't think I did it, but I have lawyers that do it, yes." He couldn't recall whether he owned certain business entities and deferred questions to his lawyer. "I don't know. You'd have to ask Mr. Garten. It could be. I think so, but I just don't know specifically, but you could ask Mr. Garten," he said.
Instead, Trump argued that he didn't really know how Trump University worked, deferring to a lieutenant who ran it, producing this surreal exchange:
Q: And who is running Trump University?

Trump: Michael Sexton.

Q: Is he still to this day running Trump University?

Trump: Well, he's the one that has been responsible for it, yes.

Q: And are you aware that he's no longer been with the company since July of 2010?

Trump: Yes. A period of time, yes.
But not knowing what's really going on among one's lieutenants can come in handy. That's especially true if, say, one's campaign is under investigation for colluding with Russia. There is at this point no doubt that Trump aides were in contact with Russia, both before and after the election, and that they for some reason tried to cover it up. Both Michael Flynn and George Papadopoulos have pleaded guilty to lying to FBI agents about contacts with Russians. Add to this the June 2016 Trump Tower meeting in which Paul Manafort, Jared Kushner, and Donald Trump Jr. met with Natalia Veselnitskaya, and in which Trump Jr. has said he hoped to receive damaging information about Hillary Clinton.
While the question of collusion is basically settled, there is not yet any evidence to prove that crimes were committed—nor, importantly, is there any evidence that proves that Donald Trump was aware of any of these contacts. Trump's apparent removal from his company's activities in past depositions could help Trump bolster a claim that he was unaware of what his aides, including his son and son-in-law, were doing on the campaign. In the Trump Hotel deposition, he seems barely aware of his son's actions on the restaurant lease.
Of course, that won't help Trump if Mueller is in fact more interested in obstruction of justice than he is in collusion. But the depositions show that Trump is also experienced in the favorite tactic of people being asked uncomfortable questions under oath: Profess having no recollection. Time and again, Trump told attorneys that he didn't remember certain incidents or facts. Judgments on just how credible this will depend on who's making the judgment, though as the opposing counsel in the Trump University case pointed out, Trump has in the past bragged that he has one of the best memories in the world.
The deponent didn't recall that either. "I don't remember that. I remember you telling me, but I don't know that I said it," Trump said.