Trump's Remarkable Immigration Meeting
The president let the cameras roll as he negotiated a DACA deal with Congress. True to form, he said yes to everyone but left lawmakers without the direction they sought.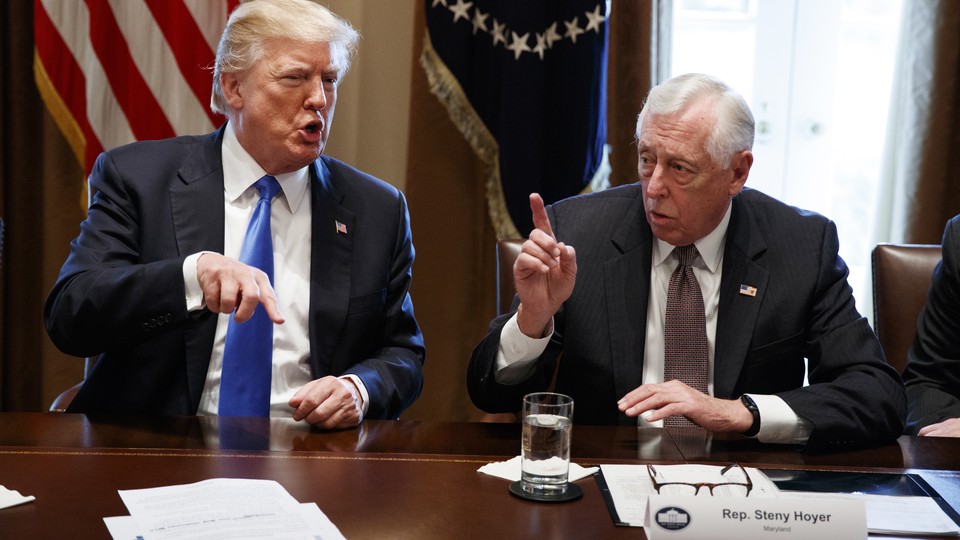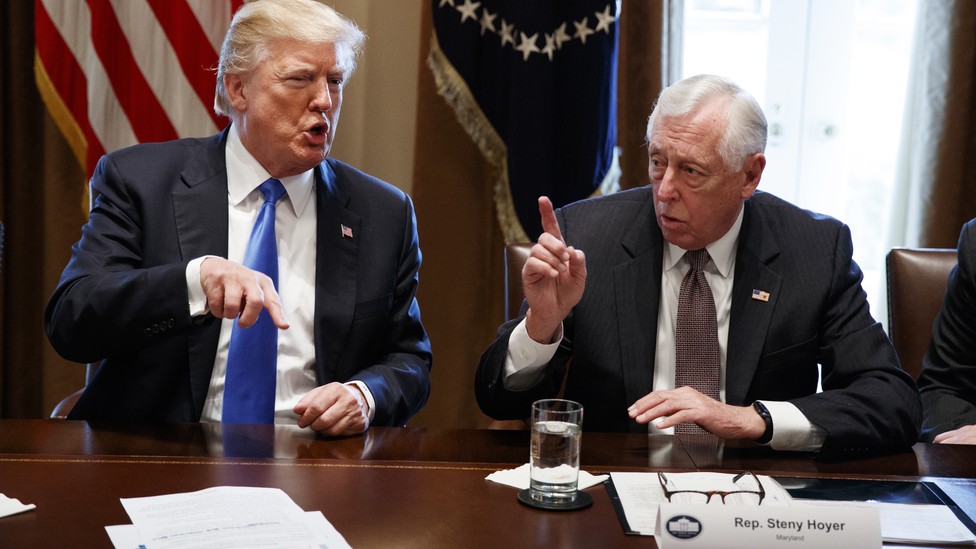 There was nothing more President Trump could have done to more clearly illustrate the vexing politics of the immigration debate or the often maddening way he manages Congress than the remarkable public meeting he held with lawmakers at the White House on Tuesday.
The president convened a bipartisan group of more than two dozen members of the House and Senate in the Roosevelt Room to discuss a possible resolution for the Deferred Action for Childhood Arrivals program—the Obama-era protections for 700,000 young immigrants that Trump has said will end in March without congressional action.
Yet over nearly an hour, and with television cameras running, Trump took nearly every conceivable position in the debate: He backed a "clean" bill to extend DACA, protect the so-called "Dreamers," and bolster border security, absent the more controversial immigration measures conservatives want; then, he said he'd "take the heat" for a more comprehensive immigration overhaul along the lines of what Trump had denounced as a candidate in 2016; later, he demanded that Congress fund the southern border wall as part of the initial DACA deal, reinserting the wrench that has held up the immigration talks for weeks.
Finally, Trump said he'd sign whatever immigration bill Congress could send him. "I'm not saying I want this or I want that. I will sign it," he told the group.
By the time the president finally kicked reporters out of the meeting, he had said yes to everyone while clarifying virtually nothing. And what was undeniably a victory for government transparency had turned into another frustrating experience for Republicans, who repeatedly implored Trump to tell them exactly what he would accept in a DACA bill.
"I'm not going to support a bill unless you support it," Senator Lindsey Graham of South Carolina, an erstwhile-Trump-critic-turned-ally, bluntly told the president at one point. "You have created an opportunity, Mr. President, and you need to close the deal."
In the four months since the president first suggested to Democrats that he would support a trade of permanent protections for Dreamers in exchange for enhanced border security, he has wavered on the details. At times, he's backed the hardline demands of his senior adviser, Stephen Miller, and conservative hawks in Congress who want both a border wall and separate measures to tighten interior enforcement and limit legal immigration. Other times, Trump has suggested those debates could be saved for later.
Both sides of the president were on display on Tuesday. He talked at length about the need for a border wall and an end to "chain migration," but he also called for "a bill of love" in rhetoric reminiscent of a vanquished Republican rival, Jeb Bush. While presidents have held meetings with lawmakers in public before—Barack Obama held a daylong health-care summit in 2010—they tend to be rather staid affairs replete with prepared statements and rote talking points. But Tuesday's confab was different, because Trump did not tell the lawmakers he planned to keep the press in the room. As a result, they had few talking points to fall back on, forcing them into a more candid exchange with the famously freewheeling president. It felt, at times, like a real negotiation.
And in a display that came days after Trump felt it necessary to proclaim his fitness for office and call himself "a very stable genius," he held forth in a way that demonstrated he has a basic understanding of the immigration issue but is not conversant on the details and jargon that lawmakers have been negotiating on and off for years. When Democratic Senator Dianne Feinstein of California suggested that Congress first pass "a clean DACA bill now" and then pivot to a more comprehensive proposal, Trump eagerly agreed. "I would like that," he replied. "I think a lot of people would like to see that."
Suddenly worried that Trump had softened his position, House Majority Leader Kevin McCarthy jumped in. "Mr. President, you need to be clear," he told Trump, politely but firmly. He reminded him that the broad agreement had always been DACA plus border security, not on its own, and that Democrats had all voted for enhanced border security in the past. Within a few minutes, Trump had shifted back once again, talking about the need for a DACA bill to also address the diversity visa lottery and "chain migration" so that granting legal status to Dreamers does not reopen the pipeline of illegal immigration through extended family sponsorship.
The conversation proceeded in that vein for another half hour. Trump would muse about his desire for a bipartisan deal that would be a segue into the kind of sweeping immigration that eluded his two predecessors in the White House, and one lawmaker after another would gently try to bring him back to Earth. At one point, a sullen Representative Steny Hoyer of Maryland, the Democratic whip seated next to Trump, just threw up his hands. For Republicans, the spectacle allowed the public to see what they often privately complained about during the health-care debate—an inconsistent president who would change his mind from one conversation to the next and leave everyone feeling he agreed with their position.
Senator David Perdue of Georgia, a close Trump ally, chimed in to say that a DACA bill without additional measures could not pass the Senate. Then Senator Jeff Flake of Arizona, a Trump critic and long an advocate for citizenship for undocumented immigrants, reminded the president that previous efforts at comprehensive reform took months of round-the-clock negotiations. "I don't see how we get there before March 5," Flake said, in reference to Trump's self-imposed DACA deadline.
For good measure, the president digressed into a surprising endorsement for a return to earmarks as a way to grease the legislative wheels and relieve the partisan stalemate in Washington—never mind that the congressionally-appropriated earmarks had become the very symbol of government corruption and the Beltway "swamp" Trump had pledged to drain. Aware of the history, the stunned group of lawmakers laughed. "No?" the president asked. "Well, you should do it."
Afterward, Republicans proclaimed the discussion, in Graham's words, "the most fascinating discussion I've been involved in 20-plus years of politics." But beyond opening a window into negotiations that usually happen behind closed doors, it wasn't clear how productive it was. GOP lawmakers and the White House said that after reporters left, the members agreed to designate a bipartisan group of four to negotiate legislation that would address DACA, border security, the visa lottery, and chain migration.
In other words, the same sticking points that lawmakers brought into the White House remained so after they left. At the Capitol, Republicans and Democrats quickly bickered over what form the bill might take, and whether it would hold up a spending agreement that Congress must pass to avert a government shutdown on January 19. Senate Majority Leader Mitch McConnell declared that the one condition he had for bringing a standalone DACA bill up for vote was that it be a proposal "the president is willing to sign." Despite an hour of talking for all to see, however, what that might be was still a mystery.