What Fire and Fury Shares With the Steele Dossier
Trump's first year in office has been bookended by the splashy release of two documents full of partially verified information that has damaged the president.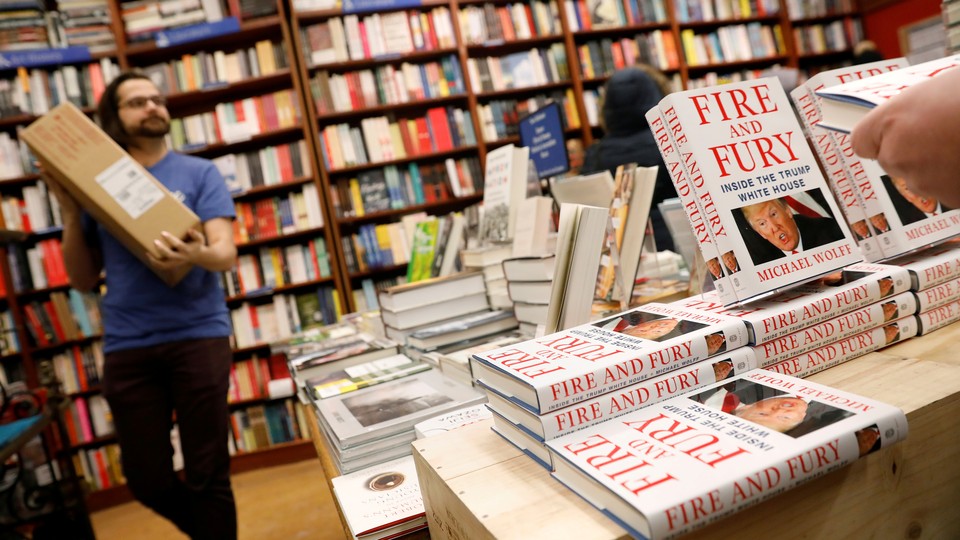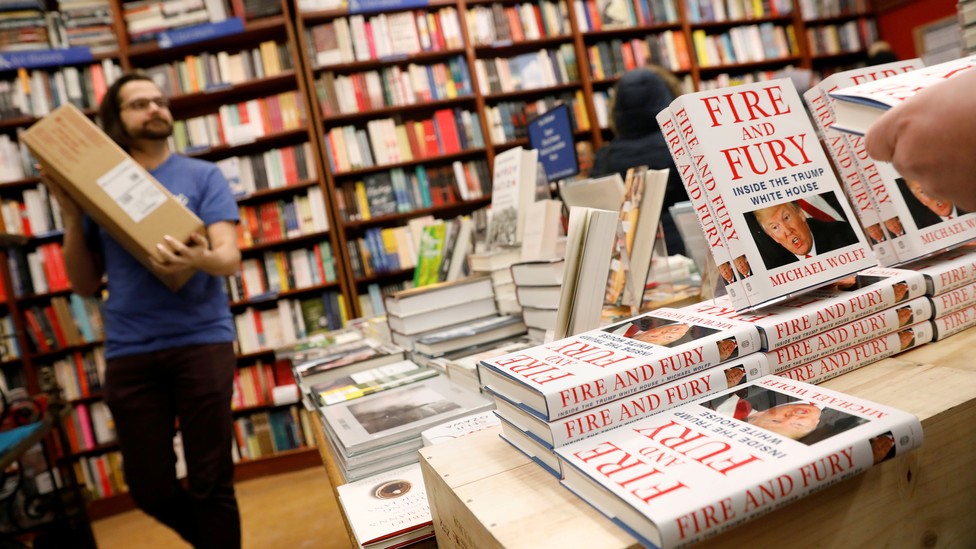 It's fitting that this week, as Michael Wolff's Fire and Fury consumes Washington, also marks the anniversary of the publication of the Trump dossier, the collection of intelligence about the president's ties to Russia. The two documents, the dossier and the book, may prove to be bookends for the first phase of the Trump presidency, and both are fascinating looks at Trump that depend on opaquely sourced and largely unverified information.
The dossier is back in the news not just because of the anniversary, but because on Tuesday, Senator Dianne Feinstein, the California Democrat, released the transcript of an interview with Glenn Simpson, whose firm, Fusion GPS, contracted with former British intelligence officer Christopher Steele to look into Trump, eventually leading to the dossier. Democrats and Republicans had offered contradictory reports of how cooperative Simpson was, and the release elicited an angry reaction from Senate Judiciary Committee Chairman Chuck Grassley.
It also angered the president:
The fact that Sneaky Dianne Feinstein, who has on numerous occasions stated that collusion between Trump/Russia has not been found, would release testimony in such an underhanded and possibly illegal way, totally without authorization, is a disgrace. Must have tough Primary!

— Donald J. Trump (@realDonaldTrump) January 10, 2018
There's little indication that Feinstein's action was illegal, and Trump's attack on her can only help her in a primary. Earlier on Wednesday, the president also tweeted:
The single greatest Witch Hunt in American history continues. There was no collusion, everybody including the Dems knows there was no collusion, & yet on and on it goes. Russia & the world is laughing at the stupidity they are witnessing. Republicans should finally take control!

— Donald J. Trump (@realDonaldTrump) January 10, 2018
Trump's insistence that "Republicans should finally take control" is important. For one, Republicans lead both houses of Congress. For another, that statement veers close to Trump trying (once again) to interfere in an investigation into him. Asked about the comment by CNN Wednesday, Grassley suggested a conversation with Trump would be inappropriate.
The dossier, and BuzzFeed's controversial decision to release it, both feed Trump's sense of paranoia. In early October 2016, the Obama administration had publicly accused Russia of interfering in the election, and Donald Trump's refusal to accept that conclusion had puzzled many observers, but the material in the dossier first began to reach the public with an October 31 Mother Jones report that said a former British intelligence officer had provided the FBI information that suggested Russia was cultivating Trump as an asset.
The release of the full dossier shifted the focus, away from Russia's role narrowly and toward whether Trump's campaign was working with Russia, culminating in an FBI investigation into that question, since handed off to special counsel Robert Mueller. It's no wonder Trump is upset about the dossier, but his mantra that "there was no collusion [and] everybody including the Dems knows there was no collusion" rings false these days. While there's not yet any public evidence to indicate a crime was committed, or that Trump was involved, it is clear that the Trump campaign and later transition were eager to work with Russia, and to keep that secret.
Two ex-aides, including his former national security adviser, have pleaded guilty to lying to the FBI about their contacts with Russians. We have also learned of a meeting at Trump Tower where Donald Trump Jr., Jared Kushner, and Paul Manafort were told they would receive damaging information about Hillary Clinton from a Russian lawyer, and that Trump Jr. had been told ahead of the meeting that the Kremlin backed his father. Trump Jr. initially misled the public about that meeting as well.
The October 31, 2016, date turned out to be significant, according to Simpson's testimony. Steele had begun passing information from the dossier to the FBI, believing it potentially relevant to national security, but that day, The New York Times published a front-page story saying the FBI had found no evidence linking Trump to Russia. Steele, upset, cut off contact with the FBI at that point, Simpson said.
What's notable about the dossier is that it appears not to have been intended as a statement of ultimate truth for public consumption: It was what Steele's sources were telling him, and what he as an intelligence veteran believed to be persuasive, but it was not proven. Parts of the dossier have been borne out, especially as regards Russian hacking efforts and meetings between Carter Page and Russians, but the vast majority remains unverified (though Steele reportedly believes it is largely correct). BuzzFeed editor Ben Smith defended the release of the dossier as a victory for transparency and press freedom in a New York Times op-ed Wednesday, but it remains hard to argue that publishing unverified information aided the press. The dossier was effectively hearsay, providing useful leads, but not fact—which is what separates it from bonafide primary sources that journalists reproduce for their readers, like court documents. The willingness of the press to publish the dossier despite not having verified its contents likely tainted the press's reputation, especially with Trump supporters.
Simpson's testimony has some interesting moments, and offers much more detail about how Fusion GPS works. It corroborates that the FBI was looking into Trump and Russia before Steele spoke with them, apparently working off a tip from an Australian diplomat to whom George Papadopoulos, a Trump aide who has since pleaded guilty to lying to the FBI, had boasted about Russia having damaging info about Clinton. Simpson's lawyer also states, without offering proof or specifics, that the dossier has already gotten someone killed. But the testimony doesn't give much insight into how Steele operated or who his sources were, which is what everyone wants to know. It's also still unclear in what capacity Grassley and Senator Lindsey Graham believe Steele broke the law.
The Trump dossier, coming shortly before the election, served as a bookend to the president's first year. Wolff's Fire and Fury provides its counterpart, closing out the first year, and the first stage of Trump's presidency. If the first year was consumed by chaos and questions of collusion, Trump heads into the second year with two new challenges coming to the fore. First, the chaos has calmed somewhat, but some of Trump's closest aides have little respect for him. Second, as it has become increasingly clear that members of the Trump campaign actively sought to cooperate with Russia, the focus has turned to the Mueller probe and whether Trump might have obstructed justice.
Fire and Fury share some interesting characteristics—and not only the fury their two authors have inspired among Washington Republicans. Like the Trump dossier, it's filled with unverified claims from people with whom its author spoke; like Steele, Wolff admits that he can't verify everything in his work product. Like Steele handing over his research to Fusion and to the FBI, Wolff acknowledges he hasn't landed on the ultimate truth. "Many of the accounts of what has happened in the Trump White House are in conflict with one another; many, in Trumpian fashion, are baldly untrue," Wolff writes. "Those conflicts, and that looseness with truth, if not with reality itself, are an elemental thread of the book. Sometimes I have let the players offer their versions, in turn allowing the reader to judge them." (This faith in readers who don't have Wolff's experience in the White House to somehow tell truth from fiction in a den of dissemblers echoes Smith's invocation of "readers who want to be trusted to judge dubious documents." The difference is that Steele didn't intend his work for public consumption, whereas Wolff has published it all in a buzzy book.)
Like the dossier, the publication of Wolff's book has occasioned criticism from many journalists and threatens to undermine trust in the press—after all, President Trump claims repeatedly that the media is willing to publish unsubstantiated stories about him, and here comes Wolff to admit that he's done just that. Like the dossier, however, there are crucial portions of Wolff's book that have been independently corroborated. Steve Bannon has expressed regret for some of this comments, but he has not claimed they are misquotes. In many cases, Wolff's reporting has held strongly. And his picture of a White House in chaos, with aides who do not respect him, is the same one painted by a pile of other reporting.
On January 17, in one week, Trump plans to give out "fake news awards." (Whether this, too, is fake news or a real thing remains to be seen.) Trump's bashing of the media remains one of his favorite moves, and given his struggles to enact his policy agenda, one of his most effective for base-rallying. But the Steele dossier continues to dog him, as does the Wolff book. The most damaging parts of each aren't necessarily the most salacious, nor the wildest (such as a damaging tape rumored in the dossier, or a dubious claim that Trump couldn't identify John Boehner, in the book). They are the parts that have proven, or may yet prove, verifiable.