This Week 50 Years Ago: An Eclectic News Digest
Riots on the Sunset Strip, firefighters in asbestos suits, economic change in apartheid South Africa, a standoff with a territorial woodchopper, and more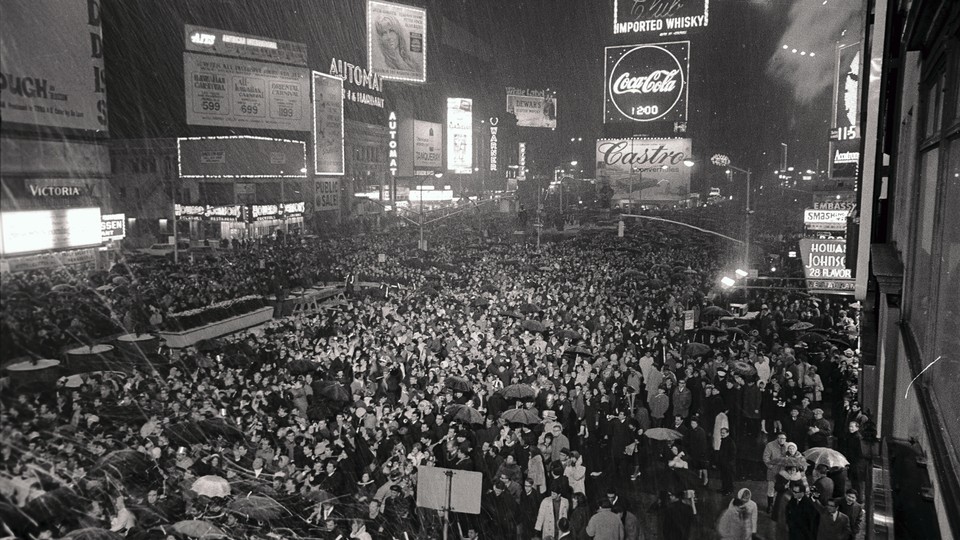 Fifty years ago this week, Viet Cong guerrillas charged a U.S. base on New Year's Day, killing at least 26 soldiers; Americans learned that a total of 9,353 Americans had been killed in the Vietnam War during the previous year; and Lyndon Johnson discouraged Americans from travel outside the Western Hemisphere. In lighter news, Hot Wheels were introduced and John Singleton was born.
Those are the most notable events as we perceive them now, from our 2018 perspective. But what's been forgotten that informed observers of that earlier era found important?
One way to find out is to read through archival material from daily newspapers. This year, as The Atlantic looks back at 1968, one recurring feature will be a digest of various news stories that people were thinking about in a given bygone week, an exercise that never fails to give even a long-ago period texture.
Here are selections from the first week of January 1968 with the original headlines:
New Year's Celebrations End in Sunset Strip Rioting

Police reported from 1,000 to 1,500 youths threw stones and bottles at passing cars, smashed windows and headlights and started gasoline fires along the famed boulevard. Draft card burnings were also reported. Violence began shortly after midnight as merrymakers spilled from the jammed clubs, restaurants, bars, and coffee houses. A few tuxedo and mink-garbed celebrants from the strip's posh nightclubs mingled with bearded and miniskirted teeny-boppers and hippies. ...

As officers arrived the mob splintered into smaller groups and harassed drivers, threatening to tip cars, pounding on vehicles with bricks and bottles, smashing windows and headlights and ripping convertible tops.
And that wasn't the only excitement that night in Los Angeles:
Bullets From Guns of Revelers Strike Houses and Autos Here

Houses and cars in four city police divisions were struck by random bullets early Monday, apparently from the guns of New Year's celebrators. …

The rain of lead in South Central Los Angeles caused officers of the 77th Street Division to put on helmets. A house at 10745 S. Juniper Street was struck by 11 bullets. Nine shots hit cars in a parking lot and windows in a service station. A slug penetrated the ceiling of a house at 10900 Sepulveda Boulevard and a bullet fired through a window struck a bed at 5429 11th Avenue.
A captioned photo made San Francisco's celebration appear a lot more peaceful:
Hippie New Year

Jim Haney, a 6-foot-10 hippie wearing only a loin cloth and carrying a basket of flowers, ushers in the Hippie New Year astride a white horse at San Francisco's Winterland Auditorium. Jefferson Airplane, a rock group, played and balloons and white doves contributed to revelry.
The San Francisco Chronicle's editorial board was already skeptical of the coming tech boom, sympathizing with a local congressman's concerns about privacy:
How Do You Shower?

Congressman Jerome Waldie, a Contra Costa County Democrat, is nervous and hot over a proposal to set up a National Data Center in Washington, which, at the jab of a computer button, would spill all there is to know about any citizen of the U.S.A. He complains justly that such an electronic stool pigeon would be an irresistible weapon for any government with dictatorial ambitions, and he sees some of its evil potential in questions now being considered for the 1970 census––such questions as how big the mortgage is, how many pregnancies have been expected, and whether showers are taken singly or deux.

We share his apprehensions. We agree with him that all this is part of a government trend to harass the citizen and invade his privacy. We second his complaints, but entertain no hope that such wails will halt or even impede evolution touched off by electronic snooping devices and data processors.
A wire report noted a milestone in the Deep South:
Negro Lawmaker Takes Mississippi House Seat

JACKSON, Miss.––State Rep. Robert G. Clark walked by the statue of late segregationist Sen. Theodore G. Bilbo and into the Mississippi House of Representatives Tuesday to become the first Negro to serve in the body in modern times. Not only has a Negro not served in the Mississippi House since the turn of the century, but veteran capitol observers say no Negro visitor has been permitted to walk on the floor of the House in the memory of anyone now alive.
It was a tough week for a small town in Indiana:
Town Emptied as Tank Cars Burn, Explode

DUNREITH––Police and firemen evacuated the 236 residents of this east central Indiana community late Monday night and stood by helplessly while the wreckage of two freight trains burned and spewed poisonous ammonia fumes. Authorities said a westbound Pennsylvania Railroad freight derailed and sideswiped a second freight train stopped on parallel tracks.

Intense heat kept firemen at bay three blocks away as flames raced down a line of railroad tank cars loaded with ammonia, gasoline, and oil. Firefighters with asbestos suits were dispatched from Indianapolis 37 miles to the west. Firemen on the scene say the fire melted their rubber coats.
Cubans were beginning to face the reality of life under a Communist dictatorship:
Cuba 'Out of Gas'

HAVANA–On the 9th anniversary of the Cuban Revolution, Premier Fidel Castro admitted Tuesday that his Communist regime is literally running out of fuel. Speaking before more than 100,000 Cubans in Revolution Square, Castro announced that gasoline and fuel oil will be rationed immediately and cautioned that 1968 "will be a difficult year." The new austerity program was outlined by Castro after a parade in which 50,000 soldiers, sailors, urban workers and field hands paraded in celebration of the day Castro toppled Fulgencio Batista's dictatorship on January 1, 1959. Cubans in the Western Hemisphere's first communist state are already plagued with food rationing, clothing shortages, high prices, indifferent service and strangling red tape.
The Claremont Colleges were beginning a push for racial diversity:
Claremont Colleges Set Minority Scholarships

The Claremont Colleges next fall will waive admissions requirements for 40 high school graduates from Mexican American and Negro neighborhoods and admit them, with scholarships, to their institutions.

"We're gambling in a way," Dr. E. Wilson Lyon, president of Pomona College, said recently. "The students for the project will be chosen for their potential rather than for demonstrated ability and test scores. Educators have known for years that students from minority groups often don't have the cultural background to perform well on college admissions tests."
Meanwhile, South Africa's apartheid regime was treating black workers in a manner reminiscent of the way some would treat undocumented immigrants today:
South Africa Boom Seen Threat to Apartheid

JOHANNESBURG––The extraordinary growth of the South African economy is undermining the theory of apartheid and, in the long run, perhaps threatening its practice. The economy is doing this by drawing Africans into the big industrial cities and increasing their skills and wages. ... The government's theory of apartheid holds that the Africans who live near the white industrial areas are temporary migrant workers who must someday return to their bantuatans, or African homelands. An African worker in a Johannesburg factory must never look on his house in the Soeto township outside Johannesburg as home.

Under the theory, his home is in a far away rural bantuatan, like Trunkskei. When the factory no longer needs him, he must pack his things. … A man may have been born in a bantuatan but brought to Johannesburg as a baby. He has spent almost all his life in the big city.

But if he loses his job, a labor official can endorse him out, sending him back to a bantuatan he doesn't know at all. Some liberals believe economic prosperity will bring whites and blacks together in a way that will break down racial barriers. But others, more cynical, believe the white rulers of the country would rather choke the economy than let a barrier fall.  
The year had its own Cliven Bundy-esque standoff:
Riled Man of Round Mountain Bars $700 Million Power Line

ROUND MOUNTAIN––For two moths mountaineer Virgil Gray has stood off U.S. marshals and government surveyors with an arsenal of shotguns and rifles to keep them from running a $700 million power line through his 40 acres near this Northern California hamlet. The showdown comes early today. Government agents have approached Gray's primitive cabin on Buzzard's Roost Road from time to time only to take off when the 53-year-old woodchopper pointed a gun in their direction. … The stubborn mountain man, believing the government is doing him wrong, is holding up completion of the 900-mile power line from Bonneville Dam on the Columbia River to Southern California. It had been scheduled for completion early this year.
America's box-office favorite at the time?
Julie Andrews Tops Box Office Poll

Each year the trade paper Motion Picture Herald runs a mail poll of theater owners and operators in this country and Canada to determine which top 10 stars are thought to be the biggest money-spinners at the box office. It is stardom's moment of commercial truth, having to do solely with the ability to sell tickets in a given year.

The winner was Julie Andrews, reflecting the continued success of "The Sound of Music" and her assistance to "Hawaii" and "Thoroughly Modern Millie."
The New York Times marked a milestone in the War on Poverty in New York City:
A welfare budget of nearly $1.4 billion––all of it mandated by rising relief rolls and increased Medicaid costs––was submitted yesterday by the Human Resources Administrator, Mitchell I. Ginsberg. This would, for the first time, make welfare the single most expensive program in the city's operating budget, surpassing even the proposed costs for the public schools. The city shares the cost of welfare with the state and the Federal Government, which pay a little more than 70 per cent.
Meanwhile, San Francisco was subject to California Governor Ronald Reagan's skeptical pen:
Gov. Reagan's office announced Wednesday the veto of a poverty program that state officials said was designed to help homosexuals and narcotic addicts in San Francisco. The governor vetoed the spending of war on poverty funds to pay for eight VISTA volunteers who would have worked in the district under the auspices of the Tenderloin Committee. Paul Zimmer, deputy director of the State Office of Economic Opportunity, said the VISTA workers would have spent time on the streets of the Tenderloin area mingling with narcotic addicts and homosexuals aiming to rehabilitate them by setting a good example.
And last but not least, imagine the stir that it would cause today if four U.S. military personnel mimicked the behavior of the men in this forgotten incident:
Swedish Asylum for U.S. Deserters Backed

STOCKHOLM––A government committee recommended Tuesday that Sweden let four U.S. sailors who deserted their ship in protest of U.S. policy in Vietnam stay in Sweden as long as they steer clear of politics.

The sailors jumped ship October 23 while the aircraft carrier Intrepid was in Yokosuka, Japan. They made their way to a Soviet ship with the aid of a Japanese peace organization and reached a Soviet Siberian port. Later they flew to Moscow, where they spent six weeks as guests of the Soviet government. They denounced U.S. involvement in Vietnam and arrived in Sweden asking for political asylum. The sailors said they wanted to settle in a neutral country such as Sweden. The sailors arrived with passports issued by the Russian Red Cross and with $1,000 supplied by a Soviet peace organization.
That's some of what happened 50 years ago this week. Are you willing to share personal stories from 1968? Email conor@theatlantic.com––I may publish yours!