Women's Marchers Look to the Midterms
Thousands gathered in New York City to protest Donald Trump and show support for the growing movement against sexual abuse.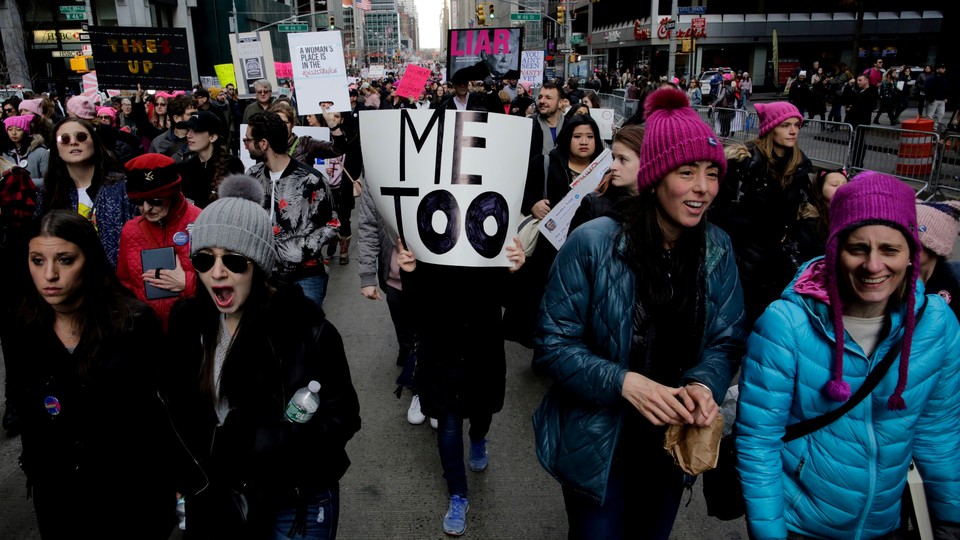 More than 100,000 protesters showed up on a warm, sunny day in New York to celebrate the anniversary of the Women's March protests that followed Donald Trump's inauguration as president last year. But in contrast with last year's events, this year's gathering was optimistic, almost celebratory. The pink pussy cat hats were out; so were the signs ("A Women's Place Is in the Revolution," "Grab 'Em By the Putin," "Shed Walls, Don't Build Them"). Couples danced to brassy tunes floating from somewhere down the block.
Last year, more than 400,000 protesters clogged Fifth Avenue and descended upon Trump Tower, according to the Mayor's Office. That event was just one of the hundreds that comprised one of the largest single days of protest in U.S. history, with more than 3 million people estimated to have participated, according to crowd-size experts. No matter that the Women's March on Washington, the original event, was borne from a single Facebook post and organized entirely ad-hoc. People then were coming together for one reason: to protest the election of Donald Trump. This year, more than 300 towns and cities across the U.S. have registered for events.
The president, for his part, needled the protesters with a tweet.
"Beautiful weather all over our great country, a perfect day for all Women to March," President Trump tweeted. "Get out there now to celebrate the historic milestones and unprecedented economic success and wealth creation that has taken place over the last 12 months. Lowest female unemployment in 18 years!"
The crowds were smaller, but the march was as buzzy and colorful as it was a year ago. People were still just as energetic in their opposition to Trump. Their signs still raised political issues that run the gamut, from immigration reform to reproductive rights.
But for the protesters, these Women's Marches aren't just about opposing the president; for many, they're about joining in a moment of cultural upheaval around issues of sexual abuse. When I spoke with Winnie Whitted, who attended the march in Austin, Texas, last year, she put it like this: "I think that #MeToo is the reason why women are coming together this year. This is now really a women's march."
The #MeToo movement, which was sparked by the revelation of multiple rape and sexual harassment allegations against the powerful Hollywood film producer Harvey Weinstein in October 2017, continues to be a central part of the national debate over sexual abuse.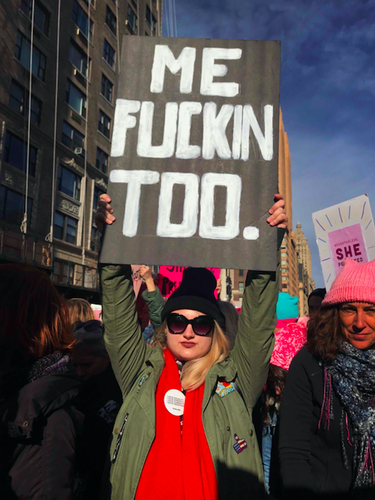 Since Weinstein's downfall, many other prominent figures in media and entertainment have faced allegations of sexual abuse and harassment as women across those industries have spoken up about their experiences. It's no surprise, then, that #MeToo and #TimesUp signs featured prominently amongst the anti-Trump ones at the march. One protester, Kirsten Herman, was holding a large black one above her head when I spoke with her. She didn't come to last year's march, because she "has lots" of crowd anxiety. "But I knew I had to come this year," she said. Harassment "is such a universal thing that women have to go through all the time, and we're done with it."
I asked Sarah Sibilly, who marched last year, what had changed from last year to this year. "Definitely more men," she said. "They're probably here in solidarity more than anything."
Daniel Robinson was one of those men. He didn't participate last year, but said that #MeToo was the galvanizing factor this time around. "I didn't necessarily recognize [the issue of sexual harassment] to the same degree," he told me. "But there's a lot more understanding of what's going on, and realizing the importance of it really brings everyone to the forefront."
Cindy Brummer brought her husband, Bob, along with her to the march, which neither of them attended last year. Trump "brings out the feminist" in her, she told me. She thought she had seen the end of the fight for women's rights in the seventies, but looking at the younger generation now, she says, makes it clear that the fight is far from over.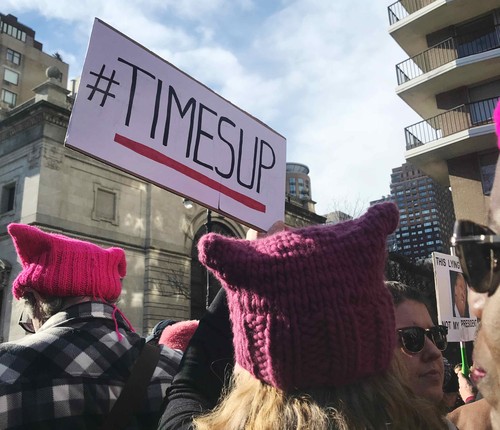 Others I spoke with cited the nation's current sexual-harassment reckoning as an even greater reason to protest the president, whom 19 women have accused of sexual assault. Whitted called it "crazy" that men in Hollywood, the media, and politics were getting fired while "this guy is still in office."
Where last year's marches were simply a rejection of Trump, this year's events were electorally focused. The Women's March on Washington anniversary event planned for Sunday in Las Vegas, Nevada, is being billed as "Power to the Polls" and aims to get people to register and vote ahead of the 2018 midterm elections. Virtually everyone I spoke with said Democratic success in the midterms is their biggest political goal in the coming year, and see the march as a good starting point to start encouraging people to show up to polls.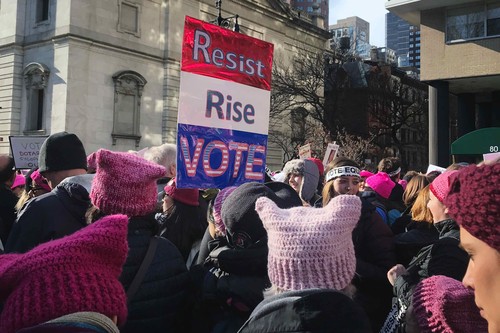 Following last year's marches, my colleague Conor Friedersdorf wrote, "The political future depends on where Trump opponents focus their energy and whether they are adept at expanding their coalition." This year did indeed see more women than ever before sign up to run for office, and a record 28 women were elected to Virginia's House of Delegates in the November 2017 elections. New public-opinion research conducted by SurveyMonkey also shows that Trump is losing ground amongst women—regardless of race or class—who previously supported him, a trend which will likely be consequential in the 2018 congressional midterms if it holds up.
The crucial work for the marchers still lies ahead; it's unclear if the momentum will hold. But protesters were still hopeful: "Here we are a year later, doing it again," one marcher, Emma Saltzberg, said. "It shows we're here to fight and we'll push for people to vote. You have to if you want to see change in the future."