The State of the Union Is Unrecognizable
A long, surprisingly standard speech ignored the tumultuous lived reality of American politics over the past year—and the likely reality in the year to come.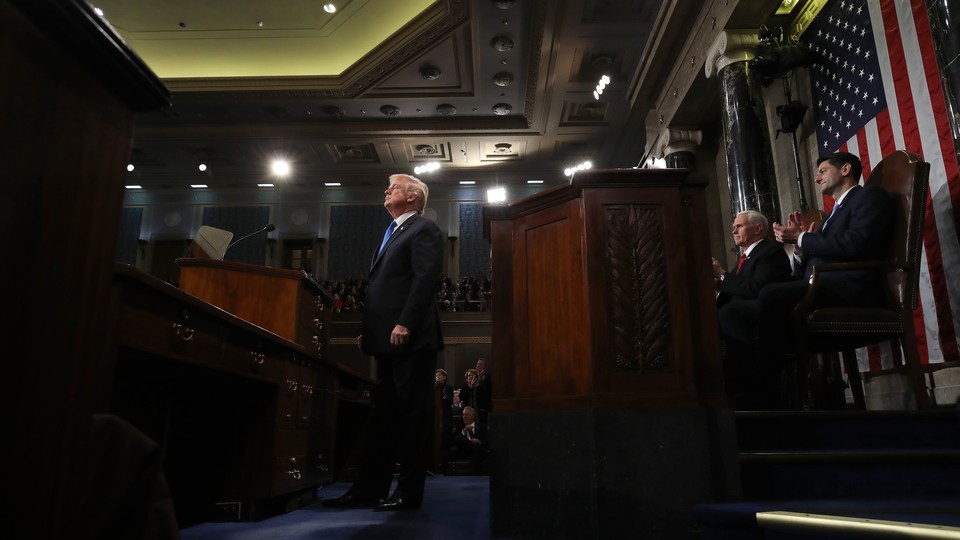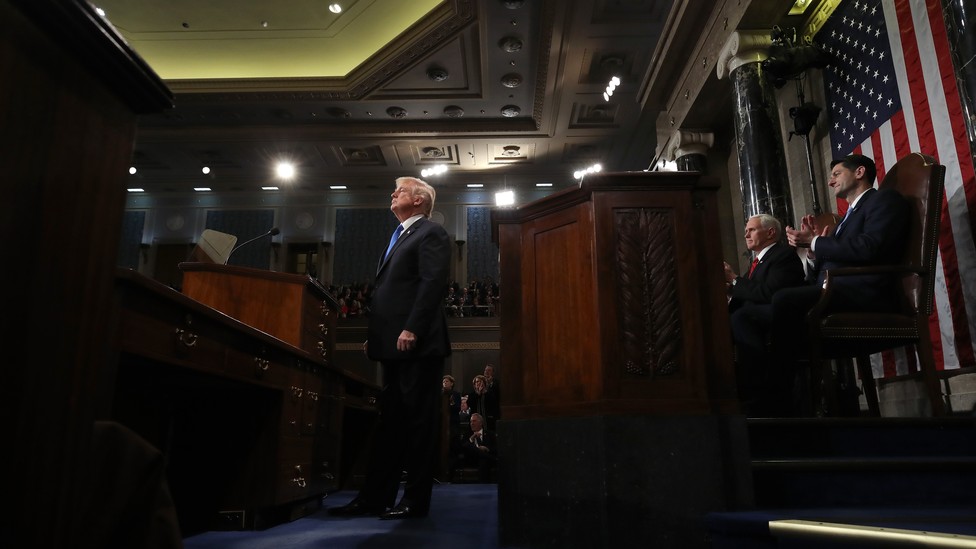 The strangest thing about watching President Donald Trump deliver a State of the Union address was how normal it seemed. Tuesday night, in his first State of the Union, the president offered a workmanlike speech that seemed worlds away from the tumultuous, gridlocked lived reality of American politics over the past year—and the likely reality in the year to come.
Looking back to his speech to a joint session of Congress last February, Trump recalled, "A new tide of optimism was already sweeping across our land. Each day since, we have gone forward with a clear vision and a righteous mission—to make America great again for all Americans." He added, "Over the last year, we have made incredible progress and achieved extraordinary success."
The reality is somewhat less rosy: By a wide margin, Americans believe that the nation is on the wrong track, and the president's approval rating is historically low. Trump has struggled to push his agenda through Congress, just squeaking a big tax cut in at the end of last year. That presents three challenges for the president, and his speechwriters: How do you boast about victories you haven't had? How do you present new proposals when many of the old ones are still on the table? And how do you handle the Russia story that seems to consume most of politics each week?
The answer from Trump was simply to conjure his own reality, outlining a set of some accomplishments, delivering the standard list of policy proposals, and ignoring the Russia probe altogether. The speech was long, and there was little in the way of thematic unity, though he spoke of a "new American moment"—a concept borrowed from Hillary Clinton, of all people. This president is not often good at hiding his emotions, but he did so Tuesday. As a result, not only was the picture he painted of America removed from reality, but Trump himself was also practically unrecognizable. The speech somehow managed to render Trump the one thing he almost never is: boring.
Trump followed most of his predecessors in assessing the nation's condition, adding his own spin: "Let us begin tonight by recognizing that the state of our union is strong because our people are strong."
That led directly into a lengthy disquisition about the economy. Given the relatively strong condition of the U.S. economy, history would predict much higher approval for the president, but polls show voters continue to withhold credit. At times, he has sounded almost plaintive in asking for acknowledgement, but Tuesday he was more assertive.
"Since the election, we have created 2.4 million new jobs, including 200,000 new jobs in manufacturing alone," he said. "After years of wage stagnation, we are finally seeing rising wages. Unemployment claims have hit a 45-year low. African American unemployment stands at the lowest rate ever recorded, and Hispanic American unemployment has also reached the lowest levels in history."
Many of these statistics represent the continuation of trends that pre-date his presidency, but the president also spoke at length about the tax cuts, a policy achievement of his own. While Trump communicates directly to the population over Twitter on an almost daily basis, he hasn't otherwise attempted to address the nation on primetime TV to drum up support for the cuts. He couldn't resist the chance to exaggerate, claiming falsely (though not for the first time) that the cuts were the largest in history.
In the wake of a government shutdown triggered by a disagreement over immigration, the president offered the clearest articulation of his views on immigration that he has delivered in public. Given Trump's hard line during the 2016 presidential campaign, it represents something of an evolution: He suggested a path for citizenship for "Dreamers," undocumented immigrants brought to the U.S. as children. But he tied that concession to stronger border security, including his border wall; an end to the visa lottery; and an end to chain migration, which allows immigrants to bring family members to the United States. Although the White House previewed this plan last week, drawing condemnation from immigration hawks and doves alike, it's notable to see the president deliver it himself, especially given that congressional leaders in both parties have complained that Trump is not clear about what he wants on immigration.
In a nod to hard-liners who object to the path to citizenship, Trump said, "These four pillars will produce legislation that fulfills my ironclad pledge to only sign a bill that puts America first." And he devoted a sizable section of the speech to warning about the dangers of the MS-13gang and calling for measures to stop it.
Trump also spoke at length about infrastructure spending, calling for a mix of government investment and reduced regulatory requirements. "America is a nation of builders," he said. "We built the Empire State Building in just one year—is it not a disgrace that it can now take 10 years just to get a permit approved for a simple road?" But while Trump has long teased a forthcoming proposal, the actual plan has yet to materialize.
For two years, Trump's most notable health-care proposal has been Obamacare repeal, something he spent months over the spring and summer trying to get Congress to achieve, to little avail. Tuesday night, he decided to declare victory and move on, arguing that the elimination of the individual mandate represented repeal of "the core of disastrous Obamacare." He promised action on the opioid crisis (another area in which his administration has been slow to take real steps), but focused on prosecuting drug dealers, which many experts view as a dead-end solution. Intriguingly, he also called for policies to lower prescription-drug prices—a possible area for bipartisan agreement, and one he has mentioned recently.
Although he has frequently voiced frustrations with Congress publicly and privately, Trump did not castigate Congress for its inaction—a change from President Barack Obama, who frequently seemed to be lecturing the Republican-led Congress in his later State of the Union addresses. He was repaid with often-vigorous applause from the GOP. Democrats were notably, though unsurprisingly, more subdued.
In keeping with most State of the Union addresses, and with his own interests, foreign policy was treated briefly and toward the end of the speech. Trump touted the American-led effort that drove ISIS from its territorial holdings in Iraq and Syria. "I am proud to report that the coalition to defeat ISIS has liberated almost 100 percent of the territory once held by these killers in Iraq and Syria," he said. "But there is much more work to be done. We will continue our fight until ISIS is defeated."
Trump also said he had signed an executive order to keep the prison at Guantánamo Bay open, and he called on Congress to eliminate the sequester, a budget deal that slowed the growth of the defense budget. He said the nuclear arsenal should be rebuilt. Trump touted his decision to recognize Jerusalem as Israel's capital—making no mention of a peace process—and, pointing to a United Nation vote chiding the U.S., asked Congress to end foreign aid to countries that voted to condemn the move.
"American taxpayers generously send those same countries billions of dollars in aid every year," he said. "That is why, tonight, I am asking the Congress to pass legislation to help ensure American foreign-assistance dollars always serve American interests, and only go to America's friends."
Trump set aside the most inflammatory language he has used about North Korea and its pursuit of nuclear missiles that could reach the United States. The president was vague but threatening. "Past experience has taught us that complacency and concessions only invite aggression and provocation," he said. "I will not repeat the mistakes of past administrations that got us into this dangerous position."
The president also set aside inflammatory language about the Russia investigation, steering clear of it altogether. There was no repetition of his insistence that he did not collude with Russia to interfere in the election, no railing against Democrats, and no threats, veiled or otherwise, against Special Counsel Robert Mueller, the Justice Department, or the FBI.
Given how much Trump relishes the freewheeling rally stage and his equally freewheeling Twitter account, it remains somewhat jarring to see him deliver a standard speech—especially one that clocked in at an hour and 20 minutes, the second longest in history, verging into Bill Clinton-level loquaciousness. Trump has mastered some elements of the form. His reading from a teleprompter has gotten somewhat less stiff, and he reduced his many informal and awkward ad-libs. He also made liberal use of Lenny Skutniks—the invited guests used as exemplars of certain policies and traits. Many of the finest moments of the night came when the president spoke about these people.
Yet Trump struggles for the unifying, uplifting tone that presidents tend to favor in State of the Union addresses. It's simply not a mode that suits him well.
"All of us, together, as one team, one people, and one American family," Trump said. "We all share the same home, the same heart, the same destiny, and the same great American flag. Together, we are rediscovering the American way."
But he followed this almost immediately with a carefully sharpened and deftly wielded jab at athletes who kneel during the national anthem, a reprise of a theme from the late summer, and he followed that with a list of fairly divisive, partisan points, including regarding judicial nominations and the Second Amendment.
Trump returned to the quest for inspiration as he closed the speech, with a long if generic paean to the American spirit. That coda helped underscore the strangeness of watching Trump in the setting of the State of the Union. Only the "USA" chant that went up in the chamber as he finished marked it as a distinctively Trumpian occasion.