Why Trump Turned on Steve Bannon
After his former chief strategist criticized the president and his children in a forthcoming book, Donald Trump said, "When he was fired, he not only lost his job, he lost his mind."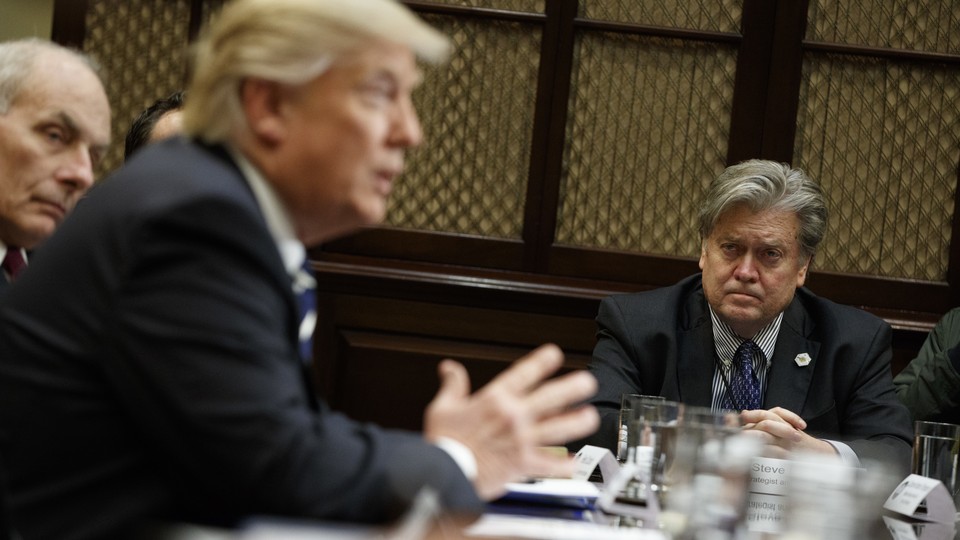 International crises will have to wait. President Trump has a new and even more infuriating nemesis on his hands than even North Korea's Kim Jong Un: his own former campaign CEO and chief White House strategist Steve Bannon.
Wednesday morning, The Guardian and NBC News published reports based on a book by Michael Wolff, and New York published a juicy, page-turner of an excerpt from the volume. They all add up to a damning image of the Trump administration and especially its leader. The president is depicted as out of touch, borderline illiterate, disrespected by his own closest advisers, sloppy with information, and horrified at winning the election. As I wrote, the most damaging revelations are those that come from Bannon—a Frankenstein's monster that Trump created, elevating him as an insider and failing to see the danger that posed to himself.
Early Wednesday afternoon, the president fired back at Bannon with some of the more scorching comments he has made publicly—impressive for a president in love with invective. In a written statement distributed by Press Secretary Sarah Sanders, Trump unloaded:
Steve Bannon has nothing to do with me or my Presidency. When he was fired, he not only lost his job, he lost his mind. Steve was a staffer who worked for me after I had already won the nomination by defeating seventeen candidates, often described as the most talented field ever assembled in the Republican party.

Now that he is on his own, Steve is learning that winning isn't as easy as I make it look. Steve had very little to do with our historic victory, which was delivered by the forgotten men and women of this country. Yet Steve had everything to do with the loss of a Senate seat in Alabama held for more than thirty years by Republicans. Steve doesn't represent my base—he's only in it for himself.

Steve pretends to be at war with the media, which he calls the opposition party, yet he spent his time at the White House leaking false information to the media to make himself seem far more important than he was. It is the only thing he does well. Steve was rarely in a one-on-one meeting with me and only pretends to have had influence to fool a few people with no access and no clue, whom he helped write phony books.

We have many great Republican members of Congress and candidates who are very supportive of the Make America Great Again agenda. Like me, they love the United States of America and are helping to finally take our country back and build it up, rather than simply seeking to burn it all down.
That's a lot to digest. Bannon's role in the Trump victory is a matter of dispute; Bannon certainly believes he played a large role, and thanks to his often-cozy relations with reporters, he was able to spread that story, irking Trump as early as spring 2017. In other words, Trump is right to point a finger at Bannon for his leaking, as well as for his hot-and-cold relationship with the mainstream media.
It is true that Trump had already won the primary when Bannon joined the campaign. It is also true that the Trump campaign was sputtering and faltering when Bannon arrived—Wolff reports, in fact, that on election night, no one on the campaign, including the candidate, expected to win. But presidential wins are never attributable to a single person or factor, and there are many reasons Trump won.
When Bannon was fired, in August, he promised to go to war, but at the time he portrayed this as a war against Trump's enemies, fought from the outside, and told The Weekly Standard's Peter Boyer that the president had encouraged him. "I said, 'Look, I'll focus on going after the establishment,'" Bannon said. "He said, 'Good, I need that.' I said, 'Look, I'll always be here covering for you.'"
Since then, however, the two men have found themselves increasingly at odds, though the president reportedly continues to speak with Bannon from time to time, at least by Bannon's account. Although the White House was bracing for Wolff's book—like so many Trump administration crises, this one was self-inflicted, with Trump inviting Wolff into the West Wing—well-sourced White House reporters said that Bannon's decision to attack members of the Trump family openly, on the record, inspired unusual fury from the president.
So the president has decided to make an enemy of Bannon with the searing statement Wednesday. The diction and tone bear little resemblance to Trump's own patois, and thus were probably written by an aide. There are upsides and downsides to picking a fight with a guy who espouses "#WAR" and brags that like the honey badger, he don't give a shit. Bannon has little compunction about fighting scorched-earth battles, and he is back atop Breitbart, a central node of Trump supporters. Yet Trump no longer needs Breitbart as he once did—he is now president of the United States—and as the statement noted, Bannon's record of backing candidates since he left the White House does not inspire confidence in his generalship. Moreover, by taking the offensive, Trump seeks to seize back control of the news cycle, shifting the focus away from Wolff's reporting and to his statement.
While the tone of Trump's statement is jarring, the maneuver of distancing himself is old hat. Each time a former staffer causes a problem for Trump, he pretends they played no role, that he barely even knew them. Trump exalted Bannon early on, but soon felt envious of the praise he was getting. "I'm the one who makes the decisions," he told The New York Times in November 2016. After Bannon landed on the cover of Time magazine, a space Trump cherishes, he began making critical comments. During an April press conference, the president foreshadowed Wednesday's statement. "I like Steve, but you have to remember he was not involved in my campaign until very late. I had already beaten all the senators and all the governors, and I didn't know Steve," he said. "I'm my own strategist and it wasn't like I was going to change strategies because I was facing crooked Hillary." In an interview with The Wall Street Journal, he called Bannon merely "a guy who works for me."
After Bannon was pushed out of the White House, Trump praised him on Twitter, though the comment was carefully phrased to avoid giving him too much credit:
I want to thank Steve Bannon for his service. He came to the campaign during my run against Crooked Hillary Clinton - it was great! Thanks S

— Donald J. Trump (@realDonaldTrump) August 19, 2017
In October, Trump expressed sympathy with Bannon's criticism of the Republican-led Congress. "I know how he feels," the president said, to the annoyance of GOP leaders. But after Roy Moore lost the U.S. Senate race in Alabama, many Republicans blamed Bannon for pushing Moore as the GOP candidate. Then came Wednesday's rupture.
Bannon is hardly the first person to get this treatment. Paul Manafort chaired Trump's campaign for three crucial months, including the period when he clinched and accepted the Republican nomination, but in February 2017, Trump said, "Paul Manafort was replaced long before the election took place. He was only there for a short period of time." A month later, Press Secretary Sean Spicer was widely mocked for saying that Manafort "played a very limited role for a very limited amount of time." (Manafort has since been indicted for laundering $75 million; Trump and his lawyers noted the alleged behavior was not related to the campaign.)
Something similar happened to Michael Flynn, once a close friend and key campaign surrogate of the president's. Trump named Flynn national-security adviser shortly after the election, despite warnings not do so from aides and from President Barack Obama. Later, after Flynn had lied to both Vice President Mike Pence and the FBI about conversations with the Russian ambassador, Trump's spokespeople praised Flynn's character and service, and according to sworn congressional testimony, Trump asked then-FBI Director James Comey to pull back an investigation into Flynn. Yet when Flynn recently pleaded guilty to lying to the FBI, Trump lawyer Ty Cobb dismissed him as "a former Obama administration official."
When George Papadopoulos joined the Trump campaign as a foreign-policy adviser, he included him in a small meetings and singled him out for praise during a meeting with The Washington Post editorial board, calling him "an excellent guy." After Papadopoulos pleaded guilty to lying to FBI agents, however, the president dismissed him as a "young, low level volunteer" who "few people knew."
The president's desire to distance himself from this motley assortment is understandable: Who wants to be associated with a pair of felons, an accused money-launderer, and a harsh critic? Trump is not the first president to try to create separation from an aide-turned-critic. In his memoir Decision Points, George W. Bush didn't mention Scott McClellan, a former press secretary who wrote a highly critical book. Bush's response was similar in substance, though not tone, to Trump's. "He was not a part of a major decision," he said. "This is a book about decisions. This isn't a book about, you know, personalities or gossip or settling scores. I didn't think he was relevant."
Yet this distancing, especially when conducted repeatedly as Trump has done, is self-evidently flimsy. How many close aides can one credibly disavow? Soon the denials become both difficult to credit and also begin to look like evidence of poor character judgment in the hiring process. Trump currently faces a perilous special-counsel investigation, and at least one former aide, Flynn, has agreed to cooperate with Robert Mueller. In such a situation, maintaining the loyalty of one's close aides is important. His insistence that Bannon and all the others were never more than bit-players is the latest reminder for current staffers that Trump views loyalty as a one-way street.