Bannon, Alone
Trump's former chief White House adviser finds himself bereft of allies and facing an uncertain future.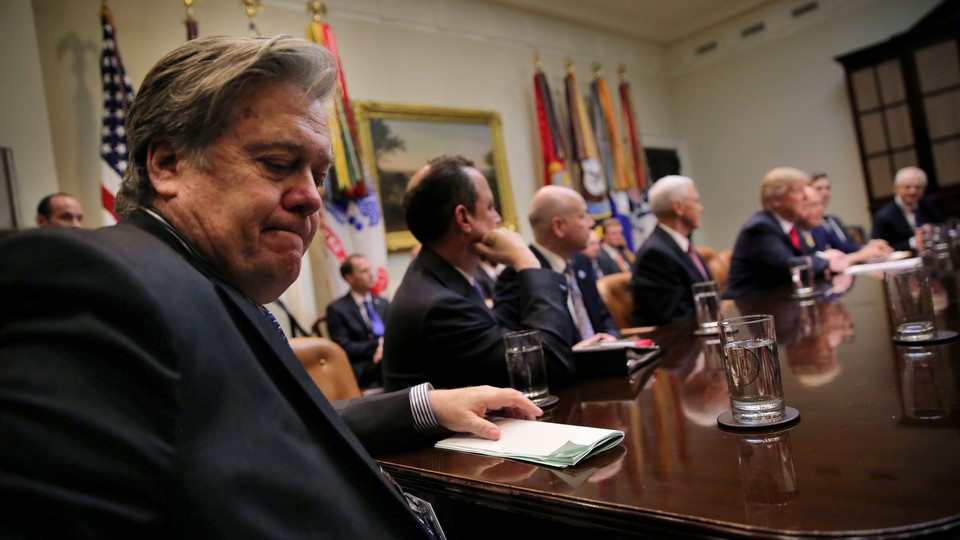 At the height of his fame and influence, Steve Bannon set in motion his downfall. According to Michael Wolff's new book—containing Bannon's remarks about President Trump's family that have caused a furor—almost exactly a year ago, weeks before becoming the White House chief strategist, Bannon was freely holding forth about the president-elect at a dinner with the late Fox News chief Roger Ailes in Wolff's New York City townhouse.
It was apparently one of many conversations he had with Wolff over the past year that have come back to haunt Bannon. His description of Donald Trump Jr.'s Trump Tower meeting with a Russian lawyer in which he sought dirt on Democratic rival Hillary Clinton as "treasonous" has infuriated President Trump. And the episode has caused Bannon to lose the support of his wealthy conservative patrons, the Mercer family, at the time he needs them most as he tries to launch an intra-party insurgency in the 2018 midterms.
Rebekah Mercer issued a rare on-the-record statement to The Washington Post on Thursday disavowing Bannon and saying the family was not supporting his political endeavors. (The family's most recent public comment was Robert Mercer's disavowal of former Breitbart tech editor and right-wing provocateur Milo Yiannopoulos.) In her statement, she said she had not communicated with Bannon in months. According to a source with direct knowledge of her comments, who asked for anonymity to discuss private conversations, Mercer told people she was finished with Bannon about six weeks ago.
Though Mercer told the Post she will continue to support Breitbart News, Bannon is reportedly in trouble there as well as the board debates whether to keep him. Breitbart's owners, according to a disclosure made by the company last year during negotiations to obtain congressional press passes, are Larry Solov, the company's CEO and lifelong best friend of its founder Andrew Breitbart; Breitbart's widow Susie Breitbart; and the Mercers, who own a minority stake. Thus dismissing Bannon is not solely the Mercers's decision. Former Breitbart editor-at-large Ben Shapiro, a frequent Bannon critic, argued that the final decision would be Solov's, as Susie Breitbart has been largely absent from decision-making at the company. "The only question is whether Larry Solov has the stones" to make a move against Bannon, Shapiro said.
But even if he hangs on at Breitbart, Bannon's other big project—his "season of war" against the Republican establishment this year—looks dead in the water. Though Bannon met with a series of donors over the past few months, he has not been able to find a Mercer replacement. Sheldon Adelson publicly distanced himself from Bannon in November, and others courted by Bannon never signed on. A planned 501(c)(4) group appears to have stalled.
Even before the fallout from the Wolff book, Bannon's 2018 plans were off to an inauspicious start. He stuck by Roy Moore in the Alabama Senate race despite explosive allegations against him by women who accused him of preying on them when they were teenagers, and took much of the blame from the party establishment—and now Trump himself—for Moore's stunning loss, which handed the seat to a Democrat for the first time in 25 years.
Without the backing of the Mercers or other major donors, and crosswise with the president, Bannon's usefulness to candidates is limited. His 2018 favorites have not been full-throated defenders. Arizona Senate candidate Kelli Ward's spokesman described Bannon on Wednesday as just one of many endorsements, and former New York Representative Michael Grimm criticized Bannon for the comments to Wolff.
Matt Drudge kicked off the speculation about Bannon's possible ouster with a tweet on Thursday that specifically mentioned Solov and Susie Breitbart, as well as the site's editor-in-chief Alex Marlow, who has been with the company since the beginning. "The terrific Larry Solov and Susie Breitbart will take Breitbart into the fresh future. Has it really been 10 yrs since Andrew told me on Santa Monica pier he was going to do it?! His first hire Alex Marlow [he was 21] became one of the best news editors in the world! MORE" The tweet featured a photo of the late Breitbart, who began his media career as Drudge's right hand.
At nearly every opportunity, Drudge has gone after Bannon, using the influential Drudge Report to take him down a notch. His cryptic tweet could be read as an offer of his support to Breitbart leadership in a post-Bannon era.
It's difficult to imagine modern-day Breitbart without Bannon at the helm; the site has become inextricably bound up in his persona and weaponized in service of his political goals. Bannon soldiered on in a business-as-usual mode on Thursday, according to people who spoke to him, and led the evening editorial call as usual. When I asked if he could talk this evening, he declined, saying he was getting ready for the Sirius XM radio show he helps host.
The loquacious Bannon has said little publicly about the fiasco, apart from comments on Breitbart's radio show praising Trump as a "great man" and vowing to remain loyal to him. A person familiar with the events who spoke on condition of anonymity to characterize internal discussions confirmed a report in The Hill that Bannon's inner circle encouraged him on Wednesday, as news of his comments to Wolff broke, to release a statement to calm the situation down, believing there was a window to crawl back into Trump's good graces. But Trump's vehement disavowal made the plan moot. "Steve doesn't represent my base—he's only in it for himself," read the official White House statement. In case anyone missed the point, Trump's personal lawyers then threatened to sue Bannon for defamation.
Wolff's book will be released on Friday morning, four days ahead of its planned launch, spurred forward by Trump's legal team's attempt to stop the book's publication. Washington is waiting with bated breath to see what else is in there, having been consumed for two straight days by the book's drama. Whether Bannon can stay in his last remaining port in the storm remains unresolved as of Thursday evening.
"It's like a mob hit," said the former Breitbart spokesman Kurt Bardella, who resigned last year and has since left the Republican Party. "Everybody knows something's going down, it's just a matter of where they pull the trigger."