The Mystery of Andrew McCabe's Exit
The Trump-detested deputy director of the FBI is leaving his post earlier than expected, but there's no clear explanation for why.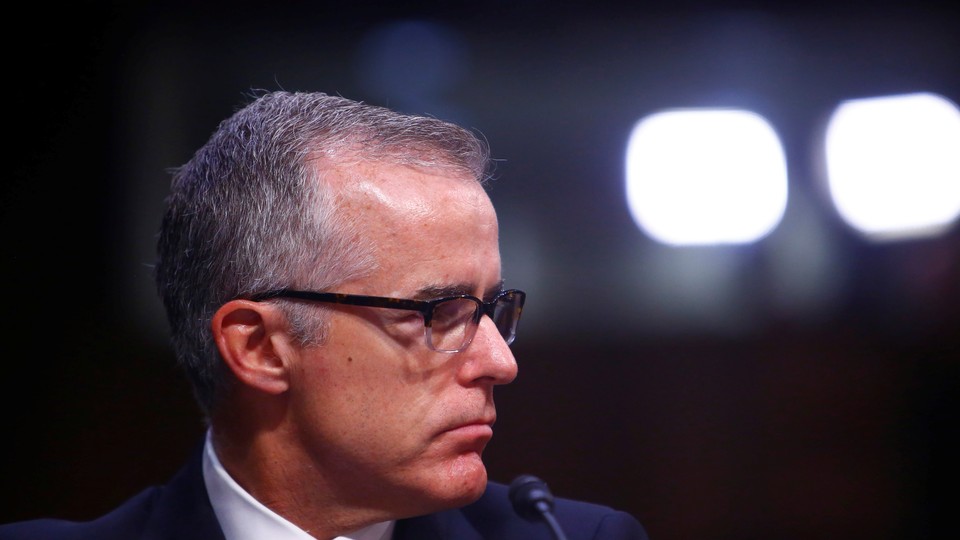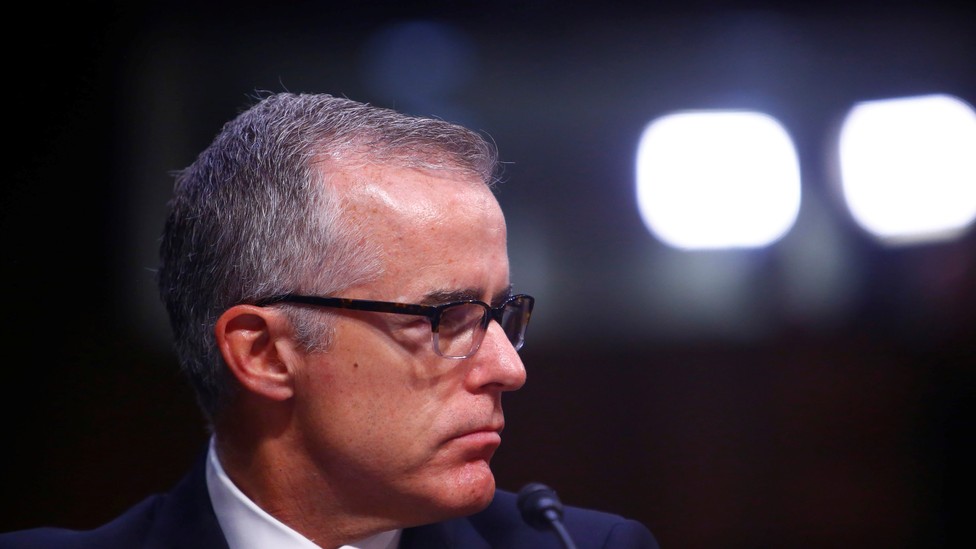 Updated on January 29 at 4:16 p.m.
In a win for President Trump, FBI Deputy Director Andrew McCabe is leaving his post effective Monday—and that's about the only clear thing about his departure.
McCabe, who was appointed to that job under former FBI Director James Comey, was expected to leave his job this spring, when he reached eligibility for a pension. New FBI directors typically choose their own deputy directors, so it would make sense for new chief Christopher Wray to want his own pick. Because McCabe was a civil servant rather than a political appointee, Trump (and other superiors) could not summarily remove him. The president clearly didn't want him in the role and distrusted him, and it's hard to imagine McCabe was enjoying being a political football. Two days before Christmas, Trump tweeted, "FBI Deputy Director Andrew McCabe is racing the clock to retire with full benefits. 90 days to go?!!!"
Indeed, McCabe was expected to stick around until March. Instead, he abruptly departed Monday, though he'll still be collecting those benefits. The deputy director is taking what is ominously known as "terminal leave"—he has accrued enough leave to depart his post now but not officially retire until benefits vest.
The reasons for McCabe's abrupt exit are not clear, though. It's not even clear whether McCabe's exit came as a surprise to FBI insiders or not. Some reports say yes, while others say no. For what it's worth, NPR's Carrie Johnson said in December that McCabe might use accrued leave to depart before March.
At Monday's press briefing, White House Press Secretary Sarah Sanders said the president had not played any role in McCabe's dismissal. This may be true in a narrow sense—Trump may have not ordered his terminal leave—but it's preposterous in a broader sense. Trump has repeatedly tweeted attacks on McCabe, a move unprecedented before Trump, and according to The Washington Post demanded to know for whom McCabe voted during a meeting in May 2017. The president apparently believes that McCabe is a Democratic plant out to get him, in part because McCabe's wife ran for state senate in Virginia in 2015, receiving funds from a PAC controlled by then-Democratic Governor Terry McAuliffe, a longtime ally of the Clintons. McCabe recused himself from investigations into Virginia political figures, but was reportedly involved in the probe into Hillary Clinton's use of a private email server and account, which ended with the FBI recommending against charges for her.
NBC News also reported Monday that after Comey was fired, Trump called McCabe, furious that Comey had been allowed to return home from Los Angeles on a government plane. McCabe reportedly told the president that he had not been asked to approve the flight but would have done so:
The president was silent for a moment and then turned on McCabe, suggesting he ask his wife how it feels to be a loser — an apparent reference to a failed campaign for state office in Virginia that McCabe's wife made in 2015.

McCabe replied: "OK, sir." Trump then hung up the phone.
Whether the president explicitly ordered McCabe pushed out is somewhat beside the point: His position was clear. Axios reported last week that Attorney General Jeff Sessions, responding to Trump's public comments, had asked FBI Director Chris Wray to fire McCabe, but that Wray had refused and threatened to resign.
Assuming both that the White House didn't deliver the final push now, and that Wray refused to fire McCabe before, what changed to produce his departure?
Fox News reports McCabe was instructed to begin terminal leave in advance of a report from the Justice Department's inspector general. In January 2017, the inspector general launched an inquiry into several areas: whether Comey ignored DOJ guidelines in making public pronouncements about the investigation into Hillary Clinton's email server; whether McCabe should have been recused from the Clinton investigation; whether another DOJ employee should have been recused or gave information to the Clinton campaign; whether DOJ employees leaked information; and whether tweets containing documents about the Clintons shortly before the campaign were improper. The IG's investigation has not yet become public.
An alternative theory concerns the hotly disputed memo about FISA practices authored by House Intelligence Committee Chair Devin Nunes, which I wrote about earlier. Fox's Catherine Herridge reported that Wray read the memo at the White House on Sunday, leading to speculation that this might be connected with McCabe's sudden departure. That's Donald Trump Jr.'s theory:
Yea right, that's why he stepped down a day after the FBI saw the FISA memo and the day the house votes on its release. Sure. That's it. Now the other media sheep have their talking points. Go spread the gospel.

Who do you think you're kidding at this point? #ReleaseTheMemo https://t.co/NjJv54lStb

— Donald Trump Jr. (@DonaldJTrumpJr) January 29, 2018
People who have seen the Nunes memo say that it is scathing about top FBI leadership, and since Comey is already gone, it's a decent guess that might mean McCabe. But the memo itself is suspect, and critics say it's full of cherry-picked information. The DOJ has also argued against releasing it. It seems unlikely, though not impossible, that Wray would have been swayed by the contents of the memo into pushing McCabe out.
The problem in all of this is that it's impossible to know who to believe. Nunes no longer deserves the benefit of the doubt. McCabe and Wray aren't talking. Most of all, it is impossible to fully trust anything the executive branch says about personnel moves, thanks to the way the firing of James Comey was handled. At the time, the Justice Department released a memo from Deputy Attorney General Rod Rosenstein laying out a detailed critique of Comey's handling of the Clinton investigation, together with a letter from Sessions endorsing it. Yet within days of that letter, Trump himself had made clear in an interview with NBC News' Lester Holt that he had fired Comey not over the Clinton probe but over the Russia inquiry.
The nation is likely to get more information about McCabe's exit in the coming hours and days, but official answers on this deserve even more than the usual dose of skepticism. Having lied to the public once, the Trump administration's explanations for any further moves are automatically suspect.