Trump's White House Turnover Is Ahead of Schedule
Every president ends up pushing out campaign aides in favor of government professionals, but few have done it as swiftly as the office's current incumbent.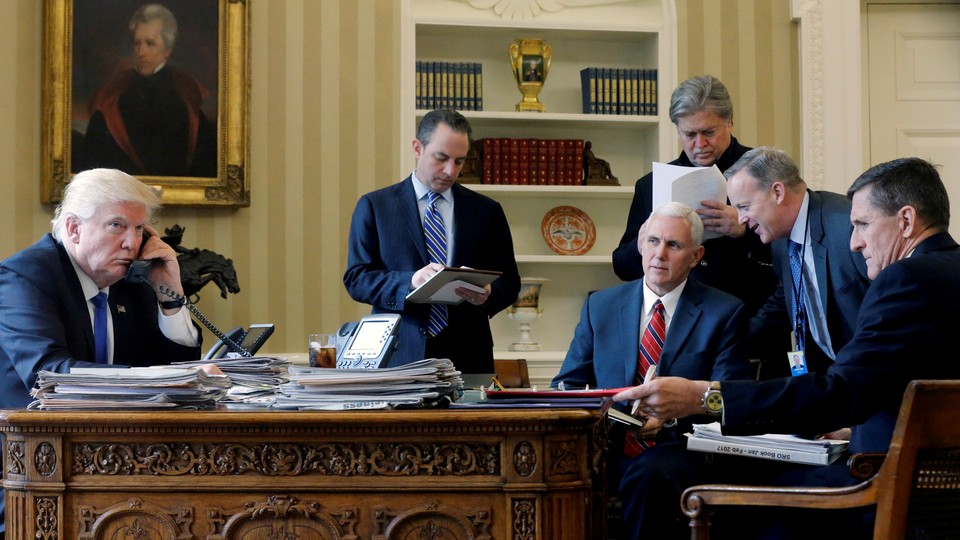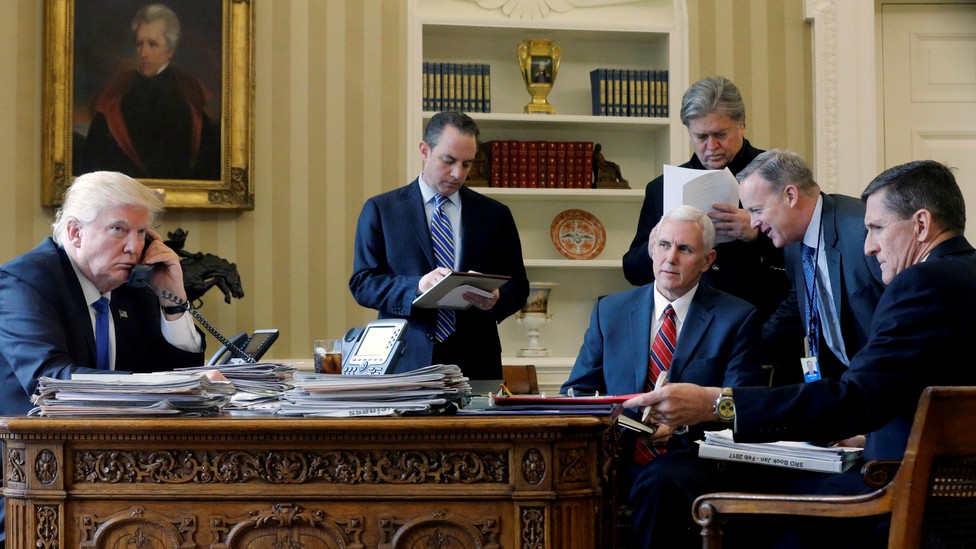 The more things change at the White House, the more they stay the same. After all, heavy turnover among staff has been one of the hallmarks of the Trump administration's first year.
In the waning days of 2017, the White House announced that Deputy Chief of Staff Rick Dearborn would leave early this year. Dearborn follows other December departures, including Deputy National-Security Adviser Dina Powell and Omarosa Manigault-Newman, holder of a lengthy but opaque title. Expectations for further departures in the coming weeks and months, especially among top-level staff, run high.
Trump's critics view this turnover as further evidence of the chaos and mismanagement that has gripped the White House. His defenders portray it is a sign that the president is getting things on track. The reality is probably somewhere in the middle, but the defenders have a point. Presidential administrations often begin staffed with campaign hangers-on, who are gradually and beneficially replaced by staffers more experienced and skilled in the actual work of governance. Trump is overseeing that process now, and he's even doing that at a faster clip than many of his predecessors, though that is in part because his need is particularly dire.
White House turnover is a common, and often positive, thing, as Matthew J. Dickinson and Kathryn Dunn Tenpas wrote in a 2002 paper. Once elected, a new president hires as top aides the people he has had around him—that is, his top campaign staffers. After all, they won the election, right? "Once elected, however, presidents discover that staffs dominated by campaign specialists are not typically well suited for operating within a bargaining-based governmental system of separate institutions sharing powers," Dickinson and Tenpas wrote. This tendency has become more pronounced since 1970, they found, as the political parties relinquished control over campaigns to candidates.
Each of the last few presidents had big-name departures, but the quantity in the Trump administration dwarfs them. The casualty list includes a chief of staff, Reince Priebus; two communications directors, Mike Dubke and Anthony Scaramucci (who lasted less than two weeks); a national-security adviser, Michael Flynn; a press secretary, Sean Spicer; a second deputy chief of staff, Katie Walsh; a chief strategist, Steve Bannon; counterterrorism adviser Sebastian Gorka; Secretary of Health and Human Services Tom Price; and others who are not household names. Trump has also fired the FBI director appointed by his predecessor and seen a slew of senior civil servants retire.
According to Tenpas's research, reported by The Wall Street Journal last week, 34 percent of senior officials in the White House have quit, been fired, or been reassigned during Trump's first year in office—more than double the figure for the next most volatile administration, Ronald Reagan's, at 17 percent. Clinton had 11, Obama 10, and George W. Bush 6, by Tenpas's metrics. These numbers are a little less clear than what they seem. Because every White House is structured somewhat differently, it's hard to make an apples-to-apples comparison, and Tenpas has instead used as the sample those staffers whom National Journal deems most important. The numbers can be misleading, too; the Clinton White House, as I have written, set the standards for early-presidency chaos until the Trump team supplanted it.
What distinguishes the departing figures, beyond their number, is how many of them departed under a cloud of scandal. Flynn was ostensibly fired for lying to Vice President Pence, but it has since become clear that he also lied to FBI agents (as the president says he knew at the time), and he has pleaded guilty and agreed to cooperate with Special Counsel Robert Mueller. Scaramucci was expelled after an unhinged, profane rant to a New Yorker reporter. Price was forced out over lavish use of private jets. Gorka's qualifications and associations with right-wing Hungarian groups brought him under scrutiny. Bannon was permanently at the center of a cyclone of chaos.
In general, however, the roll of departures cleaves to the pattern: Many of the names are those of campaign veterans. Priebus, Spicer, and Walsh came from the Republican National Committee, where they assisted the Trump campaign. Bannon was CEO of Trump's campaign in its final stages. Flynn, Scaramucci, Manigault-Newman, and Gorka all served as surrogates of various types for the campaign. Price also aided the campaign, though he was in Congress. Few of these people had actually worked in government, with Price and Spicer as notable exceptions. Manigault-Newman, a former Al Gore staffer, actually had the greatest White House experience, but shockingly a person who Trump fired from The Apprentice for being a loose cannon proved to be a destabilizing force in the White House.
For the most part, these people have been replaced with people who have more government experience, are better at their jobs, or both. Priebus was succeeded by John Kelly, who has proven far better at maintaining some semblance of order in the West Wing, if not in the president himself. (Kelly's transfer did require a new secretary of homeland security). Sarah Sanders, though serially dishonest and unable to speak for the president, has avoided the hissy fits and embarrassing gaffes that characterized the Sean Spicer era at the lectern in the Brady Briefing Room. Johnny DeStefano, a former aide to Speaker John Boehner, is becoming increasingly powerful within the White House.
There are few campaign holdovers left around Trump. The campaign staff was always smaller than a typical presidential effort. Corey Lewandowski, Trump's first campaign manager, has never gotten the White House job he covets; Paul Manafort, who replaced him, is under indictment by the special counsel for laundering $75 million.
Those who remain from the campaign have tended to reinvent themselves. Enigmatic campaign spokeswoman Hope Hicks eventually emerged as third communications director, where she has outlasted any predecessor. Kellyanne Conway and Stephen Miller took on early, prominent roles in the White House and made serious errors: Conway coined the indelible "alternative facts," while Miller hatched the disastrous first travel ban and then defended it in a cringeworthy series of Sunday-show appearances. Both have reinvented themselves as less public figures.
Two others find themselves in tenuous positions. White House Counsel Don McGahn, a former campaign lawyer, has a long pedigree in GOP politics, though he finds himself in a difficult spot over his handling of the Flynn firing and of recent judicial nominations. Attorney General Jeff Sessions, an early backer of the Trump run, seemed headed for the chopping block in July, but has somehow managed to stick around, despite continued attacks from Trump—most recently, calling his recusal from Russia matters "a terrible thing" during an interview with The New York Times.
The upshot is that while Trump's team was perhaps unusually ill-suited to their tasks at the start of the administration, he is moving faster than usual to purge them and replace them with more professional aides. Tenpas finds that presidents typically have much higher turnover in their second year than in their first, but that is also because most presidents don't begin cleaning out their first, flawed squad until much later, sometimes not until the midterm elections—which typically run against the president's party.
On the other hand, there are many more Trump staffers who might leave soon. Secretary of State Rex Tillerson's exit has been foretold for months, and his survival this far may just be a factor of Trump's pique that the press reported Tillerson's ouster. Gary Cohn, director of the National Economic Council, is widely expected to leave this year, too. Jared Kushner faces legal trouble. Reports of Kelly-Trump friction pop up every few weeks. Trump's latest Sessions remarks indicate he's still angry. The Washington Post reports that William McGinley, who heads the Office of Cabinet Affairs, is in jeopardy. DeStefano's portfolio, larger than that afforded former aides much closer to the presidents they've served like Karl Rove (Bush) or Valerie Jarrett (Obama), may be volatile. The continued threat from the Mueller probe, which could prove extremely costly in attorney's fees even for staffers who escape scrutiny, will encourage staffers to leave the administration.
Just as Priebus's exit paved the way for the more competent Kelly, some of these departures would likely be beneficial to Trump. Tillerson's position is clearly untenable—despised by much of his own staff, at odds with the president and national-security adviser, and viewed by foreign diplomats as impotent, he can hardly be an effective steward of American foreign policy.
Yet while heavy turnover can clear out staffers ill-suited to their jobs, it has obvious downsides, too. Lack of continuity and institutional knowledge imperil administration initiatives—especially when so many posts in the executive branch remain unfilled. (More than one-third of posts included in a Washington Post-Parternship for Public Service tally don't even have a nominee—more than have been filled.)
Perhaps 2018 will bring increased stability. But if the staff departure rate in Trump's second year jumps sharply despite the high baseline he's established, it will likely be for a different reason than for his predecessors—not because campaign staffers are headed for the exits, but because the White House possesses an atmosphere of chaos, conflict, and anxiety. Experienced managers like John Kelly can temper that, but the central source is the one person who no typical staff turnover can replace: the president of the United States.