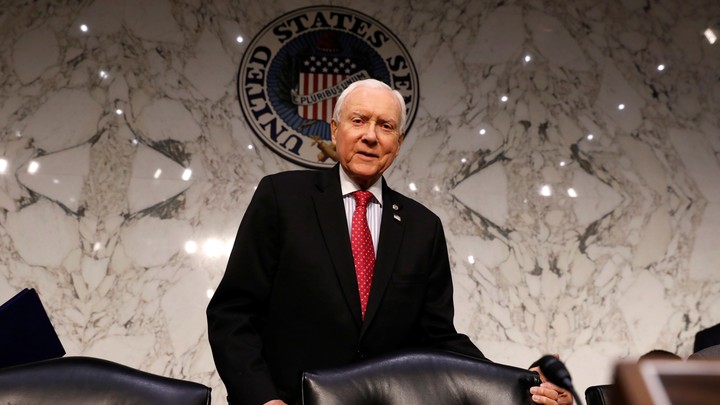 Today in 5 Lines
Utah Senator Orrin Hatch, the longest-serving Republican in the Senate, announced that he will retire at the end of his term this year. White House Press Secretary Sarah Huckabee Sanders said President Trump "is very sad to see Senator Hatch leave." Republican Representative Bill Shuster of Pennsylvania also announced he will not run for reelection. On Twitter, Trump took credit for 2017 being the safest year in airline travel. In a show of support for protesters, the Trump administration called on the Iran government to stop blocking Instagram and other social media sites.
---
Today on The Atlantic
The Future of Trumpism: The civil war within the Republican Party is being waged on college campuses across the country, and pro-Trump students are demanding that College Republicans fall in line. (Elaine Godfrey)

A Tax Incentive That Works: New research provides even more evidence that the Earned Income Tax Credit is effective in both the long and short term. (Annie Lowrey)

Is He Running?: Utah Senator Orrin Hatch's retirement opens the door for a possible Senate bid by Mitt Romney. Here's what a Senator Romney might look like. (McKay Coppins)
Follow stories throughout the day with our Politics & Policy portal.
---
Snapshot
---
What We're Reading
The Right Man for the Job: The U.S. must do more to support Iranians protesting Islamic dictatorship, argues Eli Lake, and Barack Obama should lead the effort. (Bloomberg)
Living Dangerously: When it comes to foreign policy, President Trump isn't playing the role the rest of the world expects, writes Susan B. Glasser—"and the consequences are piling up." (Politico)
Rethinking Trump: Despite Iowa's support for Donald Trump in the presidential election, the state appears to be turning against him. Why? (David Weigel, The Washington Post)
A Fight for Control: Here's the one question that is likely to shape the outcome of the 2018 midterm elections. (Ronald Brownstein, CNN)
No-Shows: Donald Trump's historic unpopularity could hurt Republican candidates in 2018. But Republicans are also suffering from a turnout problem. (David Byler, The Weekly Standard)
---
Visualized
Mark Your Calendars: Check out this timeline of all the upcoming elections in 2018. (The Washington Post)
---
Question of the Week
The Senate's longest-serving Republican, Orrin Hatch, announced on Tuesday that he'll retire at the end of his term, which opens the door for former Massachusetts Governor Mitt Romney to run for his seat. But what would a Senator Romney look like? The Atlantic's McKay Coppins asks: "Would he see himself as an anti-Trump truth-teller defending conservative principles from the poison of Trumpism? Or would he try to use his influence to pass major Republican legislation?"
This week, we want to know: Should Romney run? And if he did, what would you expect from him as a senator?
Share your response here, and we'll feature a few in Friday's Politics & Policy Daily.
-Written by Elaine Godfrey (@elainejgodfrey)
How are we doing? Send questions or feedback to egodfrey@theatlantic.com.
We want to hear what you think about this article. Submit a letter to the editor or write to letters@theatlantic.com.
Elaine Godfrey
is a staff writer at
The Atlantic
, where she covers politics.