The Atlantic Politics & Policy Daily: Threat Level Midnight
Hours before the government is set to shut down, senators scrambled to reach a deal to keep the government funded.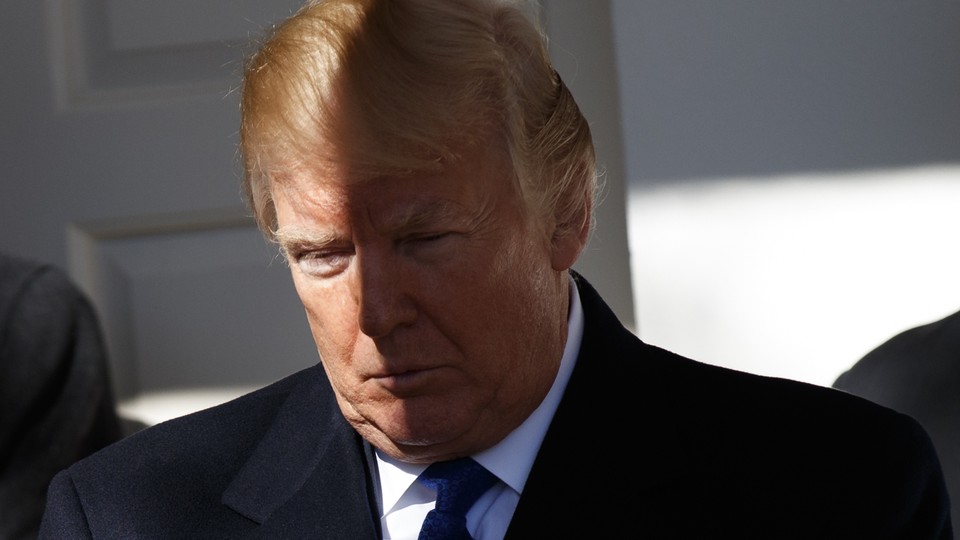 Today in 5 Lines
Hours before the government is set to shut down, senators scrambled to reach a deal to keep the government funded. President Trump met with Senate Minority Leader Charles Schumer, saying on Twitter that he had an "excellent preliminary meeting in Oval with" the Democratic senator. The Senate is expected to vote on a short-term spending bill tonight. Trump addressed activists gathered at the National Mall for the annual March for Life rally via video feed, saying that his administration will always defend "the right to life." The Supreme Court agreed to decide the legality of Trump's latest travel ban.
---
Today on The Atlantic
Follow stories throughout the day with our Politics & Policy portal.
---
Snapshot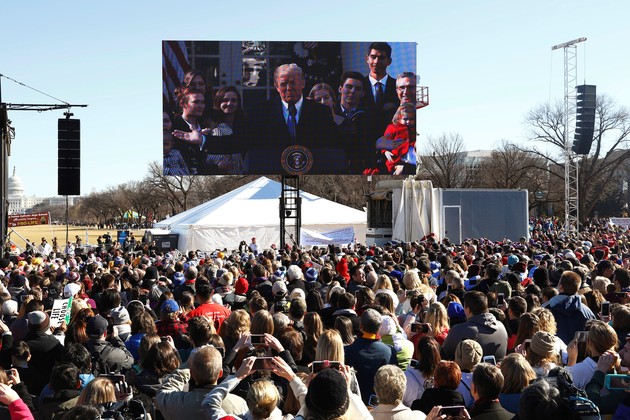 ---
What We're Reading
Donald Trump vs. John Kelly: Why do the president and his "iron-fisted" chief of staff clash? They're both used to being in charge. (Maggie Haberman and Julie Hirschfeld Davis, The New York Times)
History Repeats: Judging from a 300-year-old cycle of economic booms, deregulation, crises, and reregulation, the current administration's lax policies may backfire. (John Detrixhe, Quartz)
'A Maddening Quality to Their Cooperation': President Trump's hardline approach to Pakistan threatens the complicated relationship that the CIA has been navigating for years, writes Nicholas Schmidle. (The New Yorker)
The President's Looks: Those who fixate on Trump's language misunderstand him; the president has always been more focused on cultivating his image. (Michael Kruse, Politico)  
Triumph in Trump Country: In 2016, residents in the coal-mining region of Buchanan County, Virginia, were looking for a political savior. A year later, they attribute their community's turnaround to the man they elected. (Bob Davis and Joshua Jamerson, The Wall Street Journal)
---
Visualized
Who's Out of Work? If the government shuts down, these are the departments that will be most impacted. (Darla Cameron and Lisa Rein, The Washington Post)
---
Question of the Week
Several of our reporters have written about the possible effects of automation on communities across the United States. This week, we asked if you think that you—or your community—will be directly impacted.
Many of you were wary of the potential impacts of automation. Ken, from Tennessee, said that it could contribute to the distancing of classes and cultures by decreasing human interaction, and Susie, also from Tennessee, warned that extensive automation will eliminate low-wage jobs.
Others have already started to feel the impact. Dave, a U.S. Merchant Marine officer from Montana, wrote that a big topic in marine development is autonomous ships—something that ship owners want, but that would leave professional mariners jobless.
Similarly, Jordan, a railroad conductor in Washington, wrote, "Automation will put me out of a job, there is no doubt …. In recent years, we've seen many computer devices installed on our locomotives that when improved in the future will ultimately replace us."
Thanks for reading, and stay tuned for next week's Question of the Week!
-Written by Lena Felton (@lenakfelton) and Taylor Hosking (@Taylor__Hosking)