The Atlantic Politics & Policy Daily: The Titan of Davos
During his address at the World Economic Forum in Davos, President Trump said "America is open for business."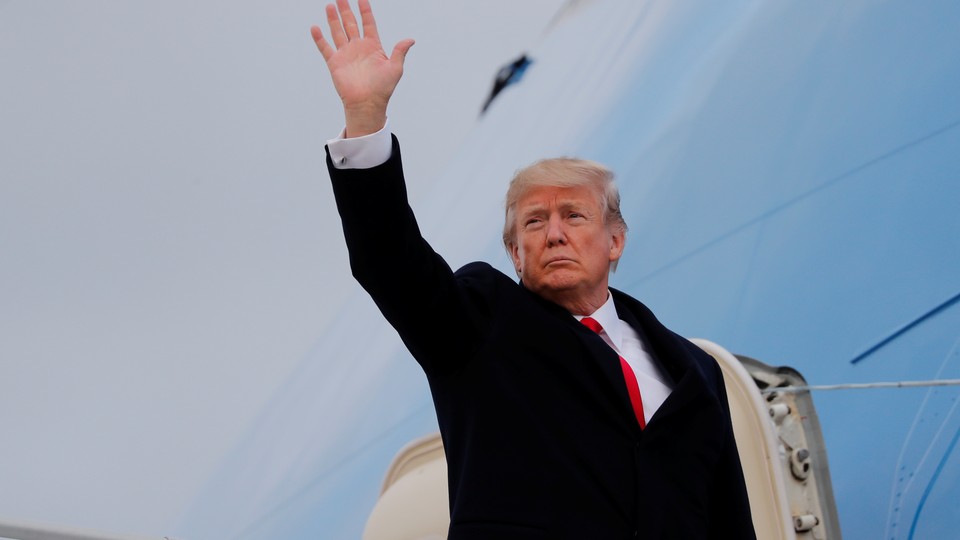 Today in 5 Lines
During his address at the World Economic Forum in Davos, President Trump said "America is open for business." Trump dismissed a New York Times report that revealed he tried to fire Special Counsel Robert Mueller in June 2017 as "fake news." Senate Minority Leader Chuck Schumer rejected a White House plan that would provide citizenship for Dreamers in exchange for tighter restrictions on immigration. The Wall Street Journal reports that Steve Wynn, a Las Vegas casino mogul and finance chair of the Republican National Committee, engaged in decades of sexual misconduct with his employees. The U.S. economy grew at a 2.6 percent rate in the final quarter of 2017.
---
Today on The Atlantic
Follow stories throughout the day with our Politics & Policy portal.
---
Snapshot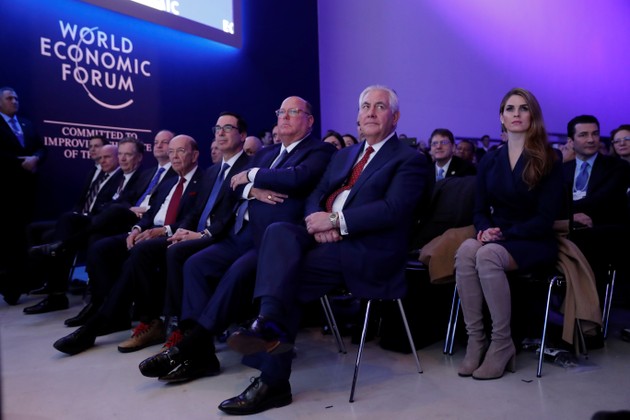 ---
What We're Reading
What She Knew: During her 2008 presidential campaign, Hillary Clinton reportedly kept a senior adviser on her staff who was accused of repeatedly sexually harassing a subordinate. (Maggie Haberman and Amy Chozick, The New York Times)
What If Trump Actually Fires Mueller?: "It will simply be another partisan scrum," writes Jonathan Chait. (New York)
The Evolution of Extremism: David French writes that in the past 20 years, Democrats have become more and more extreme on a range of issues—from abortion to immigration. (National Review)
Add It to the List: Here are the roughly 20 times President Trump attempted to redirect—or end—the Russian investigation. (Philip Bump, The Washington Post)
The Facts Behind 'Chain Migration': As part of a broader immigration deal, President Trump wants to end family-based immigration. Here's what that means. (Linda Qiu, The New York Times)
Tracking Plates: Immigration and Customs Enforcement, the Department of Homeland Security's immigration-enforcement arm, has reportedly gained access to a nationwide license-plate recognition database—a concerning development for many civil-liberties groups. (Russell Brandom, The Verge)
---
Visualized
'Keeping It 700': This U.S. city has the perfect elevation, topography, and population size to host the Winter Olympics. (Bonnie Berkowitz and Tim Meko, The Washington Post)
---
Question of the Week
January 20 marked the one-year anniversary of Trump's presidency. This week, we asked you to share what you thought was the most memorable moment of Trump's first year in office. Here's what you said:
Many of you wrote in to say that Trump's handling of the August protests in Charlottesville, Virginia, were most memorable. Karen viewed the president's response as an appeal to white supremacists, and called it her "moment of truth" about Trump.
Jonathan argues that the distinguishing moment in Trump's first year was the passage of the Republican tax bill: "It was a Christmas gift to the American people, Reaganomics revived into Trumponomics," Jonathan wrote. "The American economy is thriving, workers—including minority workers—are getting more jobs and bigger paychecks." Another reader, Clint, wrote in to say that Trump's most lasting legacy will be his appointment of Supreme Court Justice Neil Gorsuch.
Finally, Billy suggested that Trump's firing of FBI Director James Comey will be what future generations look back on. The move will "mark a very important paradigm shift in the White House: It was the first act that showed Trump's staff, in stark and unequivocal terms, the true depth of his incompetence."
Thanks for reading, and stay tuned for next week's Question of the Week!
-Written by Elaine Godfrey (@elainejgodfrey)
---
Most Popular on The Atlantic
Many of you have written in to ask what happened to the "Most Popular" list. Normally, that section gets added automatically, but there's a bug in the process, and we're still working on getting it fixed. In the meantime, here are five of the most popular articles on our site today: