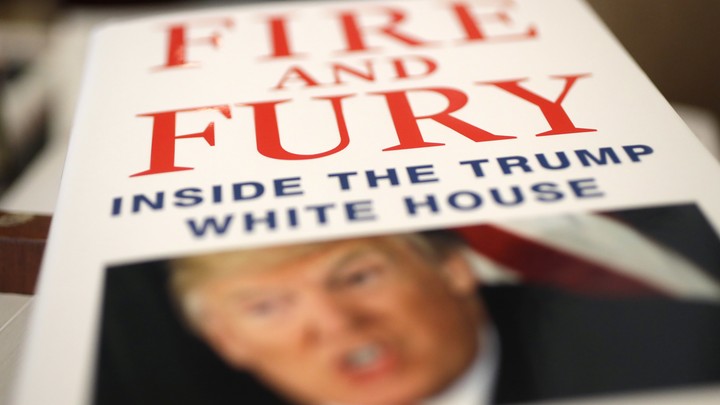 Today in 5 Lines
The FBI has reportedly renewed its investigation into the Clinton Foundation. NSA Director Mike Rogers announced that he will retire this spring. Two Republican senators reportedly urged the Justice Department to investigate Christopher Steele, the former intelligence officer who compiled the dossier on Trump and Russia. The president will host a retreat at Camp David for GOP congressional leaders and Cabinet members over the weekend to discuss 2018 legislative priorities. The U.S. economy added 148,000 jobs in December, and the unemployment rate remained at 4.1 percent.
---
Today on The Atlantic
Follow stories throughout the day with our Politics & Policy portal.
---
Snapshot
---
What We're Reading
The Trump-Fox Feedback Loop: It's no secret that President Trump likes Fox News and tweets about it often. But he appears to be taking it further by live-tweeting the network's coverage. (Matthew Gertz, Politico)
'This Is a D.C. Moment': People lined up for the midnight release of the new book on Donald Trump Thursday night like they were anticipating the latest installation of Harry Potter. (Ben Terris, The Washington Post)
A Quiet Victory: One success of the Trump administration has gotten lost between the scandals and tweets, writes German Lopez: Sessions and Trump have re-escalated the war on drugs. (Vox)
All Eyes on Tammy Baldwin: Democrats are worried about upcoming midterms in Missouri, Indiana, West Virginia, and North Dakota. But another state is becoming the top Senate race of the year. (Amanda Terkel, HuffPost)
We're Doing This Again?: Amid reports that lawmakers were briefed on President Trump's mental health, Becket Adams writes that mental health professionals making such diagnoses should not be trusted. (Washington Examiner)
---
Visualized
The First Week of 2018: Check out this gallery of the week's best photos, from the "bomb cyclone" that hit the northeastern U.S., to celebrations of the New Year. (Alan Taylor, The Atlantic)
---
Question of the Week
In the wake of Orrin Hatch's announcement that he'll retire at the end of his term, we asked you if you think Massachusetts Governor Mitt Romney should run for the open Senate seat, and if so, what you would expect from him.
Many of you answered that Romney should run, citing his public-service experience, integrity, and relatively moderate position—all traits that you think would allow him to temper a fractured Congress. "I'm about to retire, and the 'steady' hand of Romney in the party would make me feel more secure," J. Murray wrote.
Christopher Estep raised the 2012 presidential election, citing Romney's concern about Russia back then as particularly perceptive. Romney could be a "stern voice of conscience in the Senate when it comes to America's relationship with Russia," he wrote.
Some were thinking about the future. "Look beyond Hatch's retirement, and Romney's likely succession," Gary McDonald wrote. "Expect him to announce for the Republican nomination in 2020. He's their only defensible candidate."
Others weren't so optimistic. If Romney wins, Dick Landis says Americans should expect "another McCain, not God."
Thanks for reading, and stay tuned for next week's Question of the Week!
-Written by Elaine Godfrey (@elainejgodfrey)
We want to hear what you think about this article. Submit a letter to the editor or write to letters@theatlantic.com.
Elaine Godfrey
is a staff writer at
The Atlantic
, where she covers politics.