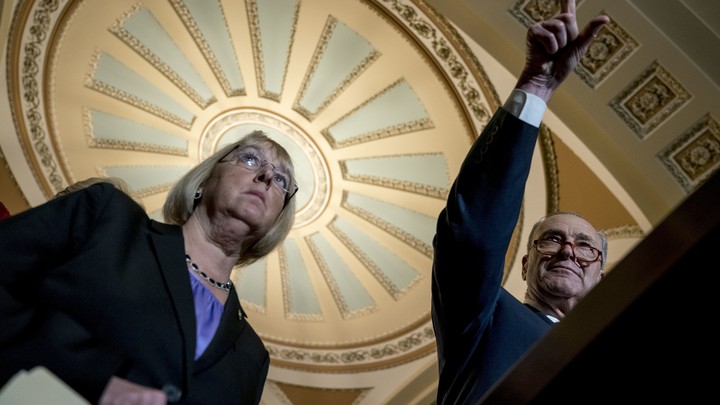 Today in 5 Lines
Senate Minority Leader Chuck Schumer rescinded his offer to increase funding for Trump's proposed border wall as part of a broader DACA deal. The New York Times reported that Attorney General Jeff Sessions was interviewed last week by the special counsel as part of the Russia investigation, and former FBI Director James Comey was questioned by the office last year. Two students were killed and 17 were wounded in a shooting at Marshall County High School in Benton, Kentucky. The Senate confirmed Federal Reserve Governor Jerome Powell to serve as chairman of the bank. And Trump will host French President Emmanuel Macron for an official state dinner on April 24.
---
Today on The Atlantic
Can Earth Sustain 10 Billion People?: We have 30 years to find out. (Charles C. Mann)

Refusing Treatment: The Trump administration is making it easier for medical workers to object to procedures on religious grounds. Reproductive-rights advocates worry that's a slippery slope. (Olga Khazan)

The Pot and the Kettle: President Trump has reportedly criticized Cabinet members for transgressions that he himself has been accused of. Is he becoming more self aware? (David A. Graham)
Follow stories throughout the day with our Politics & Policy portal.
---
Snapshot
---
What We're Reading
Meet the New Boss: There's only one way to make sense of Donald Trump's recent flip-flopping on immigration, writes Paul Begala: Stephen Miller has taken the reins. (CNN)
Trump Gets a Do-Over: Some evangelical leaders have given Donald Trump "a mulligan" for his past transgressions. Here's why. (Edward-Isaac Dovere, Politico)
Kennedy's Court: Michael Brendan Dougherty argues that Supreme Court Justice Anthony Kennedy might be the only person preventing American democracy from breaking down. (National Review)
The Kind of Violence Americans Ignore: Air pollution is poisoning the residents of a poor, historically black neighborhood in Orlando, Florida. (Julia Craven, HuffPost)
Historically Divided: Why can't Republicans and Democrats just go back to the days of bipartisanship? Because that time of political unity never existed. (Julia Azari, FiveThirtyEight)
---
Visualized
By the Numbers: Here's how the U.S. changed during President Trump's first year in office. (Danielle Kurtzleben, NPR)
---
Question of the Week
January 20 marked the one-year anniversary of Trump's presidency. What do you think was the most memorable moment of Trump's first year in office? And why?
Share your response here, and we'll feature a few in Friday's Politics & Policy Daily.
---
Most Popular on The Atlantic
Many of you have written in to ask what happened to the "Most Popular" list. Normally, that section gets added automatically, but there's a bug in the process, and we're still working on getting it fixed. In the meantime, here are five of the most popular articles on our site today:
-Written by Elaine Godfrey (@elainejgodfrey)
We want to hear what you think about this article. Submit a letter to the editor or write to letters@theatlantic.com.
Elaine Godfrey
is a staff writer at
The Atlantic
, where she covers politics.