The Atlantic Politics & Policy Daily: It's the Final Countdown
The House is expected to vote on a short-term spending bill Thursday night.
Today in 5 Lines
President Trump undermined Republicans' plan to avert a shutdown by tweeting that an extension of the Children's Health Insurance Program shouldn't be included in a short-term spending bill. The House is expected to vote on it tonight. Senate Democrats reportedly have the votes to stop the bill, raising the likelihood of a government shutdown. The Department of Health and Human Services announced a new office that will be tasked with protecting the conscience objections and religious freedoms of health providers. The House unveiled a bipartisan plan to overhaul Congress's workplace-harassment system.
---
Today on The Atlantic
A Shaky Justification: Republicans argue that reducing legal immigration to the United States will increase the number of high-skilled immigrants allowed in the country. But that would do just the opposite. (Ronald Brownstein)

Tabloid Times: The forthcoming InTouch Weekly interview with an adult-film star who alleges she had an affair with Donald Trump perfectly fits with the president's tabloid reality. (Adrienne LaFrance)

A Trump Dead End: In an excerpt from his recently released book, Trumpocracy: The Corruption of the American Republic, David Frum argues that the future of American democracy depends on conservatives abandoning Trump.
Follow stories throughout the day with our Politics & Policy portal.
---
Snapshot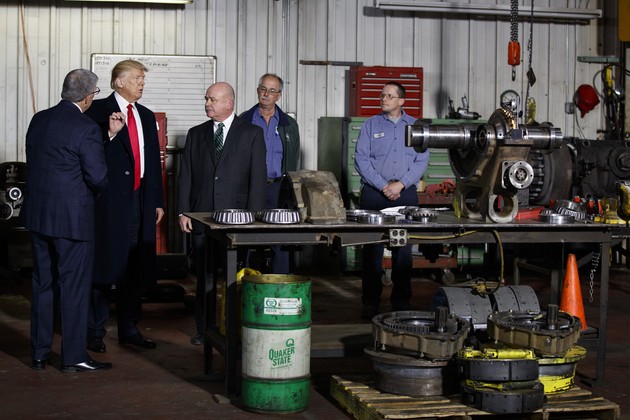 ---
What We're Reading
More Russia Ties?: The FBI is reportedly investigating whether a Russian banker gave money to the National Rifle Association to help Trump win the presidency. (Peter Stone and Greg Gordon, McClatchy)
'Some Things Transcend Markets': Henry Chappell argues for returning to a conservatism that thoughtfully considers environmental issues rather than blindly policizing them. (The American Conservative)
Obama Shifts Into Higher Gear: Although "he refuses to be Trump's foil," former President Barack Obama has a clear-cut plan to wield his influence in the 2018 midterms, writes Edward-Isaac Dovere. (Politico)
War on the Range: Ranchers say that the federal government has been threatening their way of life for years. They see a potential ally in Trump. (Jennifer Percy, The New York Times)
Wisconsin Matters: Recent Democratic upsets in Wisconsin show that voters are pushing back against Trump-style politics—and that could spell trouble for the Republican Party come November. (E.J. Dionne, RealClearPolitics)
---
Visualized
What We Have in Common: The Washington Post asked 102 people across the nation what it means to be American, and found seven unifying themes.
---
Question of the Week
Several of our reporters have written on the possible effects of automation on communities across the United States. Recently, Alexis C. Madrigal wrote that automation in the transportation industry could worsen racial inequality, and Lolade Fadulu reported that Latino workers would suffer most if certain jobs become obsolete. For this month's issue of The Atlantic, Alana Semuels described how automation could shake up the food-service industry.
Do you think automation will directly affect you or your community? How so?
Share your response here, and we'll feature a few in Friday's Politics & Policy Daily.