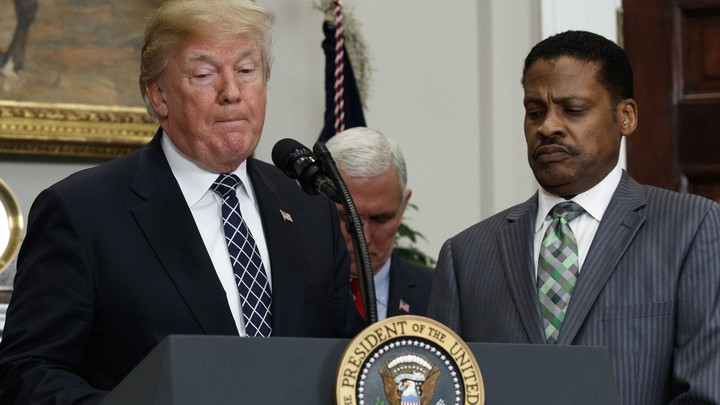 Today in 5 Lines
President Trump said he used "tough" language during a meeting with lawmakers Thursday, but denied using the term "shithole" to describe some countries. Illinois Senator Dick Durbin, who was present for the meeting, confirmed that Trump made the remark, which he called "vile and racist," while Republican Senators Tom Cotton of Arkansas and David Perdue of Georgia said they don't remember him saying it. Trump canceled his upcoming state visit to the United Kingdom. He also stopped short of re-imposing sanctions on Iran, but threatened to pull out of the nuclear deal unless European allies agree to an overhaul. And a Trump lawyer reportedly "arranged a $130,000 payment to a former adult-film star a month before the 2016 election as part of an agreement that precluded her from publicly discussing an alleged sexual encounter with Mr. Trump."
---
Today on The Atlantic
Follow stories throughout the day with our Politics & Policy portal.
---
Snapshot
---
What We're Reading
Sensing a Pattern: The president has a history of making controversial comments about race and ethnicity. Last fall, Trump reportedly asked a staffer why a "pretty Korean lady" briefing him on hostage policy wasn't negotiating with North Korea on behalf of the administration. (Vivian Salama, NBC News)
Competition in the Copper State: Representative Martha McSally announced Friday that she's running for Senator Jeff Flake's seat in Arizona, adding another complication to a crowded field that now includes former Sheriff Joe Arpaio. (Matthew Yglesias, Vox)
'I'm Going to Decimate Them All': In private Twitter messages, Wisconsin congressional candidate Paul Nehlen reportedly solicited users to help him troll his critics and challenge "the Jewish media." (Charlie Warzel, BuzzFeed)
Changing Colors: Here's how a handful of Alaska progressives are working to turn their state from red to purple. (Mark Oppenheimer, Politico)
Hello? Hello?: On Thursday, it took White House aides 22 minutes to figure out a muting function on a conference call. "This White House can't even run a f*cking conference call," a reporter on the line said. (Jacqueline Alemany, CBS News)
---
Visualized
Submerged: These before-and-after images show the damage caused by mudslides in Montecito, California. (Laris Karklis, Lauren Tierney, and Tim Meko, The Washington Post)
---
Question of the Week
On Monday, The Atlantic's David A. Graham considered what an Oprah candidacy could mean for the Democratic Party. This week, we asked which celebrity you would pick to run on the Democratic ticket in 2020 from any field—entertainment, tech, business, etc.
Several of you wrote in to suggest Warren Buffett, George Clooney, Susan Rice, Oprah. Joanie Cogan suggested Microsoft founder Bill Gates. "He's actually a genius, problem-solver, generous humanitarian, negotiator, has incredible business acumen and posses an incomparable global view."
But a large number of you offered explanations for choosing a non-politician: "A warm response to a moving speech like Oprah Winfrey's at the Golden Globes should not be translated into the sort of impulsive political support that gave us Donald Trump," wrote Gretchen Hathaway.
Margaret Brandy echoed this point: "I wouldn't pick a celebrity. We need a statesman! Joe Biden would be my choice."
Thanks for reading, and stay tuned for next week's Question of the Week!
-Written by Elaine Godfrey (@elainejgodfrey)
We want to hear what you think about this article. Submit a letter to the editor or write to letters@theatlantic.com.
Elaine Godfrey
is a staff writer at
The Atlantic
, where she covers politics.