The Atlantic Politics & Policy Daily: 'I Just Signed Your Death Warrant'
A judge sentenced Larry Nassar, the former team doctor for the American gymnastics team, to up to 175 years in prison for sexually abusing young girls.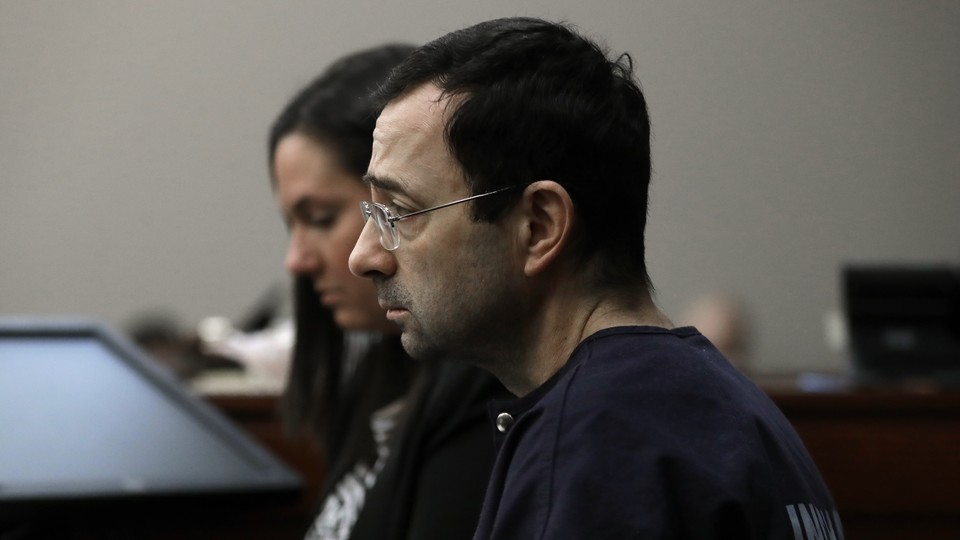 Today in 5 Lines
The Justice Department threatened to subpoena 23 jurisdictions if they fail to provide documents to show that they're cooperating with federal immigration authorities. Mayors from across the country boycotted a White House infrastructure meeting in protest of the administration's crackdown on so-called "sanctuary cities." A judge sentenced Larry Nassar, the former team doctor for the American gymnastics team, to up to 175 years in prison for sexually abusing young girls, telling him, "I just signed your death warrant." The Senate confirmed Alex Azar to be secretary of the Department of Health and Human Services. Trump extended his condolences to the families of the victims of Tuesday's shooting at Marshall County High School in Benton, Kentucky.
---
Today on The Atlantic
A Troll in Wisconsin: Emma Green writes that Paul Ryan's Wisconsin primary challenger Paul Nehlen is an "anti-Semitic clown" who represents two troubling trends in politics.

The Future of Retail?: Here's what it's like to shop at Amazon's new checkout-free store in Seattle. (Jake Bullinger)

Is Trump Right About the FBI?: Attacks on the bureau are built on the argument that it is untrustworthy and vengeful. That's been historically true, argues David A. Graham.
Follow stories throughout the day with our Politics & Policy portal.
---
Snapshot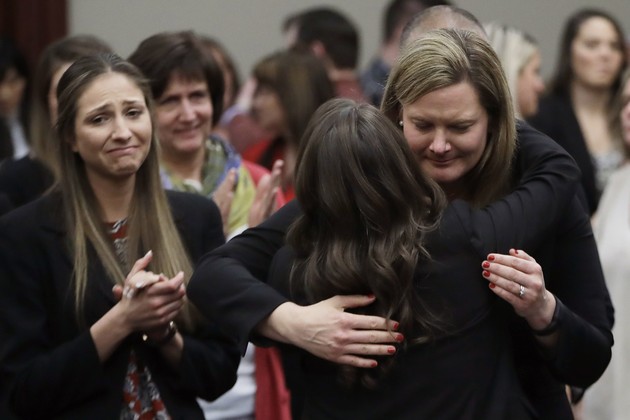 ---
What We're Reading
Questionable Conversation: After firing FBI Director James Comey, President Trump reportedly asked the bureau's acting director which candidate he voted for in 2016. (Ellen Nakashima, Josh Dawsey, and Devlin Barrett, The Washington Post)
A Strain on the 'Special Relationship': A Bloomberg report details the dysfunctional relationship between President Trump and British Prime Minister Theresa May. (Tim Ross and Margaret Talev)
Handling Trump's Wins: Never Trumpers aren't sure what to make of the president's achievements, writes Byron York: "One strategy is to concede some of Trump's successes while insisting that the sum total of NeverTrump objections outweighs those gains." (Washington Examiner)
Who Is Ben Shapiro?: The right-wing commentator has spent the last year criticizing both the mainstream media and President Trump. Is he a conservative liberals can count on? (Seth Stevenson, Slate)
'The Survivors Are Here, Standing Tall': More than 160 women allege that former USA Gymnastics doctor Larry Nassar sexually abused them. Read their testimonies here. (Carla Correa and Meghan Louttit, The New York Times)
---
Visualized
How Do You Measure a Year?: See how Donald Trump's tweets shaped 12 months in American politics—and how lawmakers dealt with it. (Peter Aldhous, BuzzFeed)
---
Question of the Week
January 20 marked the one-year anniversary of Trump's presidency. What do you think was the most memorable moment of Trump's first year in office? And why?
Share your response here, and we'll feature a few in Friday's Politics & Policy Daily.
---
Most Popular on The Atlantic
Many of you have written in to ask what happened to the "Most Popular" list. Normally, that section gets added automatically, but there's a bug in the process, and we're still working on getting it fixed. In the meantime, here are five of the most popular articles on our site today: