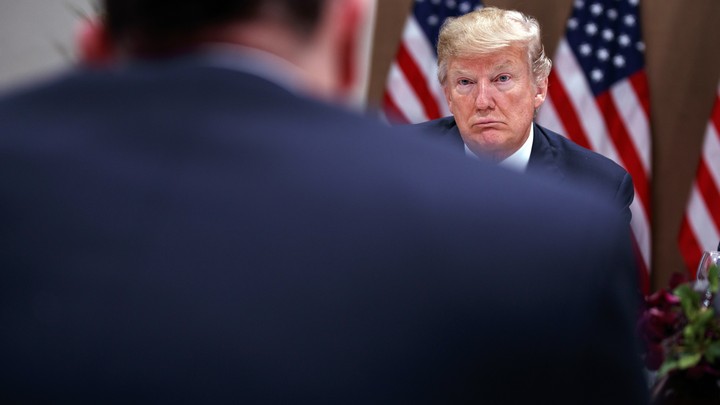 Today in 5 Lines
President Trump will support a path to citizenship for 1.8 million young immigrants brought to the U.S. illegally as children, in exchange for a $25 billion fund for the border wall and other immigration cuts. During Trump's first day at the Economic World Forum in Davos, he met with British Prime Minister Theresa May and threatened to withhold aid money from Palestinians unless they resume peace talks with Israel in a meeting with Israeli Prime Minister Benjamin Netanyahu. In an interview with CNBC, Trump said he would be willing to re-enter the Trans-Pacific Partnership "if we were able to make a substantially better deal." And Senator Chuck Grassley, the chair of the Senate Judiciary Committee, said he wants to release transcripts related to a June 2016 meeting in Trump Tower with a Russian lawyer.
---
Today on The Atlantic
Who's to Blame?: Norm Ornstein explains the real cause of the government shutdown last week—and why it might happen again.

Surviving a Nuclear War: Here's how a government-commissioned, semi-fictional story became the inspiration for a popular movie with a remarkable impact. (Alexis C. Madrigal)

Overstepping Her Bounds: By condoning vengeance, the judge who sentenced Larry Nassar, the former USA Gymnastics doctor who sexually abused more than 160 young girls, crossed an important line. (Graeme Wood)
Follow stories throughout the day with our Politics & Policy portal.
---
Snapshot
---
What We're Reading
'The World Just Moves on Without Us': While Donald Trump is touting his "America First" agenda at the World Economic Forum in Switzerland, other countries are pursuing deals that don't include the United States. (Ana Swanson and Jim Tankersley, The New York Times)
Facebook's Downward Spiral: In Silicon Valley, the social-media company has always been known for its ruthlessness. But this year, Facebook has found itself in real trouble. (Nick Bilton, Vanity Fair)
'Unprepared and Overconfident': Timothy L. O'Brien describes what it was like to watch Donald Trump give a two-day deposition in 2007. (Bloomberg)
Where Is Marco Rubio?: Republican senators say that the Florida senator, who once championed bipartisan immigration reform, now prefers a more conservative approach to the issue. (Burgess Everett, Politico)
Republicans Are Better Off Than You Think: Lots of Republican incumbents are retiring this year, but half of them are in districts usually won by the GOP. (Jim Geraghty, National Review)
A Loo in Lieu: The White House asked to borrow a painting by Vincent Van Gogh from the Guggenheim; instead, the museum offered to lend an 18-karat gold toilet. (Paul Schwartzman, The Washington Post)
---
Visualized
The Atlas of Redistricting: What should congressional districts look like? Here are seven options. (FiveThirtyEight)
---
Question of the Week
January 20 marked the one-year anniversary of Trump's presidency. What do you think was the most memorable moment of Trump's first year in office? And why?
Share your response here, and we'll feature a few in Friday's Politics & Policy Daily.
---
Most Popular on The Atlantic
Many of you have written in to ask what happened to the "Most Popular" list. Normally, that section gets added automatically, but there's a bug in the process, and we're still working on getting it fixed. In the meantime, here are five of the most popular articles on our site today:
-Written by Elaine Godfrey (@elainejgodfrey)
We want to hear what you think about this article. Submit a letter to the editor or write to letters@theatlantic.com.
Elaine Godfrey
is a staff writer at
The Atlantic
, where she covers politics.