The Atlantic Politics & Policy Daily: Go Your Own Trey
Representative Trey Gowdy of South Carolina, the chairman of the House Oversight and Government Reform Committee, announced he will not seek another term in November.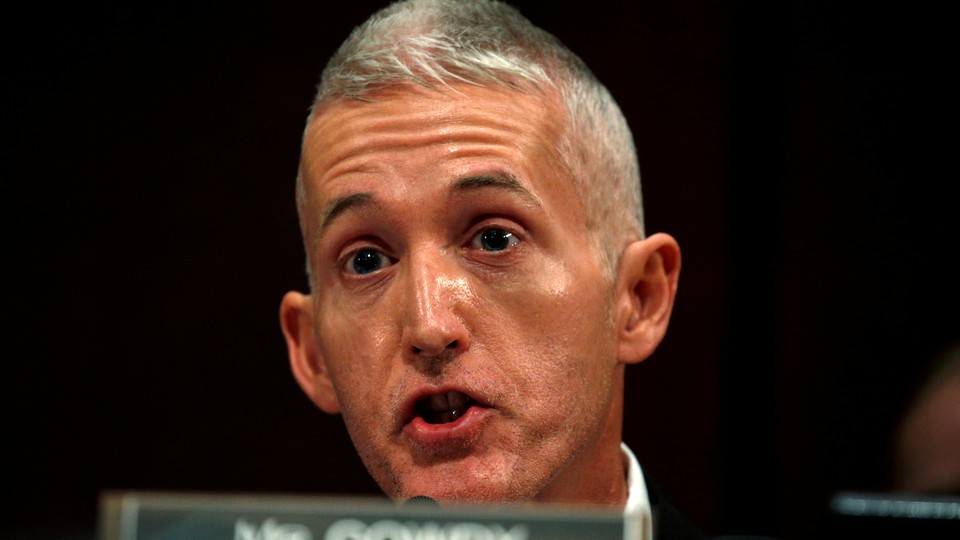 Today in 5 Lines
A train carrying Republican lawmakers, family members, and staff to the GOP retreat in West Virginia collided with a dump truck, killing one person inside the truck and injuring others. Representative Trey Gowdy of South Carolina, the chairman of the House Oversight and Government Reform Committee, announced he will not seek another term in November. CNN reported that President Trump asked Deputy Attorney General Rod Rosenstein in December where the special counsel's investigation was headed and if Rosenstein was "on my team." The FBI warned against the release of a classified memo written by Republicans, saying in a statement that it has "grave concerns" about "accuracy." The Justice Department filed to dismiss the corruption charges against New Jersey Senator Bob Menendez.
---
Today on The Atlantic
What's Trump's Next Move?: Trump's State of the Union speech, coupled with other recent decisions made by his administration, indicate that the president could be readying for war with North Korea. (Peter Beinart)

Trump vs. the GOP?: Here are three ways Trump could hinder the midterms for Republicans. (Ronald Brownstein)

A President Lacking Power: David Frum argues that Trump's failure to sell his immigration plan to members of Congress Tuesday night revealed his fundamental inability to persuade.
Follow stories throughout the day with our Politics & Policy portal.
---
Snapshot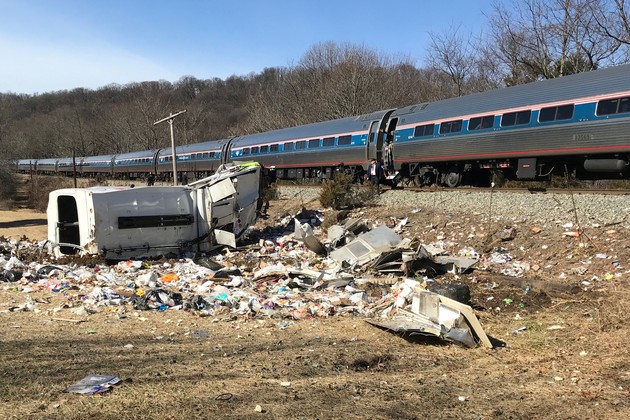 ---
What We're Reading
'A More Complicated Portrait': According to emails obtained by CNN, FBI agent Peter Strzok, whom Republicans have accused of being sympathetic to Hillary Clinton, played a key role in then-FBI Director James Comey's decision to announce that the bureau was investigating Clinton's emails days before the 2016 election. (Manu Raju, Laura Jarrett, and Jeremy Herb)
One Speech, Eight Living Rooms: Trump's first State of the Union address was received very differently across the country; see how eight families reacted. (Jenna Johnson, The Washington Post)
'There's the United States of America': Representative Joe Kennedy III was the right person to deliver the Democrats' response to the State of the Union, argues Matthew Yglesias, precisely because he resisted playing into Trumpian identity politics. (Vox)
The Trump Show, Season 2: Of all the people in Trump's orbit, these are the characters to watch for in 2018. (Tarini Parti, BuzzFeed)
CDC Conflicts of Interest: Brenda Fitzgerald, the director of the Centers for Disease Control and Prevention, resigned Wednesday because of "complex financial interests." (Betsy McKay and Michelle Hackman, The Wall Street Journal)
---
Visualized
A Vocab Lesson: "Toyota," "tormentors," and "amputations" were among the words that had never been used in a State of the Union address before Tuesday night. Here are the rest. (Reuben Fischer-Baum, Ted Mellnik, and Kevin Schaul, The Washington Post)
---
Question of the Week
On Tuesday, President Trump delivered his first State of the Union address. He pitched an immigration framework that would provide a path to citizenship for 1.8 million young undocumented immigrants in exchange for funding for the border wall and cuts to legal immigration. He also touted job growth, asked for an infrastructure bill from Congress, and took a hard line against America's adversaries.
What is your sense of the state of the union? What areas do you think Congress should focus on in the next year?
Share your response here, and we'll feature a few in Friday's Politics & Policy Daily.
---
Most Popular on The Atlantic
-Written by Lena Felton (@lenakfelton) and Elaine Godfrey (@elainejgodfrey)