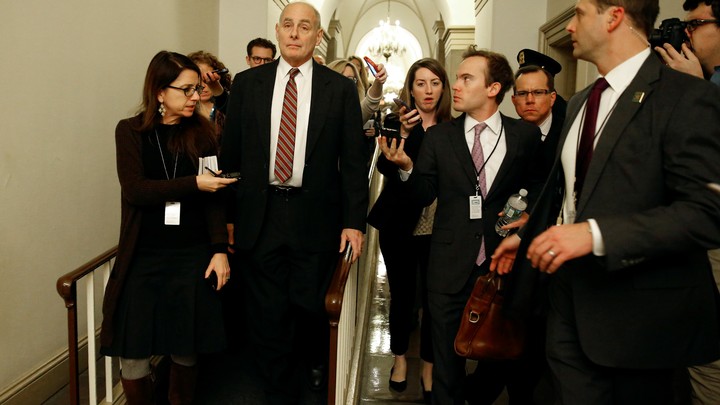 Today in 5 Lines
Republicans are hoping to vote on a stopgap proposal to fund the government for another month on Thursday. White House Chief of Staff John Kelly reportedly told lawmakers that the U.S. will never build President Trump's proposed border wall, and that some of his campaign promises were "uninformed." During an interview with Reuters, Trump said that Russia is hindering U.S. efforts to negotiate with North Korea, and that Pyongyang is getting "closer every day" to being capable of shooting a missile that would reach the U.S. In a speech on the Senate floor, Arizona Senator Jeff Flake compared Trump's attacks on the media to the rhetoric of the late Soviet dictator Joseph Stalin. North and South Korea agreed to march together under one flag at the opening ceremony of the Olympics in Pyeongchang, South Korea, next month.
---
Today on The Atlantic
A Third Reconstruction?: For a few years after the Civil War, the South was the most progressive place in America. (Blain Roberts and Ethan J. Kytle)

Staying the Course: While congressional committees have succumbed to partisan squabbling, the special counsel is moving ever forward with the Trump-Russia investigation. (David A. Graham)

Started From the Bottom: Two famous populist figureheads, former White House chief strategist Steve Bannon and UK Independence Party Leader Nigel Farage, have been relegated to the political sidelines. Will they stay there? (Yasmeen Serhan)
Follow stories throughout the day with our Politics & Policy portal.
---
Snapshot
---
What We're Reading
'Suspicious Activity': Intelligence officials are reportedly investigating unusual financial transactions between the Russian government and businesses in the United States. (Jason Leopold and Anthony Cormier, BuzzFeed)
'The Case for New California': A new group proposes splitting California into two states—one encompassing rural counties, and another including the coastal urban areas. It's not such a terrible idea. (Eric Levitz, New York)
Nuclear Anxiety: On Saturday, Hawaiians were erroneously warned of a ballistic missile headed their way. Here's what would actually happen if there was a nuclear attack on the U.S. (Dan Vergano, BuzzFeed)
Credibility Crisis: President Trump's flip-flopping over DACA has reaffirmed to lawmakers that the president is an unreliable partner. (John Bresnahan and Burgess Everett, Politico)
You Say You Want a Revolution: The recent prevalence of stories depicting "female sexual misery" suggests that something is deeply wrong with our sexual culture, argues Elizabeth Bruenig. (The Washington Post)
---
Visualized
Drawing Lines: Take a look at these congressional maps showing how gerrymandering can render a state politically neutral—or hyper-partisan. (Quoctrung Bui and Nate Cohn, The New York Times)
---
Question of the Week
Several of our reporters have written on the possible effects of automation on communities across the United States. Recently, Alexis C. Madrigal wrote that automation in the transportation industry could worsen racial inequality, and Lolade Fadulu reported that Latino workers would suffer most if certain jobs become obsolete. For this month's issue of The Atlantic, Alana Semuels described how automation could shake up the food-service industry.
Do you think automation will directly affect you or your community? How so?
Share your response here, and we'll feature a few in Friday's Politics & Policy Daily.
-Written by Elaine Godfrey (@elainejgodfrey)
We want to hear what you think about this article. Submit a letter to the editor or write to letters@theatlantic.com.
Elaine Godfrey
is a staff writer at
The Atlantic
, where she covers politics.