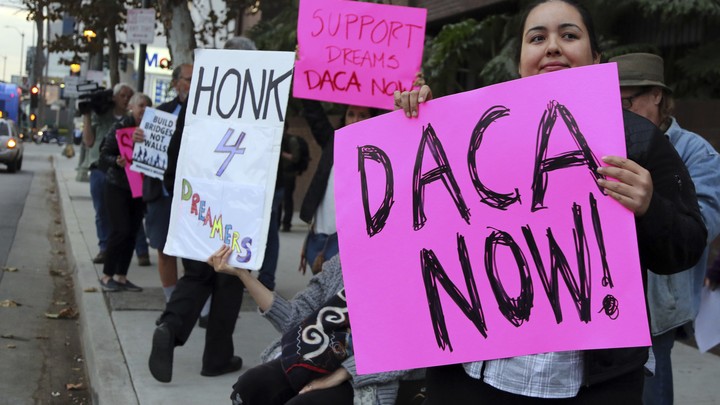 Today in 5 Lines
A bipartisan group of senators said they have reached an "agreement in principle" on a deal that would protect Dreamers while enhancing border security and making changes to immigration laws. In a joint statement, the senators said they are "now working to build support for that deal in Congress." The Washington Post reported that during a meeting with lawmakers, President Trump grew frustrated about restoring protections for immigrants from Haiti and African countries and asked, "Why are we having all these people from shithole countries come here?" The House approved legislation to renew government surveillance powers, and the Senate voted to start debating the bill. The Trump administration announced that it will allow states to impose work requirements for able-bodied adults as a condition for qualifying for Medicaid.
---
Today on The Atlantic
Abandoning Trump: According to previously unpublished findings, some Trump supporters have lost faith in the president since he took office. (Ronald Brownstein)

When Pundits Run America: On Thursday, Trump tweeted a policy opinion contradicting the official White House position. Here are the implications of the president not understanding his administration's positions. (David A. Graham)

'NeverTrump' in 2018: If moderate Republicans want to regain control of the GOP, they'll have to stop Trumpian candidates from being nominated in the first place. (Seth Mandel)
Follow stories throughout the day with our Politics & Policy portal.
---
Snapshot
---
What We're Reading
'He Thinks They're All Losers': Last week's meetings at Camp David illustrated what has always been a tense relationship between President Trump and Republican leaders—but now, "members can't always mask their frustration." (Molly Ball and Philip Elliott, Time)
Getting on Trump's Good Side: White House advisers say that Attorney General Jeff Sessions has for months been trying, and failing, to impress the president with the Justice Department's work. (Josh Dawsey and Matt Zapotosky, The Washington Post)
Hopelessness and Despair: The average American lifespan has declined for two years in a row, writes David French, yet it hasn't been addressed by Washington or covered in the media the way a significant economic downturn would have been. (National Review)
Unintended Consequences: Michael Wolff's book, Fire and Fury, is "Exhibit A in how not to damage Trump's presidency," argues Bret Stephens: It lowers expectations of the president and legitimizes the administration's claims of fake news. (The New York Times)
The Old Sleight of Hand: Walmart announced it's increasing employees' pay and bonuses in response to the corporate tax cut, but a closer look shows the move is not as generous as it was made out to be. (Judd Legum, ThinkProgress)
---
Visualized
All the President's Men: This chart shows how Trump's approval rating has dropped over the past year across voting blocs. (Karen Yourish and Blacki Migliozzi, The New York Times)
---
Question of the Week
At Sunday night's Golden Globe Awards, Seth Meyers jokingly suggested that Oprah Winfrey should run for president. Reactions have ranged from fleeting amusement to serious requests for a 2020 campaign. There's even some indication Winfrey could be taking the idea more seriously herself. On Monday, David A. Graham considered what an Oprah candidacy could mean for the Democratic Party.
If you could pick any celebrity to run on the Democratic ticket in 2020 from any field—entertainment, tech, business, etc.—who would it be? And why?
Share your response here, and we'll feature a few in Friday's Politics & Policy Daily.
-Written by Elaine Godfrey (@elainejgodfrey), Taylor Hosking (@Taylor__Hosking), and Lena Felton (@lenakfelton)
We want to hear what you think about this article. Submit a letter to the editor or write to letters@theatlantic.com.
Lena Felton
is a former editorial fellow at
The Atlantic
.
Elaine Godfrey
is a staff writer at
The Atlantic
, where she covers politics.