The Atlantic Politics & Policy Daily: Bannout
Former White House chief strategist Steve Bannon stepped down from his role as executive chairman of Breitbart News.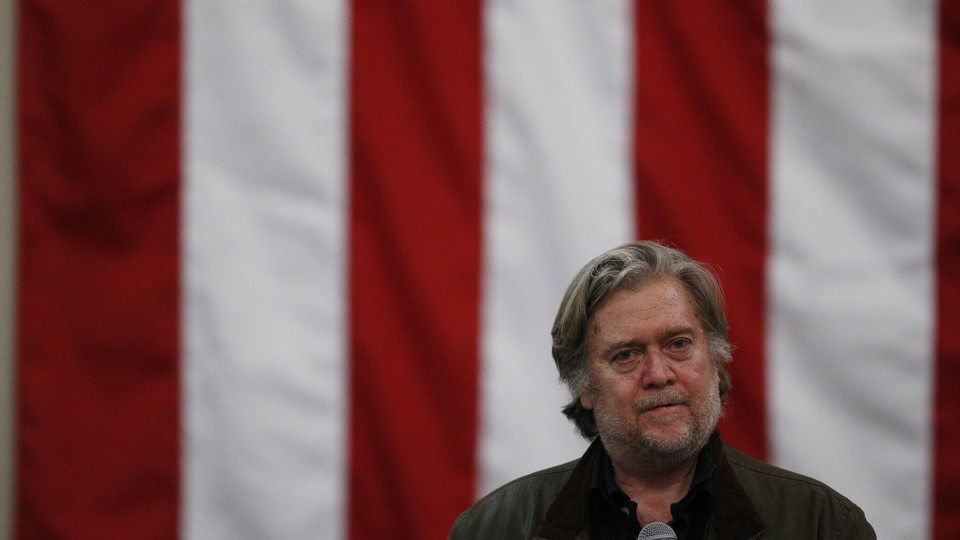 Today in 5 Lines
During a bipartisan meeting on immigration, President Trump didn't take a clear position on a DACA deal and ultimately said he'd sign any immigration bill Congress sent him. California Senator Dianne Feinstein released the transcript of Fusion GPS co-founder Glenn Simpson's testimony before the Senate Judiciary Committee. Former Maricopa County Sheriff Joe Arpaio, who was pardoned by President Trump last year, announced that he will run for Senate in Arizona. Trump plans to attend the World Economic Forum in Davos, Switzerland, later this month. And former White House chief strategist Steve Bannon stepped down from his role as executive chairman of Breitbart News.
---
Today on The Atlantic
Accepting the Unacceptable: David Frum writes that Americans are at risk of becoming accustomed to the bullying and lying that is standard in the Trump administration.

Heating Up: Over the next several weeks, it's likely that one of two things will happen: Republicans will pass immigration reform, or the federal government will shut down. (Russell Berman)

Why Is He So Worried?: Here's why National-Security Adviser H.R. McMaster is being more outspoken than other Cabinet members about the threat from North Korea. (Uri Friedman)
Follow stories throughout the day with our Politics & Policy portal.
---
Snapshot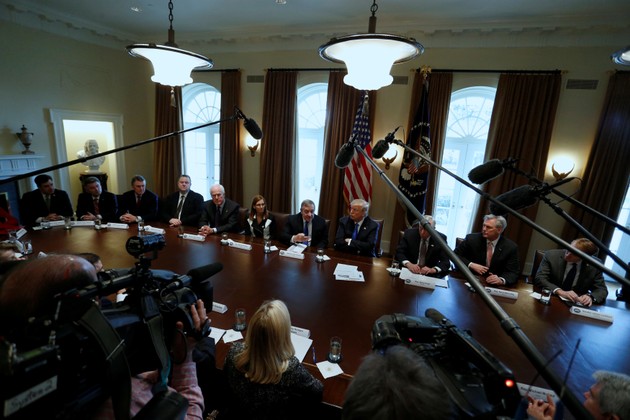 ---
What We're Reading
Oprah Can't Save Us: Dahlia Lithwick argues that Oprah Winfrey's speech at the Golden Globes "wasn't about why she needs to run for office. It was about why the rest of us need to do so, immediately." (Slate)
Expecting the Worst: U.S. soldiers are reportedly being trained in tunnel warfare in preparation for potential war with North Korea. (Tom Bowman, NPR)
Bringing Back Earmarks?: Here's why some lawmakers want to reinstate the controversial practice. (Haley Byrd, The Weekly Standard)
'She Thinks She Is Part of the Feminist Club': Ivanka Trump's tweet in solidarity with the #TimesUp movement shows that the first daughter is still prone to rookie political mistakes. (Annie Karni, Politico)
'The Decline of Anti-Trumpism': David Brooks warns that the Never-Trump movement is beginning to look a lot like the pro-Trump one. (The New York Times)
---
Visualized
Gerrymandering School Zones: Use this interactive tool to find out if the structure of your school district is reducing or perpetuating school segregation. (Alvin Chang, Vox)
---
Question of the Week
At Sunday night's Golden Globe Awards, Seth Meyers jokingly suggested that Oprah Winfrey should run for president. Reactions have ranged from fleeting amusement to serious requests for a 2020 campaign. There's even some indication Winfrey could be taking the idea more seriously herself. On Monday, David A. Graham considered what an Oprah candidacy could mean for the Democratic Party.
If you could pick any celebrity to run on the Democratic ticket in 2020 from any field—entertainment, tech, business, etc.—who would it be? And why?
Share your response here, and we'll feature a few in Friday's Politics & Policy Daily.