The Atlantic Politics & Policy Daily: Bannon Fodder
In a statement, President Trump criticized his former chief strategist, saying, "When he was fired, he not only lost his job, he lost his mind."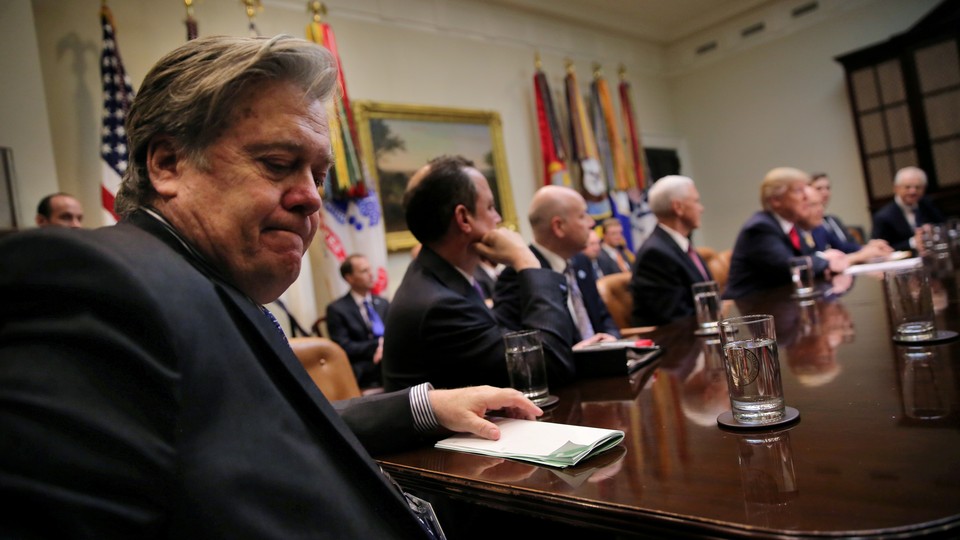 Today in 5 Lines
Steve Bannon called a meeting between the Trump team and a Russian lawyer "treasonous" in a forthcoming book. President Trump responded to his former chief strategist's comments in a statement, saying, "When he was fired, he not only lost his job, he lost his mind." Two new Senate Democrats—Doug Jones of Alabama and Tina Smith of Minnesota—were sworn in. North Korea reopened a communication line with South Korea for the first time in two years. And former Trump campaign chairman Paul Manafort filed a lawsuit against Special Counsel Robert Mueller.
---
Today on The Atlantic
Twitter Ban: Trump's tweet taunting North Korea Tuesday is just the latest example of why Twitter should ban world leaders from its platform, argues Conor Friedersdorf.

Is There Something Wrong With Trump?: James Hamblin makes the case for a streamlined system that could assess a president's mental fitness to lead.

The Upshot of Instability: The heavy turnover among staff during the Trump administration is much higher than that of Trump's predecessors, but pushing campaign staffers out of the White House isn't necessarily a bad thing. (David A. Graham)
Follow stories throughout the day with our Politics & Policy portal.
---
Snapshot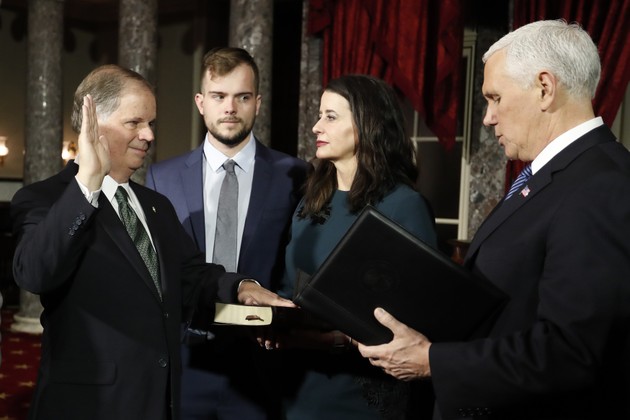 ---
What We're Reading
The Plan to Lose: Donald Trump never actually wanted to be president, writes Michael Wolff in his forthcoming book: On Election Night, Trump "looked as if he had seen a ghost. Melania was in tears—and not of joy." (New York)
A Transforming Senate: Congress is back in session, with two new faces: Democrat Doug Jones, who has shifted the GOP's control of the Senate to one seat, 51-49, and Minnesota Democrat Tina Smith, who raises the number of women in the Senate to a record high of 22. (Jessica Taylor, NPR)
Trump Drives a Wedge: Here's how Mike Pence and Jeff Flake, who were "once ideological soulmates and indivisible comrades," became proxies for the extreme reactions to Trumpism in the GOP. (Tim Alberta, Politico)
'Time to Stop Chasing Rabbits': Fusion GPS founders Glenn R. Simpson and Peter Fritsch share what they told Congress about the so-called Steele dossier. (The New York Times)
The Problem of the Elder Statesman: If Mitt Romney becomes the next senator from Utah, argues Erick Erickson, it could bring an end to the Republican Party. Here's how. (The Resurgent)
---
Visualized
Where the Green Cards Go: While the Trump administration has been criticizing "chain migration" in recent weeks, Democrats argue that many diagrams used to illustrate a family-based immigration system don't reflect reality. (Nick Miroff, The Washington Post)
---
Question of the Week
The Senate's longest-serving Republican, Orrin Hatch, announced on Tuesday that he'll retire at the end of his term, which opens the door for former Massachusetts Governor Mitt Romney to run for his seat. But what would a Senator Romney look like? The Atlantic's McKay Coppins asks: "Would he see himself as an anti-Trump truth-teller defending conservative principles from the poison of Trumpism? Or would he try to use his influence to pass major Republican legislation?"
This week, we want to know: Should Romney run? And if he did, what would you expect from him as a senator?
Share your response here, and we'll feature a few in Friday's Politics & Policy Daily.
How are we doing? Send questions or feedback to egodfrey@theatlantic.com.