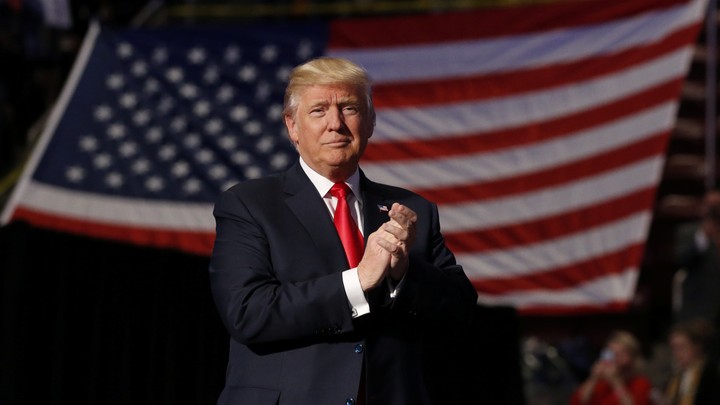 Today in 5 Lines
FBI Deputy Director Andrew McCabe stepped down from his post on Monday, but will remain on the payroll until he retires in mid-March. Republican Representative Rodney Frelinghuysen of New Jersey announced that he will not seek reelection in November. The White House released the list of invitees who will sit with First Lady Melania Trump during President Trump's first State of the Union address on Tuesday. Senator Bernie Sanders will join the roster of Democrats offering a response to the speech in addition to Representative Joe Kennedy's official rebuttal. Some congressional tickets to the event were printed with a typo—"State of the Uniom," instead of "State of the Union"—and are being reprinted.
---
Today on The Atlantic
Follow stories throughout the day with our Politics & Policy portal.
---
Snapshot
---
What We're Reading
Trump's Complaints: President Trump was reportedly furious that former FBI Director James Comey used a government-funded plane to fly from Los Angeles to Washington D.C. after being fired, and called FBI Deputy Director Andrew McCabe to complain. (Carol E. Lee, NBC News)
Chuck's To-Do List: The Senate majority leader already had a full plate with the midterm elections fast-approaching. The immigration debate has seriously complicated things. (Michael Scherer and Ed O'Keefe, The Washington Post)
Frequent Flyer: The Wall Street Journal reports that prior to moving to the White House, First Lady Melania Trump took 21 flights between Florida, Washington D.C., and New York—costing more than $675,000. (James V. Grimaldi and Peter Nicholas)
Don't Back Down: Planned Parenthood thrived under its longtime president, Cecile Richards. Maybe the Democrats can learn something from her leadership. (Sarah Jones, New Republic)
The Court Whisperer: Meet Leonard Leo, the man who has been called President Trump's "judicial puppet master"—and who critics say wants to build a Court that can overturn Roe v. Wade. (Melissa Quinn, Washington Examiner)
The Case Against Trump: The articles of impeachment issued against former Presidents Richard Nixon and Bill Clinton contained a list of evidence that each had tried to subvert a federal investigation. David Leonhardt lays out a similar list for President Trump. (The New York Times)
---
Visualized
Blackout: Four months after Hurricane Maria, roughly 450,000 Puerto Ricans are still without power. Here's what life looks like on an island that has gone dark. (Alan Taylor, The Atlantic)
---
Question of the Week
On Tuesday night, President Trump will deliver his first State of the Union address. He's expected to pitch an immigration framework that would provide a path to citizenship for 1.8 million young undocumented immigrants in exchange for funding for the border wall and cuts to legal immigration, and touch on infrastructure, trade, and the success of the economy.
What is your sense of the state of the union? What areas do you think Congress should focus on in the next year?
Share your response here, and we'll feature a few in Friday's Politics & Policy Daily.
---
Most Popular on The Atlantic
Many of you have written in to ask what happened to the "Most Popular" list. Normally, that section gets added automatically, but there's a bug in the process, and we're still working on getting it fixed. In the meantime, here are five of the most popular articles on our site today:
-Written by Elaine Godfrey (@elainejgodfrey)
We want to hear what you think about this article. Submit a letter to the editor or write to letters@theatlantic.com.
Elaine Godfrey
is a staff writer at
The Atlantic
, where she covers politics.