'An Assault on the Body of the Church'
Catholic parishes have been hit hard by President Trump's decision to suspend Temporary Protected Status for Salvadorans.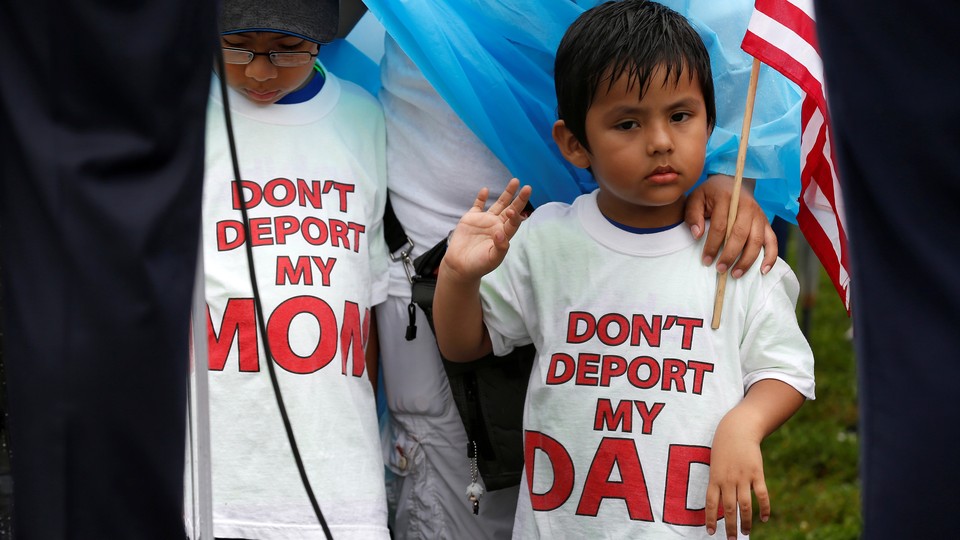 A woman fled El Salvador in fear of violence, just months before a deadly series of earthquakes destroyed many Salvadorans' lives and homes. She settled in Maryland with her husband's family and started to build a life. She worked first in hotel housekeeping, then as a teaching assistant at a neighborhood school. She had four children, who excelled in school. She invested deeply in her local Catholic church, serving as a catechist and usher, working with kids on Sunday mornings, and hosting a small prayer group in her home.
Now, after nearly two decades in the United States, the Trump administration may be sending her back to El Salvador, a country that still suffers from one of the world's highest homicide rates, destabilizing gang activity, and a stalled economy. Many immigration advocates have pushed back on the decision, but perhaps none more strongly than the U.S. Catholic Church. Catholic leaders see these deportations not as a left-right political issue, but as threat to the families that make up the heart of their communities. As one local priest told me, "I see it as an assault on the body of the Church."
The woman described above—whom I spoke with through a translator, and who asked that her name be withheld out of concern for her safety—is one of nearly 200,000 Salvadorans in the U.S. who, until recently, had Temporary Protected Status, known as TPS. This federal program, created under George H. W. Bush, shields immigrants who cannot return to their home countries for safety reasons. In early January, the Trump administration revoked TPS for Salvadorans, who composed the majority of TPS recipients. In November, it did the same for Haitians who came to the U.S. after a massive earthquake in 2010. Immigration advocates fear it may soon end protections for Hondurans, another large TPS population, as well.
Salvadoran TPS recipients are a distinctive group. Many have been in the U.S. for a long time—decades, in some cases—and like the woman I spoke with, many have children who are American citizens. "A lot of these individuals are very integrated into their communities," said Ashley Feasley, the director of migration policy and public affairs for the U.S. Conference of Catholic Bishops, or USCCB. Because they had protected legal status, many Salvadorans filed their TPS-renewal paperwork on their own and didn't necessarily have much contact with legal advocates, she said. "Frankly … they were not really on their radar for years."
Salvadorans are also very active in their church communities. They tend to be more Protestant than other Hispanics in the United States, with only 42 percent identifying as Catholic, according to a 2013 Pew Research Center survey. By comparison, 61 percent of U.S. Mexicans are Catholic. But especially in big archdioceses like Los Angeles, Houston, and D.C. that are home to large Salvadoran populations, these parishioners are often the backbone of Catholic life. In general, TPS recipients tend to be more involved in their communities than the general U.S. population: A 2017 study by researchers from the University of Kansas found that 30 percent are active in neighborhood organizations, schools, or religious groups.
Since the TPS announcement, "what I'm hearing from the priests is that the people are really nervous," said José Gómez, the archbishop of Los Angeles. Even though TPS won't officially expire for Salvadorans until September 2019, "some think they are going to be deported tomorrow, or next week," Gómez said. "There's a lot fear."
The U.S. Catholic Church has long invested significant institutional resources into caring for migrants. The bishops' conference is one of nine agencies that contracts with the federal government to resettle refugees. Catholic Charities is one of the largest nonprofit organizations in the country, and has a dedicated ministry for immigration and refugee services. And the USCCB, the official U.S. organization of the Catholic hierarchy, has been advocating hard against deportation policies on the Hill. "Lawmakers have not dealt with this issue since 1990," said Feasley. "It's been an education process, particularly in the House, to explain that certain congressional districts are very affected by this, and they may not have initially known."
This isn't just an issue for the U.S. Catholic Church, however. If and when Salvadorans and other Catholics protected by TPS return to their countries of origin, "they will be coming back to our Catholic churches," said Feasley. "They will have pretty hefty integration needs." Many will need help with education, health care, and resettlement, she said. "They won't have lived in El Salvador, in some instances, in 20 years."
This summer, the USCCB sent a delegation to Honduras and El Salvador to assess what it would take for TPS recipients to return. It concluded that "Temporary Protected Status provides an invaluable economic lifeline to El Salvador," which would make "ending TPS for Salvadorans an unwise and uncharitable decision." The report disputes the claims of the Trump administration, which has concluded that "the original conditions caused by the 2001 earthquakes," the most recent basis for TPS, "no longer exist," according to The New York Times. "The decision was not the correct decision," Feasley, who was on the trip, told me.
While Catholic bishops often remain circumspect about politics, they have spoken out aggressively against Trump's immigration policies, including the decision to end protections for people brought to the U.S. illegally as children and the revocation of TPS for Haitians and Salvadorans. "My brothers expressed a shared and ever-greater sense of alarm—and urgency to act—in the face of policies that seemed unthinkable only a short time ago," wrote Cardinal Daniel DiNardo, the president of the USCCB, in a Thanksgiving message. It's telling that this message came from DiNardo, who is often considered a conservative or traditionalist voice within the conference; he oversees the archdiocese of Galveston-Houston, which is home to a large population of TPS recipients, immigrants, and refugees.
In many ways, this speaks to the central political tension over immigration and refugees in the U.S.: The issue doesn't fit neatly within typical left-right divides, and yet it has been intensely politicized, particularly under President Trump. Catholic bishops are "being terrible about this," said Steve Bannon, the former White House chief strategist, in an interview with Charlie Rose in September. "Unable to really come to grips with the problems in the church, they need illegal aliens to fill the churches," he said. "They have an economic interest in unlimited … illegal immigration." While this argument may resonate with some Catholics in the pews, the accusation that bishops are too liberal on immigration doesn't get much of a hearing among Church leaders. "I think it's clear in the teachings of the Catholic Church … that we are all welcoming to the stranger," said Gómez. "If you think of the teachings of Christ … there's no liberal and conservative."
The Church's argument for protecting Salvadorans is largely focused on protecting families—a cause that conservatives often like to claim for their own. "The family is sacred," said Jacek Orzechowski, a priest based in Silver Spring, Maryland, who works with Catholic Charities. "The prospect of deporting people into areas where there will be an imminent danger—it tramples upon family. It's disrespect for life." The Center for Migration Studies estimates that TPS recipients from El Salvador collectively have 192,000 U.S.-born children. These families may soon face the choice of splitting up, with formerly TPS-protected parents leaving their kids behind in the U.S., or moving together to a deeply unstable country where Americans are often targeted for kidnappings and extortions.
If a large population of Salvadorans is deported next fall, "it will have a profound effect on the church and on the ministries," said Orzechowski of his parish, St. Camillus, which has a significant immigrant population. In dioceses across America, Church leaders are working to provide parishioners with access to legal resources, to encourage them to keep filing their TPS renewal forms, and to warn them away from predatory organizations that falsely advertise services to vulnerable immigrant populations. But dealing with the fear is "the toughest part, really," said Isaac Cuevas, the associate director of immigration affairs for the archdiocese of Los Angeles. "People turn to us and they want to know what's going on, they want to know what it means to them, they want to know how they can proceed. But we also want to make sure, from a mental-health standpoint, that we're not scaring them, that we're calming down those fears and making sure they understand that things are going to be okay."
Even though deportation is a still a while away, the consequences of the Trump administration's decision are already beginning to unfold. The Salvadoran woman in Maryland with whom I spoke said she may permanently lose her job as a teaching assistant if TPS is not reinstated. "It's a horrible situation, and it makes the family very unstable from a financial and economic standpoint," she said. She is worried about her kids, two of whom would be graduating high school in the next few years. But even with everything that's happening, "I feel that to be part of the Church is being part of a larger family," she said. "Especially in these moments of desperation … I feel that the Church is supporting us and strengthening us."
The Catholic leaders I spoke with were weary, but hopeful. "As followers of Jesus, we are called to bring good news to the poor and marginalized, and counter the forces that seek to divide us and … instill fear," Orzechowski said. "It's a moment of truth. … It requires us to have the moral courage to speak and act with integrity. This is a direct attack on the Church."