Who Is Steve Bannon Without Breitbart?
Just a few months after leaving the Trump administration, the former top White House adviser has been pushed out of the conservative outlet he helped make influential.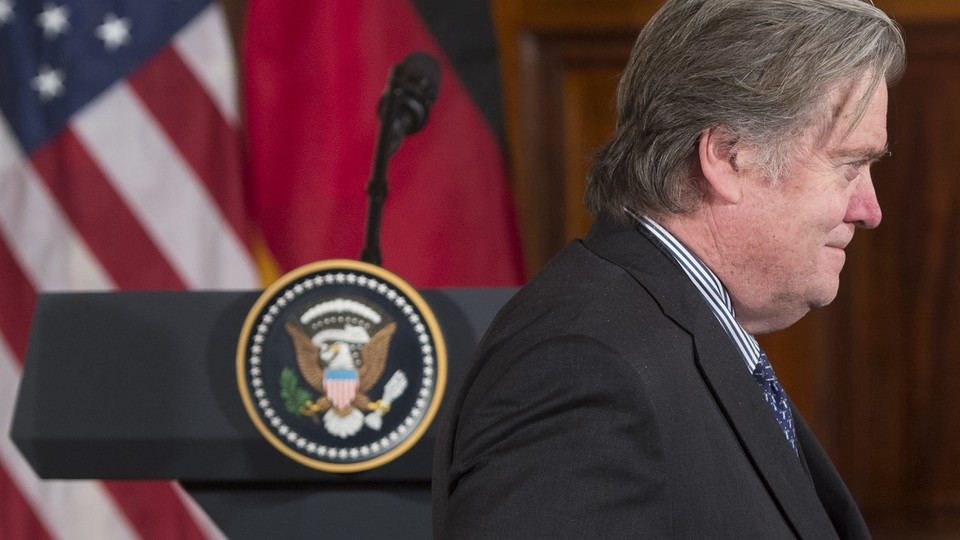 After falling out with President Trump over comments he made to the journalist Michael Wolff, Steve Bannon is leaving Breitbart News.
The news was originally reported by The New York Times.
Breitbart London editor Raheem Kassam, a close ally of Bannon's, confirmed Bannon's departure in a text message on Tuesday.
Breitbart itself announced the news on its website on Tuesday afternoon, including a statement from Bannon: "I'm proud of what the Breitbart team has accomplished in so short a period of time in building out a world-class news platform." In the announcement, Breitbart's CEO Larry Solov is quoted as saying: "Steve is a valued part of our legacy, and we will always be grateful for his contributions, and what he has helped us to accomplish." Breitbart staffers were not given a heads up before the news was announced, according to two sources.
Bannon, who helped make Breitbart an influential outlet on the right, was also CEO of Trump's 2016 presidential campaign during the general election and helped define the candidate's populist, nationalist message. After leaving the White House, Bannon sought to leverage that success into an effort to push the Republican Party to the right by endorsing primary challenges to candidates he saw as too moderate or tied to the party establishment. Bannon cultivated an image as Trump's true link to his base and enjoyed a reputation as one of the most powerful people in the White House; a Time cover from last year called him "The Great Manipulator" and asked, "Is Steve Bannon the second most powerful man in the world?"
Over time, Bannon's influence waned over rising tensions with the president, and his association with controversial figures like former Breitbart editor Milo Yiannopoulos, fired after video emerged of comments he made seeming to endorse pedophilia, and Roy Moore, the Alabama Republican who lost a Senate race after being accused of preying on teenage girls.
During Bannon's tenure, Breitbart had become increasingly devoted to promoting him, welcoming him back as a "populist hero" after he returned following his ouster from the White House. Bannon left the White House in August 2017, in the aftermath of the white nationalist rally in Charlottesville, and after giving an unfettered interview bashing colleagues to the liberal American Prospect.
In a statement on Tuesday, Sirius XM announced that Bannon would no longer host Breitbart's radio show: "Breitbart News has decided to end its relationship with Stephen K. Bannon, therefore he will no longer host on SiriusXM since our programming agreement is with Breitbart News."
Bannon's position leading Breitbart became untenable after the release of Wolff's book Fire and Fury, an inside-the-White-House tell-all in which Bannon was evidently a key source and which features him making a number of harsh comments about Trump's family. The most controversial of these was Bannon's comment to Wolff that Donald Trump Jr.'s meeting with a Kremlin-connected Russian lawyer at Trump Tower in 2016, in which Trump Jr. sought damaging information on Trump's Democratic rival Hillary Clinton, was "treasonous." Federal investigators are currently trying to determine whether the Trump campaign aided what U.S. intelligence agencies have described as an effort to boost Trump's candidacy in the 2016 election.
Bannon's comments enraged Trump, with whom Bannon had occasionally spoken after Bannon was forced out of the White House in August. In a statement last week, Trump said Bannon had "lost his mind" and accused him of being a leaker.
Though Bannon's circle pushed him to release a statement smoothing over the incident last week, Trump's came out first, making Bannon's position in Trumpworld clear. Then, in a rare public statement, Bannon's wealthy conservative patron Rebekah Mercer said she was cutting ties with him and that her family was no longer supporting his political projects. Mercer had been unhappy with Bannon for some time; according to a source with direct knowledge of her comments, Mercer told people over six weeks ago that she was finished with Bannon.
Breitbart's board, meanwhile, reportedly debated firing Bannon. According to disclosures the company made while trying to obtain congressional press credentials last year, Breitbart is owned by Solov, company founder Andrew Breitbart's widow Susie, and the Mercer family with a minority stake.
On Sunday, Bannon released a statement to Axios expressing "regret" for his comments but insisting that his remarks had been aimed at Paul Manafort and not at Trump Jr.
But the White House did not accept the apology. "I don't believe there's any way back for Mr. Bannon at this point," White House deputy press secretary Hogan Gidley told reporters on Air Force One on Monday.
Bannon "had to either give up being involved in politics or Breitbart, couldn't do both," said a source close to Bannon who asked for anonymity to candidly discuss the situation. "He chose politics. Him being involved in politics was interfering with Breitbart's ability to act as a news organization."
But it's unclear—and unlikely—that Bannon could continue to be a player in politics during this year's midterms, without major donors behind him, and disavowed by the president.
During the presidential transition, Bannon compared himself in an interview with Wolff for The Hollywood Reporter to Thomas Cromwell, a powerful adviser in the court of King Henry VIII. But Bannon's comparison appears to have been more prophetic than he may have realized. After falling out of favor with Henry, Cromwell was stripped of his titles and executed.
Bannon did not immediately respond to requests for comment.