Steve Bannon Comes Back to Haunt Donald Trump
In an interview with an author, the former White House aide called the June 2016 Trump Tower meeting with Russians "treasonous" and "unpatriotic."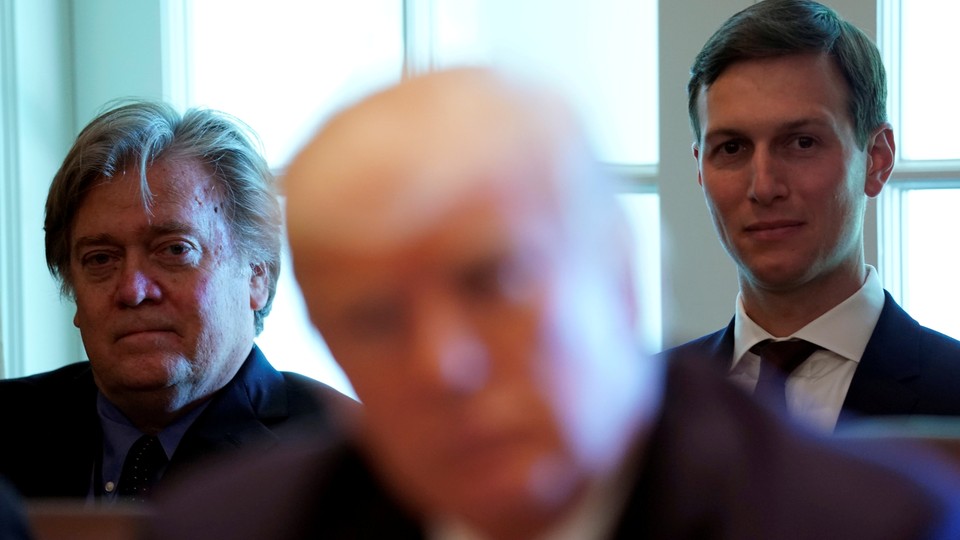 Donald Trump shows little affinity for reading, but he is familiar with the conceit of Mary Shelley's Frankenstein: An ambitious figure creates a monster in the hopes of glorifying himself, only to have the spurned monster wreak havoc on its creator.
The president is living that plot, too, with Steve Bannon—and not only because his former consigliere sometimes displays the bedraggled, frightening mien of Dr. Frankenstein's creation. During the heat of the presidential campaign, Trump plucked Steve Bannon from Breitbart to be the chief executive of his campaign; after winning, he appointed Bannon chief strategist of his White House, then pushed him out in August.
Now Bannon is back to haunt Trump, most strikingly, in a new book by journalist Michael Wolff. The Guardian obtained a copy of the book, due out later this week, which is built on hundreds of interviews with the president and administration insiders. In the excerpts published by The Guardian, Bannon shows that even from outside the White House, he is more than able to sow the same chaos and backbiting that got him pushed out.
More materially, he hammers Trump's son Don Jr., son-in-law Jared Kushner, and then-campaign chair Paul Manafort for meeting with Russian lawyer Natalia Veselnitskaya at Trump Tower in June 2016.
"The three senior guys in the campaign thought it was a good idea to meet with a foreign government inside Trump Tower in the conference room on the 25th floor—with no lawyers. They didn't have any lawyers," Bannon said, per Wolff. "Even if you thought that this was not treasonous, or unpatriotic, or bad shit, and I happen to think it's all of that, you should have called the FBI immediately."
Bannon predicted that Special Counsel Robert Mueller would go after all three participants for money-laundering, citing Mueller's hiring of experienced financial-crimes prosecutor Andrew Weissmann. "They're going to crack Don Jr. like an egg on national TV," Bannon said.
In describing the Trump Tower meeting as "treasonous" and "unpatriotic," Bannon becomes the first major Trump insider to say what is at this point clear to anyone willing to look at the facts: Whether or not there were any crimes committed, Trump aides colluded with Russia. The pattern runs from George Papadopoulos's conversations with Russian agents, through the Trump Tower meeting, and up to Michael Flynn's conversations with then-Ambassador Sergey Kislyak, about which he has pleaded guilty to lying to FBI agents.
None of this proves that the Trump campaign committed a crime, nor that these actions determined the outcome of the election. But they do show that Trump's repeated insistence that there was no collusion isn't credible. For a time last summer, Trump and his defenders quit claiming there was no collusion, and adopted a new talking point: that collusion was entirely normal and proper. More recently, the president has returned to claiming there was no collusion.
"I think it's all worked out because frankly there is absolutely no collusion, that's been proven by every Democrat is saying it," he told The New York Times last week. (His claim about Democrats is false.) "So, I think it's been proven that there is no collusion."
The fact that Bannon dares call it treason is a powerful counter to this denial, and it's powerful because Bannon's name will forever carry the label "former White House chief strategist." As Dick Morris, Jeffrey Lord, Pat Caddell, and dozens of other mediocrities and washed-up operatives can attest, such an imprimatur can sustain a career for decades. By elevating Bannon to that title, Trump set himself up for pain. Before Trump hired him, Bannon had a checkered record—he'd done decently for himself financially, but he had an up-and-down business career and his proudest achievement was sitting atop Breitbart—a news organization that even he disparages in Wolff's book (saying a leak could go "down to Breitbart or something like that, or maybe some other more legitimate publication").
Bannon was able to help usher Trump to a victory in the election, though the portion of the credit he deserves is in dispute. An electoral win tends to have a thousand fathers, and in any case Trump felt Bannon often inflated his role. Once in the White House, the self-proclaimed Leninist proved to be just as much an agent of chaos as he had proudly been at Breitbart—pushing his own priorities, even when they put him at odds with the rest of the White House; fighting bitter internecine wars via leaks; and giving damaging interviews to liberal publications.
In August, after John Kelly became chief of staff, Bannon was finally pushed out. That took the temperature down on the feuds within the West Wing, but Bannon made clear he wasn't dropping his fight. "I feel jacked up," he told The Weekly Standard's Peter Boyer. "Now I'm free. I've got my hands back on my weapons. Someone said, 'It's Bannon the Barbarian.' I am definitely going to crush the opposition." Bannon was a hazard to White House stability within the administration, but he is showing that he can be just hazardous outside, too.
This is so even as there is little reason to impute any purity of motive to Bannon's comments. He appears to be driven in large part by the urge to extend his feud with his old White House nemesis Jared Kushner, the president's son-in-law and a senior adviser. In the process, he has contradicted himself. Late last year, he told Vanity Fair's Gabriel Sherman that he thought there was no collusion case, but he took a shot at Kushner anyway: "He's taking meetings with Russians to get additional stuff. This tells you everything about Jared. They were looking for the picture of Hillary Clinton taking the bag of cash from Putin. That's his maturity level."
Bannon also told Wolff his rival was susceptible to prosecution for financial crimes. "It goes through Deutsche Bank and all the Kushner shit. The Kushner shit is greasy," he said. "They're going to go right through that. They're going to roll those two guys up and say play me or trade me." Kushner's lawyer has denied any wrongdoing, and Bannon's prediction mirrors existing speculation in the press. Does he know any more than the rest of us? It's entirely possible he does not, but since Trump gave him that coveted former-White-House-staff status, it's harder to dismiss him out of hand than it is any other pundit.
Bannon, who had not joined the campaign when the June 2016 meeting occurred, has also criticized Trump for firing FBI Director James Comey. But he demonstrates his own cynicism to Wolff, condemning the Trump Tower meeting while also slyly explaining how he would have conducted such skullduggery—arranging a meeting far from the epicenter of the campaign, "in a Holiday Inn in Manchester, New Hampshire, with your lawyers who meet with these people." It's a rare man who condemns something as treasonous, then explains how he would have committed the treason more effectively. This doesn't speak much for Bannon's sincerity, but his statement remains important for what it is: a former top aide to President Trump labeling collusion as such.